We want our pet dog(s) to have the best, no matter what, including the toys, collars, water bowls and favorite cushions.
You will want to provide water and food for your dog if you have a crate. Because dogs will often kick their bowl, and make a mess, this is important.
The bowl that attaches on the side of the crate looks neater and helps to prevent spills.
This guide will show you 15 of the best attachable dog bowls to use in your crate. We have also created a buyer's guide that will help pet owners focus on what to look out for when purchasing crate bowls.
Let's move on!
1. Midwest Homes for Pets Snap'y Fit Stainless steel Food Bowl – Best Overall

This stainless steel dog bowl is affordable and secures to your pet's crate with a bracket. Twisty screws are used to attach it. The bowl'snaps in' to allow for easy removal.
The bracket is not required to be cleaned like the bowls. Although it's much more user-friendly and simple to use, it does come in a standard steel color instead of a colorful.
You can also get it in different sizes for a reasonable price.
Pros
Attach and 'snap' bowl to removable bracketBudget-friendlyEasy to cleanFits all wire mesh crates
Cons
There are no color options
2. Petmate Kennel Bowl – Best Value

Petmate Kennel Bowl is designed for people who require something that can be filled from the outside with water to keep the cage closed. It can be used to feed your dog dry food, but you won't need the funnel.
It is made of BPA-free plastic. There are two sizes available: a large and a small. It also has a rim to prevent water from leaking.
Petmate makes a wide range of products. They have been making products for more than 50 years. You can be sure that they are trusted brands.
This plastic bowl might not be the best option if your dog loves to chew like all plastic items.
Pros
The funnel can be filled with water from the outside. This company has been in business for more than 50 years. Made of BPA-free plastic, it is virtually non-toxic
Cons
Dogs who chew their bones will not like this dog.
3. Utaomld Dual Bowl – The Best Dual Crate Bowl Option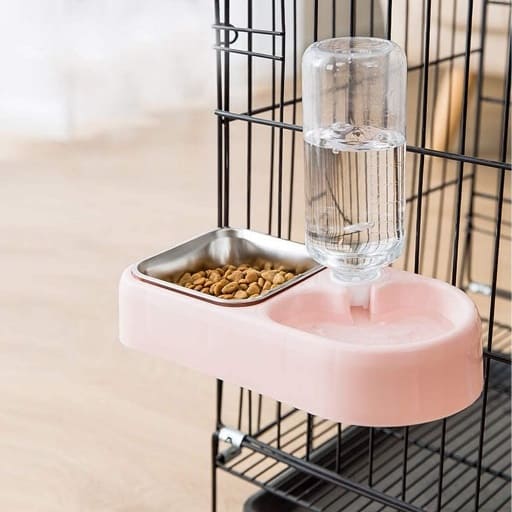 This dual-purpose cage bowl has a squared or rounded design, and can be used for drinking water and dog food. The crate bowl comes with a removable stainless-steel bowl and water bottle. The feeding bowl attaches to the cage or crate for easy feeding.
It can also be used in a regular bowl for dog food if it isn't needed. You can remove the stainless steel bowl for cleaning, without having to take apart the whole crate bowl.
It is removable so that you can clean and fill it easily. This bottle is best for small dogs and makes mealtimes easier, even for hyperactive pets. It keeps the crate clean and dry from spills and messes.
The water bottle automatically fills the bowl with water, which ensures that the water level remains constant throughout the day.
Pros
Made from high-quality materials. Stable enough to stand on its own if the crate is not attached. Durable and easy to clean.
Cons
This is the best for small dogs. Not recommended for dogs who like to chew.
4. SPOT Ethical Stainless Steel Bowl – Best Quality

People are becoming more conscious about ethical purchasing. This stainless steel dog bowl will suit you perfectly.
It is easy to clean and has a ridged design which helps to prevent food and water spillages. It can be attached to a crate or mesh cage by hooking it on easily. It is also completely resistant to rust.
You can wash it in the dishwasher if you like. It is affordable and suitable for small dogs.
Pros
Dishwasher safe, to prevent unwanted mess
Cons
Only suitable for small dogs
5. THAIN Removable Stainless-Steel Bowl

The THAIN stainless-steel bowl is the perfect choice if you want simplicity and a low price. It is simple to attach the bowl to the side of your crate using a "big nut" design.
The non-toxic plastic outer and stainless steel removable bowl are made. It was much easier to clean the holder on a regular basis. The plastic bowl can be cleaned at most once per week.
They can be used with other animals, just like most bowls. There are only two options for colors: pink or blue. The size selection is either'small', 'big' or both. However, this should be sufficient.
Pros
Simple design, affordable and budget-friendly
Cons
There are only two colors available
6. MayLove Square Dog Bowl

The shape doesn't matter, but the MayLove dog bowl can be a great option if you need a bowl that is similar to the others on this list but with a square design.
The non-toxic outer bowl is made of plastic and contains a removable stainless bowl. This makes it easy to clean and adds a little color.
It comes in three colors: green, pink, and blue. If you want to give your dog some color, it is great to have more options.
It's not expensive but it isn't too costly. It's easy to see why people would pay more for it, thanks to its lock mechanism and design.
Pros
Fun square shapeRemovable stainless-steel bowlEasy cleanComes with 3 colors
Cons
Two items to be cleaned
7. Pit-Bowl Stainless Steel Hook on Bowl

Although it looks more like a bowl, this dog bowl can be used by larger dogs. It was based on a pitbull and a muscular dog.
This design is possible because the walls of this bowl are made higher to prevent any spillage. This bowl can also hold more than a regular one.
The bowl is made of solid metal so it won't get chewed. It also has two hooks that ensure it stays on the crate securely without being removed.
It is not suitable for small dogs due to the large size of the bowl.
Pros
Design for larger dogs: Taller design
Cons
Smaller dogs may not be able to use the standard bowl
8. Choco Nose Removable Heart-Shaped Food Bowl

You might be tempted to buy something cute for your dog. This dog bowl with a heart shape will be a hit.
It is not very attractive, but it looks adorable, even though it is quite plain because it is white.
It is cute but not suitable for large dogs. You can also use it for smaller pets.
The lock attaches to wire mesh crates with a simple latch and can be placed in the dishwasher for quick cleaning.
Pros
Dishwasher safeCute design with a heart-shaped lock
Cons
This is only suitable for small dogs.
9. PetMaker Stainless-Steel Hanging Bowls

PetMaker hanging bowls have a hook that attaches to the wire mesh or crate. They are made of stainless steel which is better for dogs who like to chew. This bowl won't cause them to grind their teeth!
The bowl's overhanging edge means it won't spill or will prevent it from ever happening.
It is simple and affordable, with a great value. You can also get it in different sizes depending on your dog's size, such as 8 oz (20 oz) and 48 oz (48 oz).
Some people don't place the bowl correctly and their dog may have removed it. Just a quick reminder: The bowl should be placed under the wire, not above it.
Pros
Made from stainless steelValue of moneySimple designHooks to make it easy
Cons
It is simple, but there are many questions about how to attach the bowl.
10. Guardians Crate Dog Bowl – Best for Quality

Although the Guardians dog bowl is similar to the THAIN, their designs are slightly different. The bowl is secured with two metal screws. There are also reinforcements in the outer bowl to strengthen it.
The bowl's outer bowl has a corrugated design to prevent it from sliding and allowing for the bowl to move freely. The anti-spillage rim of the stainless steel removable bowl is also included.
This bowl is available in many colors, including the standard pink and blue, green, red, and purple.
The plastic outer bowl might not be appropriate for dogs that like to chew.
Pros
Attach securely to the crate
Cons
Dogs who chew plastic may not find this product suitable.
11. DotPet Durable Double Bowl

It is not uncommon to want two bowls. One for dry food, one for water. DotPet's double bowl allows you to do just that. There is a big lock that secures the bowl to the crate. Two removable bowls are covered in plastic.
It is very convenient to have water and food at the same time, which makes sense. There are only two color options available, and they are all the same: pink and blue.
It is easy to clean because it is removable. The bowls aren't very deep so they may be easier to use for small dogs. Even though the bowls are sturdy, spills can still happen.
Pros
Two bowls, one for dry food, one for waterEasy-to-use and lock
Cons
Bowls aren't deep so they will be more suitable for smaller dogs.
12. Lixit Quick Lock Removable Dog Bowl

Although it may look like granite, it's not. It does look a bit more posh. It is likely made of a type plastic, but it is strong polystyrene.
The attachment is strong and simple, making it easy to attach into a pet cage or crate. The bowl does not have a ridge so spills are prevented. This bowl is not recommended for dogs who are messy.
However, the wider design is meant to reduce overall spillage.
This collar is ideal for medium-sized dogs. It comes in a variety of colors, including black, blue, and pink. The latter however looks more like red.
It is easy to clean and can be removed quickly using a twist-off-and-on feature.
Pros
It looks like granite. There is a twist to take the bowl out quickly.
Cons
Small dogs are not recommended
13. Get more stainless steel crate dog bowls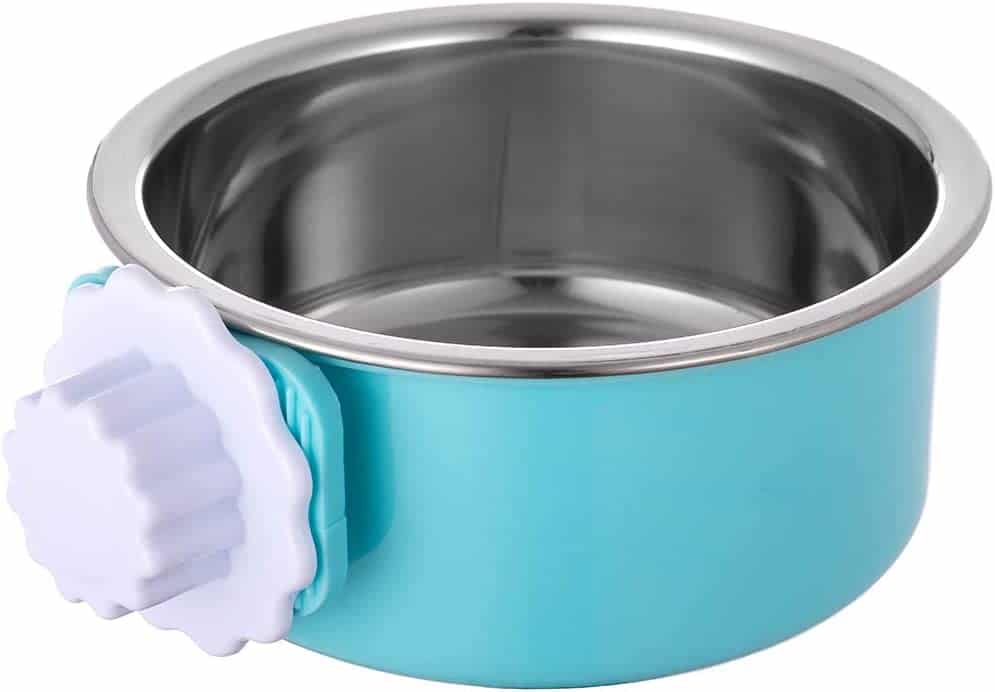 The crate bowl is a rectangular bowl that can be used to provide food and water for your pet's crate. The bowl attaches to your cage or pet crate directly, making it easy for you to feed and water them.
The crate bowl can also be used as a double-in-one. This crate bowl can be used as a fixed or removable plastic bowl, or a stainless steel removable bowl. It has a cross lock design which allows it to be attached securely to the crate.
It has a diameter of 5cm and works with all crates, except those with more than 5.2cm cage gaps. It can be easily removed and cleaned. It is best suited for small dogs because of its smaller size.
It is very easy to install and only takes a few minutes. It is stain-resistant, smooth and food-safe.
Pros
It is easy to put in. Durable and long-lasting. Can be attached securely to the side a crate. Made from safe, nontoxic materials
Cons
Small dogs are best
14. Petall Stainless Hanging Bowl for Dogs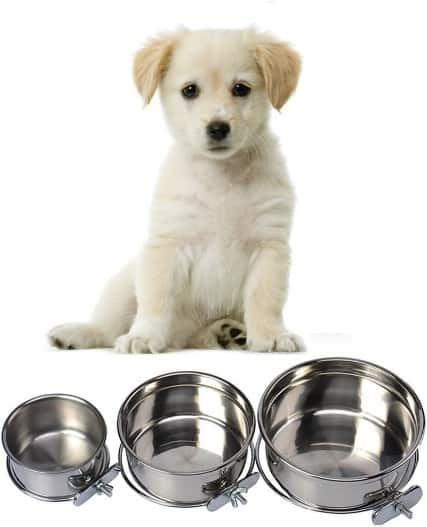 Petall Stainless Hanging Dog Bowl is available in a variety of sizes, including large, medium, and extra-large. This will ensure that your dog and crate are comfortable and fit well. These bowls are made of premium stainless steel that is rust-resistant, durable and long-lasting. They are strong enough to withstand even the most aggressive chewers.
The clamp holder provides a secure grip to the crate. This ensures that the bowl does not move or spill. It's also very easy to clean. For easy food and water changes, simply clean the bowl with water and then reattach the bowl to the crate.
These bowls can be placed inside or outside the crate, depending on their intended use. This product has been improved and upgraded to include two anchor screws instead of one. This allows it to perform better and remain secure.
Pros
It takes up very little space in the crate.
Cons
Sometimes, bowl sizes are smaller than you expected. Larger bowls can be easier to tip and may not be as secure.
15. Guardians Removable Stainless Steel Crate Dog Bowl

Another Guardians stainless steel removable crate dog bowl has a round design and can be used to feed or water your dog. It can be attached to your cage or crate securely with its cross-lock design. If you don't want to attach it, you can use it as a regular bowl.
This bowl is similar to the Ordermore dog food bowl, but it comes in different colors and is suitable for larger dogs. You have the option of a regular bowl or one with a corrugated clip.
This bowl is also two-in-one, just like the other. This bowl can be divided into two parts: one has a fixed plastic bowl and one with a metal bowl.
It is simple to attach the bowl and take it off for cleaning and refills. The plastic bowl can be left attached to the crate, and the stainless steel bowl section can be removed for washing.
Pros
Available in several colors, including purple, green, pink and pink. Easy to fillEasy installation and removal. Durable and sturdy design
Cons
Water can build up between stainless steel and plastic, and needs to be cleaned regularly.
Buyer's Guide

After you've seen 15 of the most popular attachable dog bowls, let us now look at the main areas to consider when choosing a bowl for your dog.
Size

Dog bowls come in many sizes and shapes, just as dogs do. You may like the design of a dog bowl but you need to make sure it is the right size for your dog.
A small bowl won't work well for a larger dog. This is something to keep in mind when buying a dog bowl.
Material

If your dog loves to chew, the material is very important. Avoid plastic if your dog loves to chew everything.
Dog bowls made from steel can be purchased. These bowls are better for dogs that chew everything.
They shouldn't have to struggle to chew it. If they do, it may take them longer to do it.
Ttachment
There are many ways to attach different dog bowls to the crate. Plastic dog bowls are often equipped with a wingnut that attaches securely and easily. This prevents the dog bowl's movement.
Many stainless steel bowls can be hung over a metal bar attached to a cage or crate. This design is easy to attach and doesn't require any skill. However, hyperactive dogs may find it difficult to use.
This could cause the contents of the bowl to spill or cause it to fall out. Keep this in mind as you examine the attachment.
Cleaning

Dog bowls can be washed, although most are dishwasher-safe. If you have only one dog bowl, it is important to regularly clean it. Because a dishwasher can take time, your dog may not have its bowl.
Most Frequently Asked Questions

Are you still unsure about the best dog bowls to attach to your crate?
How do you keep a bowl inside a crate for your dog?

Dogs will require food and water. A bowl that attaches to the side can be used to keep water and food from spilling out.
Are Dogs Require Certain Things in Their Crates?

Your dog must be happy and comfortable. This includes water, food, bedding, and a toy.
How much water does your dog need?

Dogs will consume approximately one ounce of water per pound of weight they eat daily. For example, a 10-pound dog will consume approximately half of a 16-ounce water bottle. They will require more water per pound if your dog is active, pregnant, or has recently had puppies.
How can I stop my dog from spilting water in his crate?

The best way to prevent your dog's accidental spillage is to attach a dog bowl directly to his crate. The bowl should hang from the sides, a few inches above the bottom. You can also place a frozen water bowl inside the crate. Your dog will be able to have water throughout the day as the water melts.
Is it a good idea to place a pet bowl in a puppy crate?

If you train your puppy well, he will see his puppy crate and be content to use it when he needs. You should ensure your puppy or dog has fresh water every time they are in a crate or dog house. You have two options: attach a dog bowl to the crate, or use a no-spill bowl.
15 Best Dog Bowls that Attach to Crate Dog Food Smart.