The same goes for advice and health tips for dogs, just as they do for people.
Pet owners want the best for their pets. This is why many people have inquired about whether essential oils, coconut oil, fish oil and sardines have many health benefits.
Although caution is always advised when it comes to pet health fads there is one thing we can all agree on. Bone broth for dogs is it.
This superfood is very healthy for your dog and it is also extremely easy to prepare.
This article will cover everything you need to know about bone broth for dogs. We'll also show you how to make homemade bone broth for your dog.
What is Bone Broth?

If you have the time, bone broth is simple and quick to make. You can either use a pressure cooker to simmer the bones for between 2 and 24 hours. Once they have become soft, add water, garlic, apple cider vinegar, salt, and water. The broth will then be strained.
The bones are slowly being cooked over a long time. This can cause the connective tissue and joint to degrade and eventually dissolve.
This method ensures that the broth is fully absorbed from the bone and marrow.
This will give your pet all the nutrients they need in one place, so they don't miss out on any important things.
Bone Broth

As we'll see, making bone broth from scratch can take a lot of time. The broth will take you at least 4 hours to cook.
Individuals who wish to give their dogs bone broth but don't have the time or patience for making it from scratch can find alternatives.
Here is where store-bought soup comes in.
Making bone broth for your dog is a great idea, but you can also buy it ready-made.
This has the most important advantage that you don't have to check on your broth every hour like you would if you made bone broth.
It is easy to add a teaspoon of store-bought broth to your pet's usual meals.
It is easy to add powdered bone broths to your pet's meal because they are already prepared in bulk. You just need to sprinkle some of this over the food, and you are good to go.
Mix the powders with some organic peanut butter to make a delicious treat for your pet.
These bone broths are the best you can get for your dog.
Solid Gold Beef Bone Broth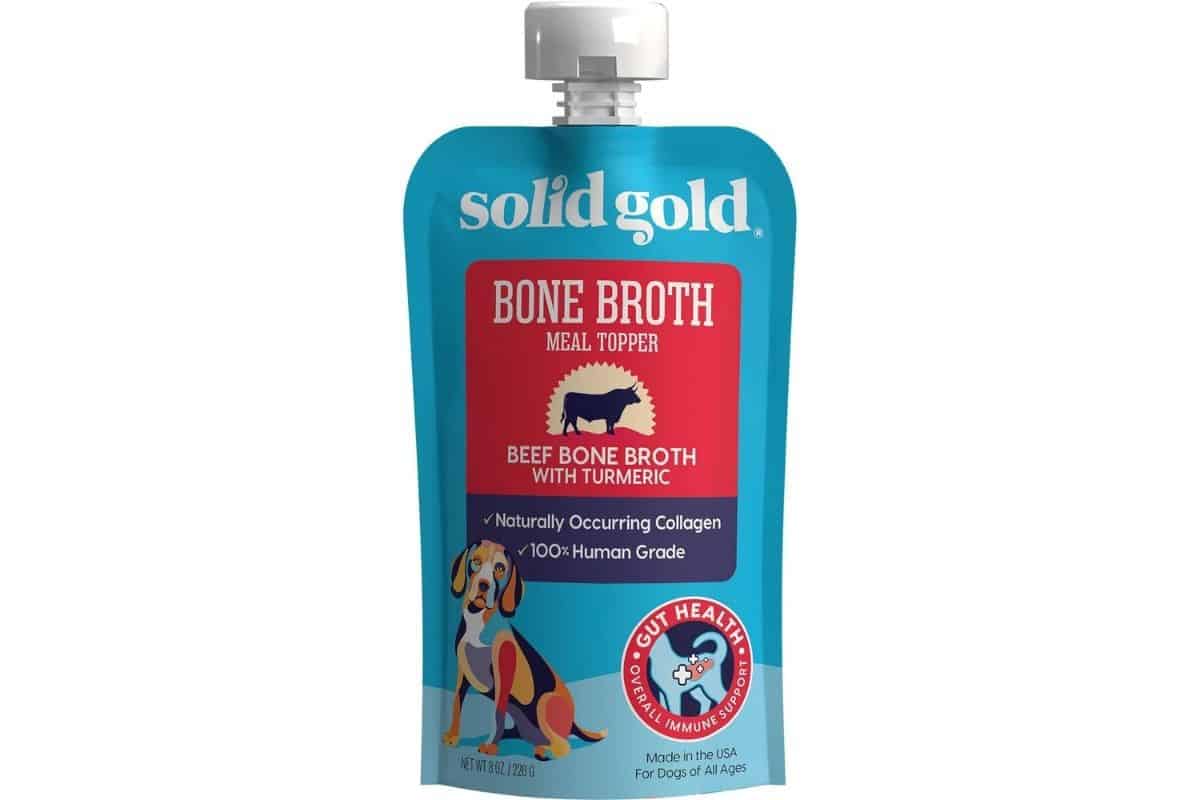 Collagen is an essential component of your dog's body. Collagen acts as the glue which holds your dog's body together. It is essential for connective tissues, cartilages and joints.
Solid Gold bone broth is made with organic cow bones. It contains naturally occurring collagen.
This bone broth can be added to the dog's diet to improve their digestion and mobility.
It can also be gently cooked with Turmeric, which will help reduce joint stiffness and improve your dog's immune system.
The bone broth is only made with human-grade ingredients. It is also gluten-free.
Pros

You only need to sprinkle a little bit of the powder onto your dog's meal. A single pack can provide up to six meals depending on how many you give to your pet. Beneficial ingredients – This broth is full of ingredients that will help your pet's health and well-being. This broth is organic and contains no artificial or chemical ingredients. Turmeric is particularly beneficial for dogs with stiff joints.
Cons

It smells bad – this powder can be a little too strong for dogs.
Also Available at
Chewy.com
Native Pet Bone Broth for Dogs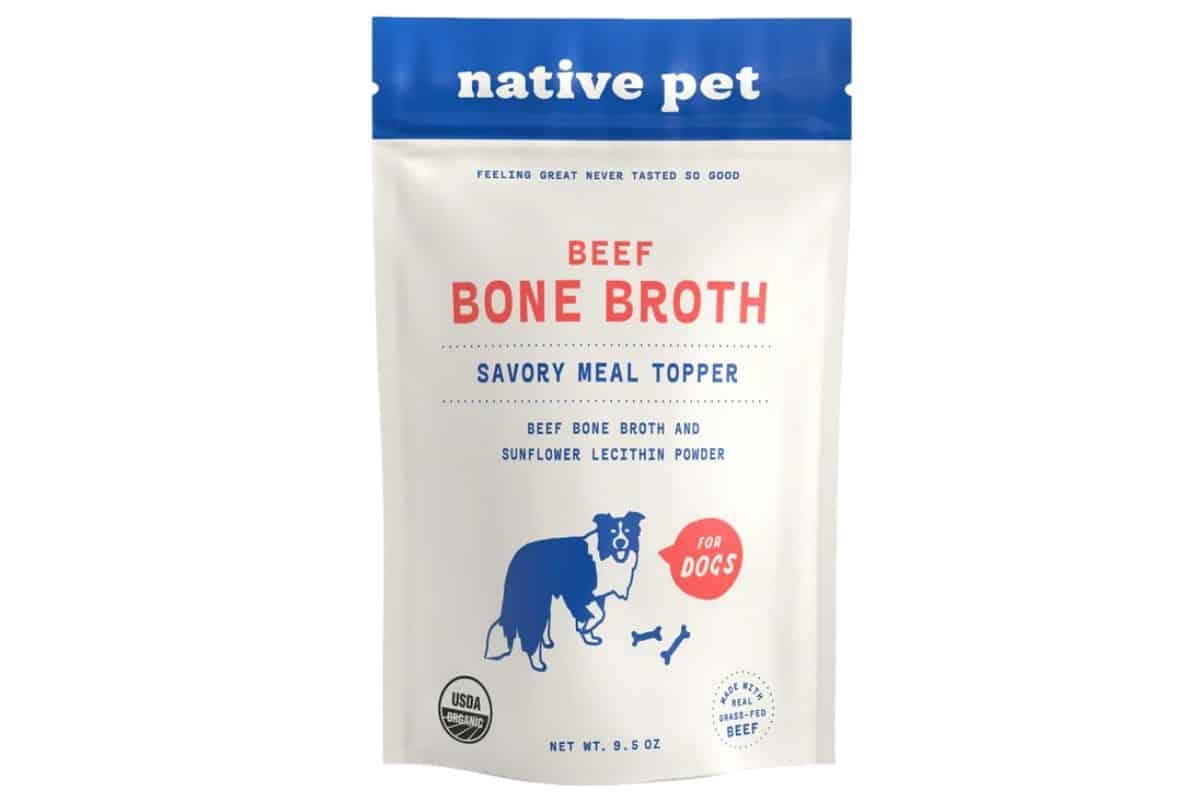 For puppy parents who are looking for organic food for their pet, Native Pet Organic Bone Broth is an affordable option.
This bone broth is made from whole foods ingredients from the United States. It is also paleo-friendly which means it is free of harmful hormones and antibiotics.
It is also free from soy, preservatives and dairy as well as grains, gluten, and gluten.
This broth is delicious and rich in chicken flavor and is great for senior dogs and unwell dogs.
The broth is also rich in collagen and protein. These nutrients help build lean muscle mass in your dog and keep their skin and coat in good shape.
Pros

It is very easy to prepare – the instructions are simple to follow. This broth is great for fussy eaters. Your pet will love the rich flavor and aroma of the broth.
Cons

It is expensive – This broth is more expensive than the others on the list. However, considering the many benefits it can offer your pet, the price is not surprising.
Also Available at
Nativepet.com
Nature's Diet Pet Bone Broth




Nature's Diet dog bones broth is free from dairy, soy, and gluten. It is also free from fillers, preservatives, by-products, additives, and fillers.
This broth is raw and paleo-friendly, so it's ideal for dog owners who adhere to paleo diets.
Nature's Diet bone broth for dogs is just like previous bone broths. It contains flaxseed and chia seeds to maintain their skin and coat health, as well as pumpkin and turmeric to help with joint and hip health.
Prebiotics are also added to improve gut health and digestion.
Nature's Diet bone broth is thicker than other brands and is more beneficial for dogs.
Pros

Prebiotics are good for arthritis dogs – The prebiotics ease any pain your dog might be experiencing. Gives your pet more energy – If your dog is getting older, this broth can be bulk made and stored in the fridge until they need it.
Cons

It smells awful. You can find this broth in different flavors (chicken/beef), but the only thing you'll be able to smell it is the turmeric. This can make the broth so overwhelming that dogs may not want to eat it.
Also Available at
Naturesdietpet.com
K9 Bone Broth Powder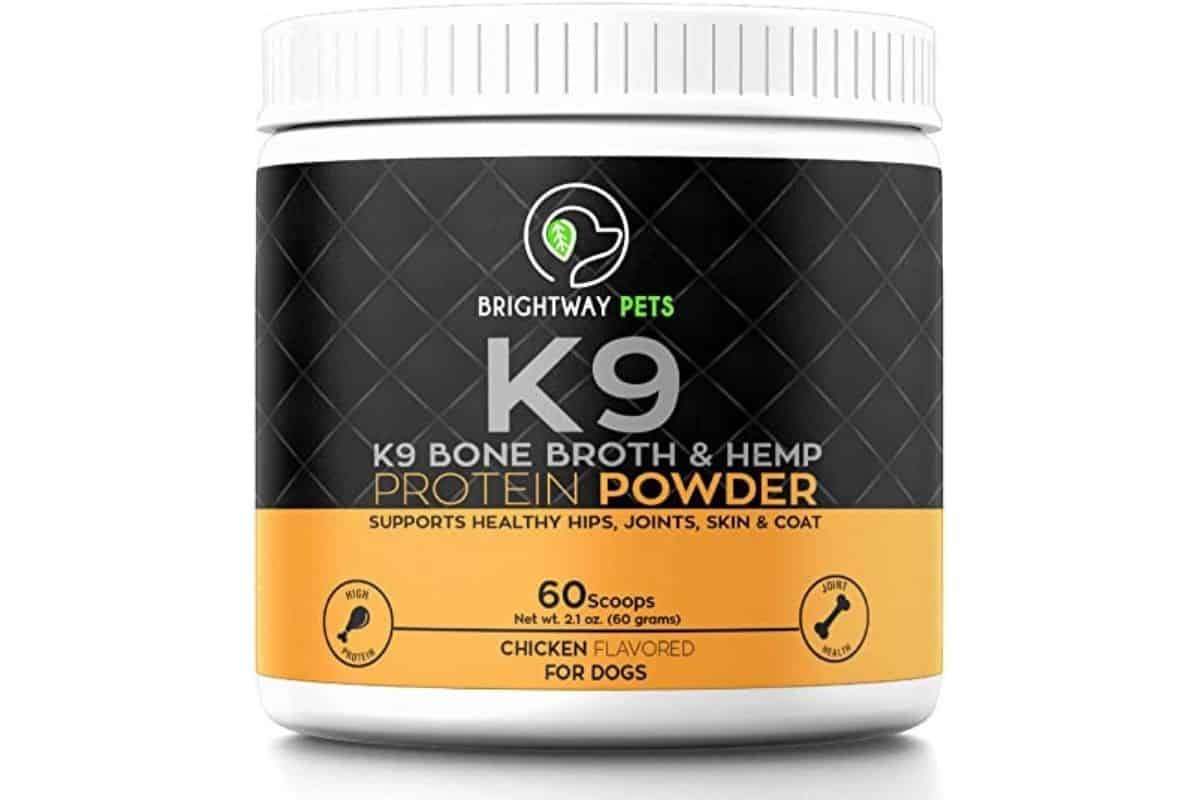 NutraPet Health bone soup has all the nutrients you need in a healthy broth. Notable ingredients include collagen and glucosamine as well as glycine and chondroitin.
These ingredients are essential for maintaining healthy bones and joints in your pet.
Like many other broth products, it also contains Turmeric. Turmeric is known to aid in healthy digestion, support intestinal health, reduce joint inflammation and improve cognitive function in dogs.
This K9 bone broth is concentrated, so a 60g jar can provide 60 servings of broth.
It is rare that you can buy this much broth in one sitting. This makes it a great value and easier to use than other products.
This broth can also be used as a substitute for picky eaters, since it has a delicious chicken flavor that dogs will love.
Pros

60 servings. Often, with broth products, you'll only get 5-10 servings before running out and need to purchase more. K9 broth is a more convenient product because you don't have to run to the grocery store to buy more.
Cons

Only one flavor is available – While most dogs love chicken, not all do. This product is only available in one chicken flavor, so if you are not a fan of chicken, don't purchase it.
Brutus Bone Broth for Dogs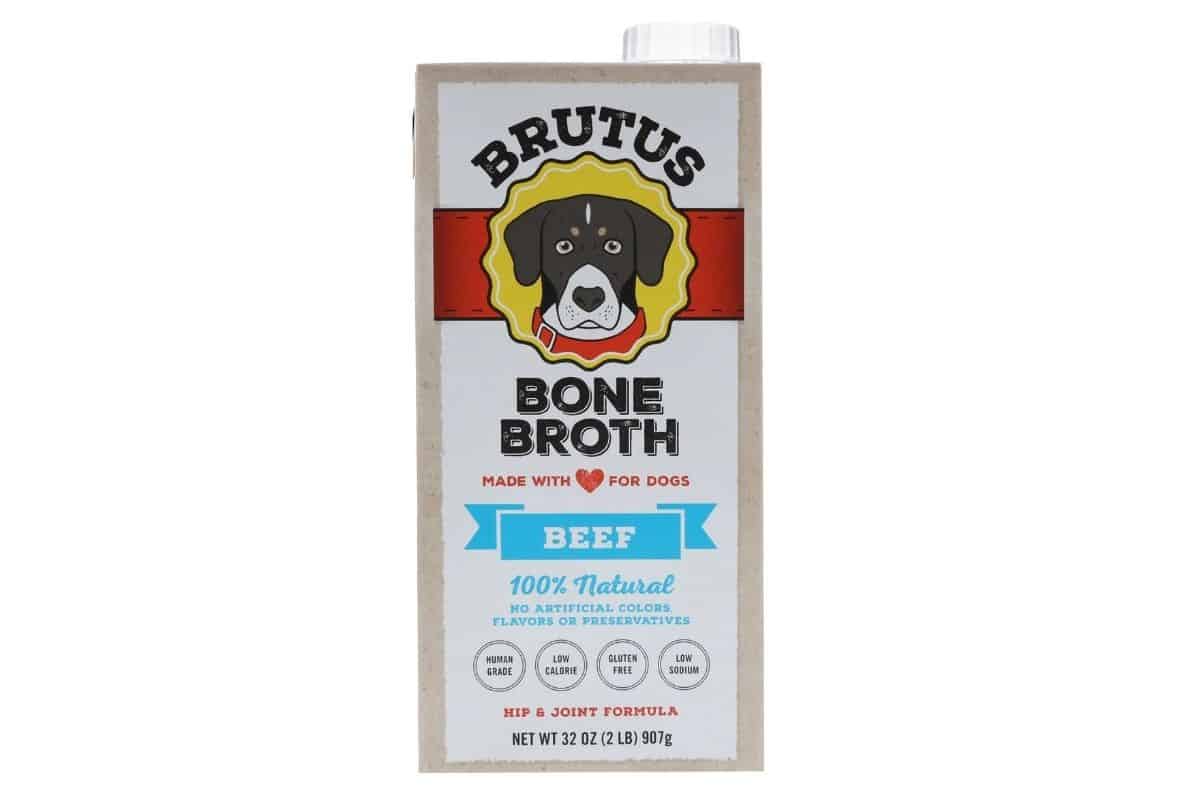 A high-quality diet is one of the best ways to maintain your dog's joint and hip health. It provides nutrients and bone health, as well as vitamins and minerals.
This is exactly the purpose of the Brutus Bone Broth.
Dog owners often look for chondroitin or glucosamine in their dog's food because these ingredients are best for dogs' bones and joints.
Brutus Bone Broth contains a high amount of both these ingredients. This ensures that your dog receives the best nutrition possible to support healthy bones, joints and connective tissue.
It also contains natural ingredients like carrots, sweet potatoes, and turmeric. All of these contribute to your dog's overall health.
This broth is a great choice for dogs with allergies and sensitivities. This broth is safe for dogs who have allergies or digestive sensitivities.
Pros

This broth is great for picky eaters. Even if your dog has a few allergies, it will still enjoy it.
Cons

This broth is only for larger dogs – although it isn't stated on the package, it is more suitable for larger dogs than for smaller ones. It may make your dog gassy. You might notice bad smells coming out of your pet's mouth after they have eaten this broth
Also Available at
Brutusbroth.com
Nylabone Beef Brothbones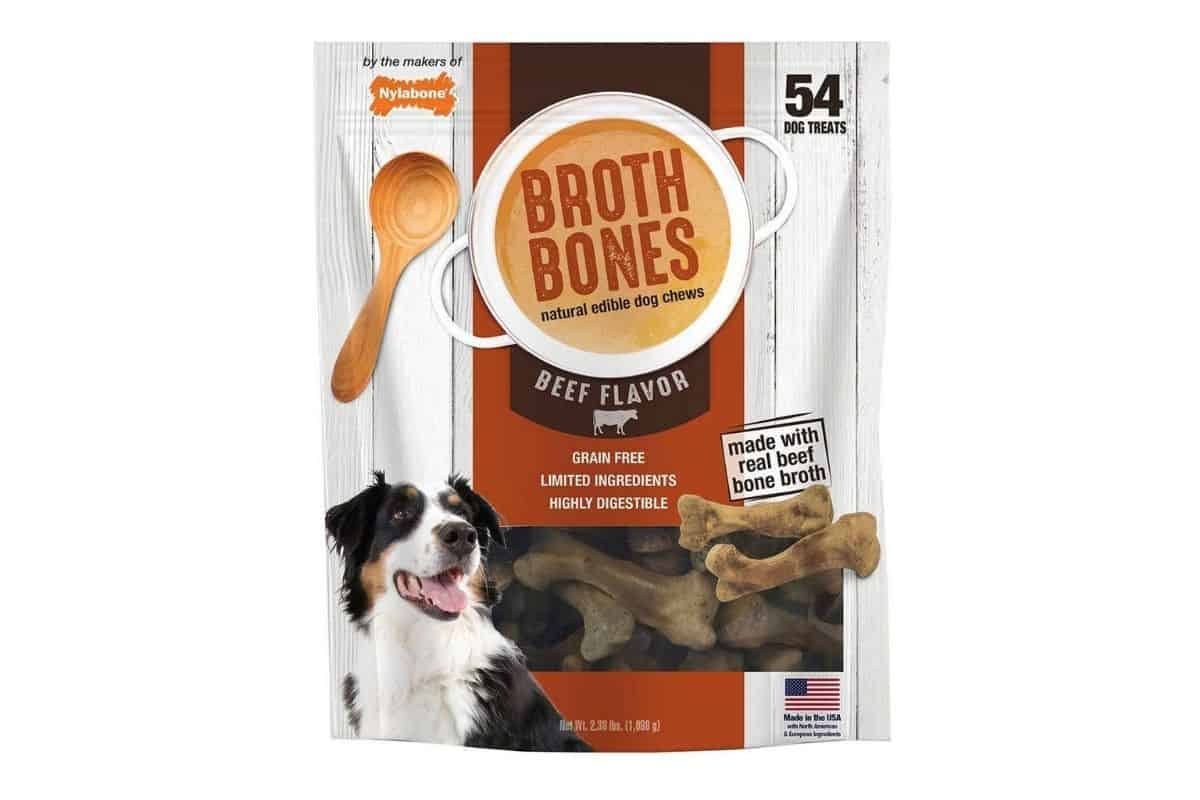 Nylabone Beef Broth Bones is the best choice for dog energy.
This product is made from real beef, which is well-known as a source of high-quality protein. It also contains all the essential amino acids your pet needs in order to be healthy.
The nutrients also provide energy and support your dog's muscular and bone development.
The broth can be added to the dog's normal meal to provide much-needed hydration, and soften his food.
The bone broth does not contain any artificial colors, flavors or preservatives that could cause your dog stomach pain.
The broth is gluten-free, and it contains no maize, wheat or other grains. This makes it suitable for dogs with gluten sensitivity. It's also beneficial for dogs allergic to chicken.
They get the same nutrition as chicken, but without getting sick.
This bone broth is also distinguished by the inclusion of natural edible dog chews. Your dog can chew these chews for hours, relieving any boredom that they feel throughout the day.
This is a great way to avoid any negative behavior due to boredom.
Pros
This broth will hydrate your dog – If you're worried about your pet not getting enough water, this broth can help. Nylabone broth is a great choice for dog owners with chicken allergies.
Cons

Just one flavor – currently, this product is only available in beef flavor, so if your dog does not like the taste you cannot try any alternativesExpensive – this is a very pricy product for what you get
Also Available at
Nylabone.com
The Honest Kitchen Daily Boosts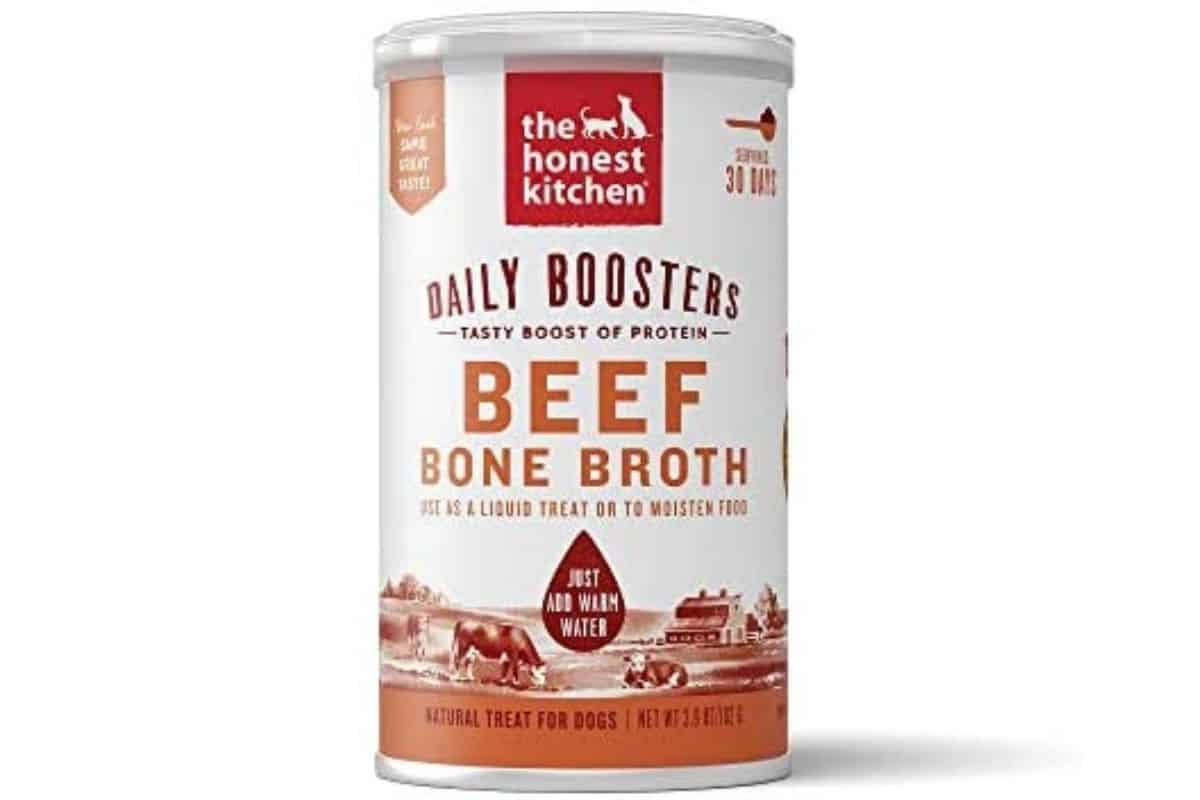 You may already be familiar with Ayurvedic principles. Understanding your dog's dosha type can help you make sensible food choices for your dog.
The Honest Kitchen has done all the work to determine your dog's dosha and created the perfect broth for your pet.
This broth can be enhanced with turmeric and pumpkin, which will increase immunity and promote regularity in digestion. It also moisturizes the skin, hair, and overall improves your dog's health.
This bone broth, like all Honest Kitchen pet food is free from by-products, genetically altered organisms (GMOs), artificial additives, fillers, and other contaminants.
The best part is that you can make this broth for your dog in a few minutes. Simply add warm water to the bowl and pour it over your dog's kibble to make a nutritious meal.
Pros

It's easy to make: simply combine a tablespoon of the product with warm water and pour it on your food.
Cons

Parsley is used extensively. What's more, it is very often used in large quantities. Due to its strong smell and flavor, this is something that dogs are likely to reject. This is why your dog might not like the broth.
Also Available at
Petco.com
Primalvore Free-Range Bone Broth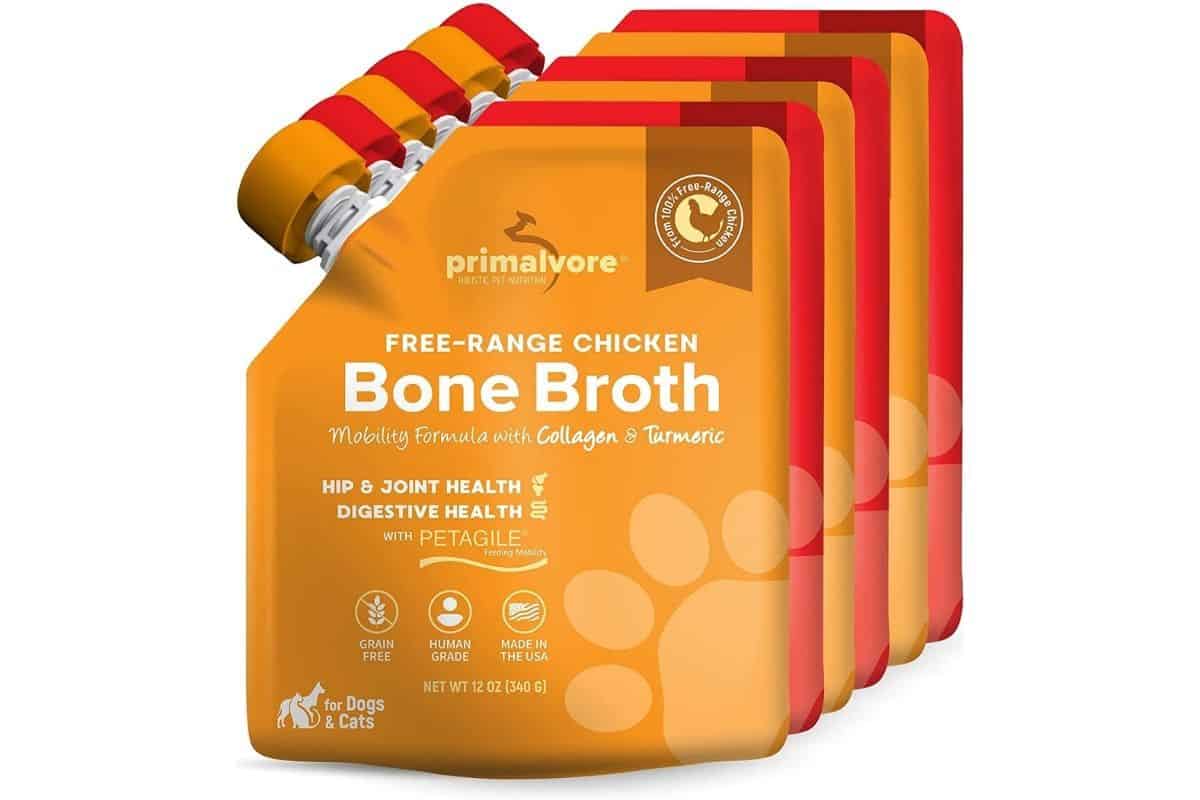 Primalvore Organic Bone Broth is the best choice for older dogs or sick dogs looking to heal their digestive tract.
This broth is rich in turmeric, which has been shown to be a powerful binder and can help dogs with diarrhea, gas, and other issues such as irregular bowel movements.
This bone broth also contains collagen peptides to help prevent aging and mobility issues in dogs.
This broth is free from any sauces, onions or other potentially harmful ingredients to ensure safety for your dog.
Pros

This broth is great for older or sick dogs. This broth is great for dogs who are sick or older and can't eat regular food.
Cons

There is a problem with expiration dates. Customers who purchased this product claim that they have only 7-10 days to use the broth up before the expiration date. This makes it difficult for customers to plan ahead or bulk-buy.
Also Available at
Primalvore.com
Project Paws Bone Broth Powder for Dogs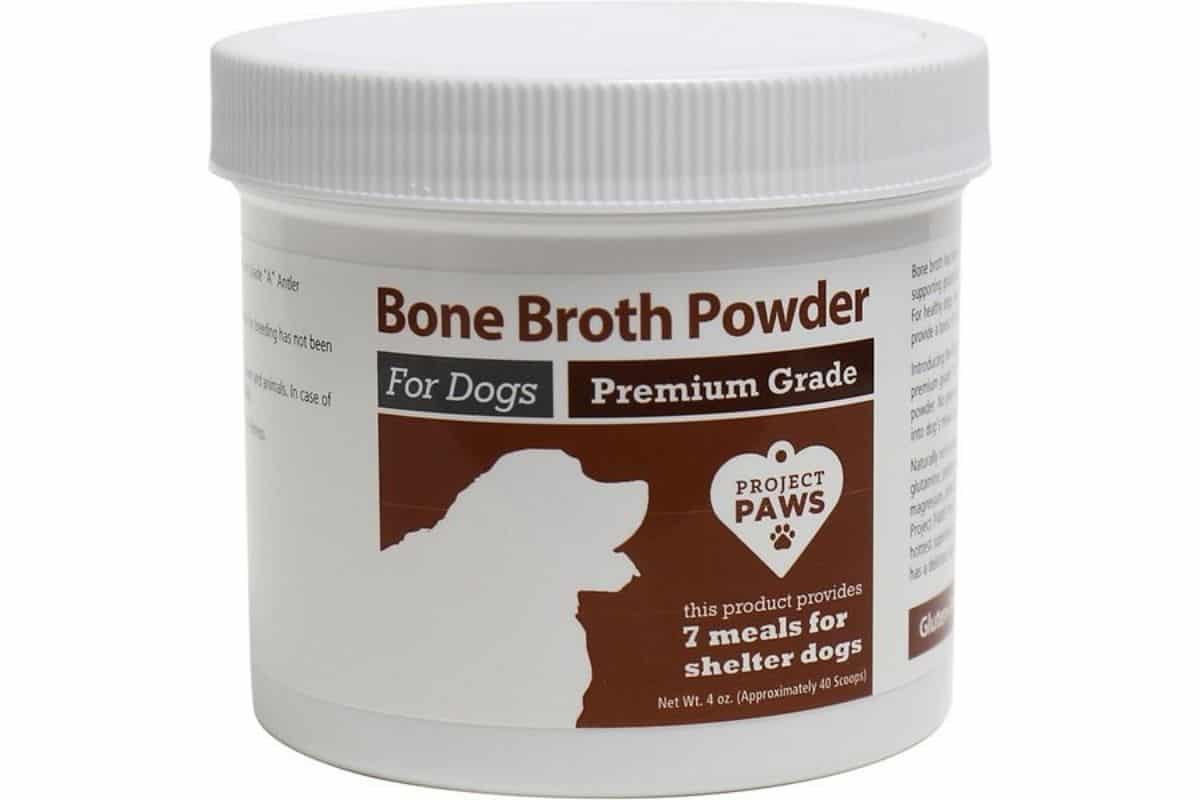 This superfood powder is from the Paws Project.
It's a powerhouse of minerals and amino acids, including zinc, thiamine and potassium.
This unique combination can provide your dog with the best immunological support, joint and skin health, immune function, digestive health, and many other health benefits.
This dog bone broth is not like other commercial ones. It does not contain steroids, growth hormones or antibiotics.
It is also free of soy, gluten, and grain. This product is made from antlers which have been ground up. However, as they were naturally shed, it is cruelty-free.
This broth is safe for dogs with stomach allergies or sensitivities because it only contains a small number of ingredients, such as wild elk antler and free-range elk bone.
Pros

This broth is great for senior dogs. If your dog is getting older, it can provide an extra energy boost. This broth also has many ingredients that can help with bone and joint issues that are common in older dogs. It is cruelty-free – the antlers used in this broth were naturally shed and collected afterward.
Cons

This broth is not recommended for dogs with sensitive stomachs. This will not be an issue if your pet enjoys eating all kinds of food.
Also Available at
Chewy.com
Homemade Broth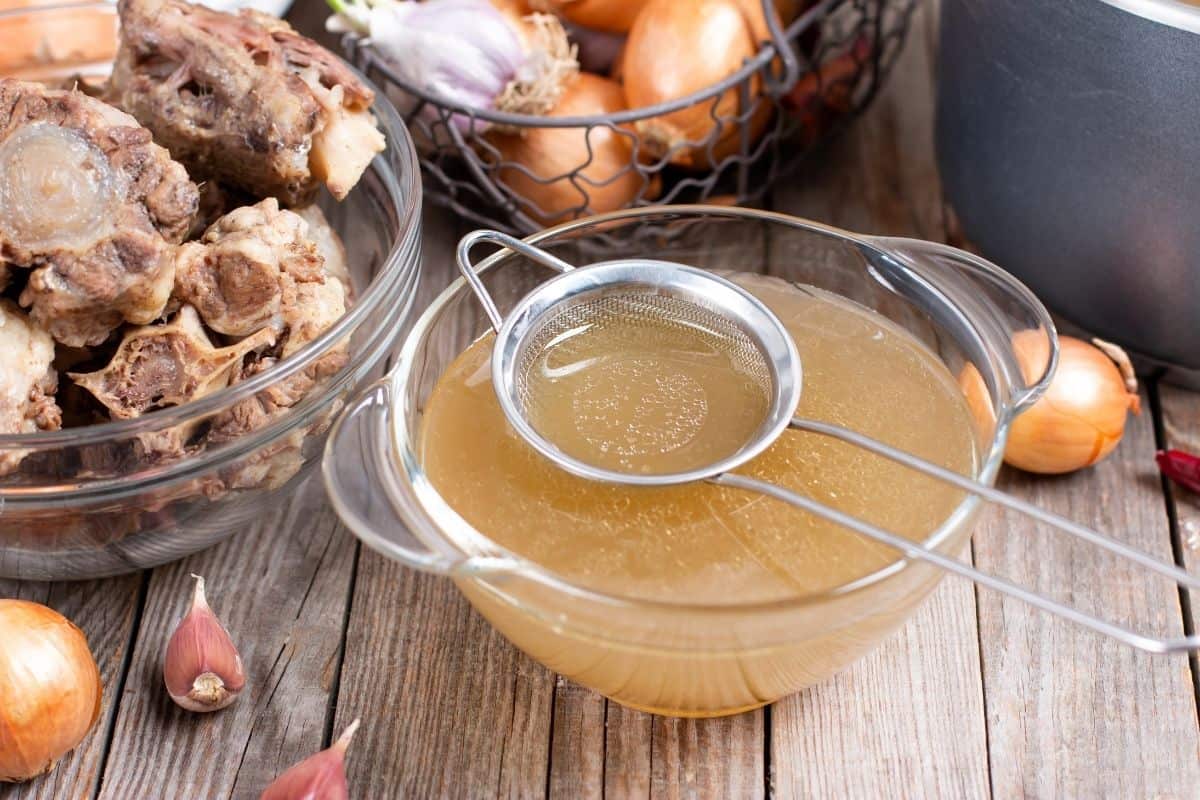 While we'll give you some tips on making bone broth, there are some important things you should know.
Two important steps are required to make homemade broth.
Include an Acidic Liquid

This aids in mineral extraction from bones. Raw apple cider vinegar is the most commonly used acidic liquid. It is well-known for its mineral-attracting properties. Lemon juice can be substituted for vinegar.
Cooking takes time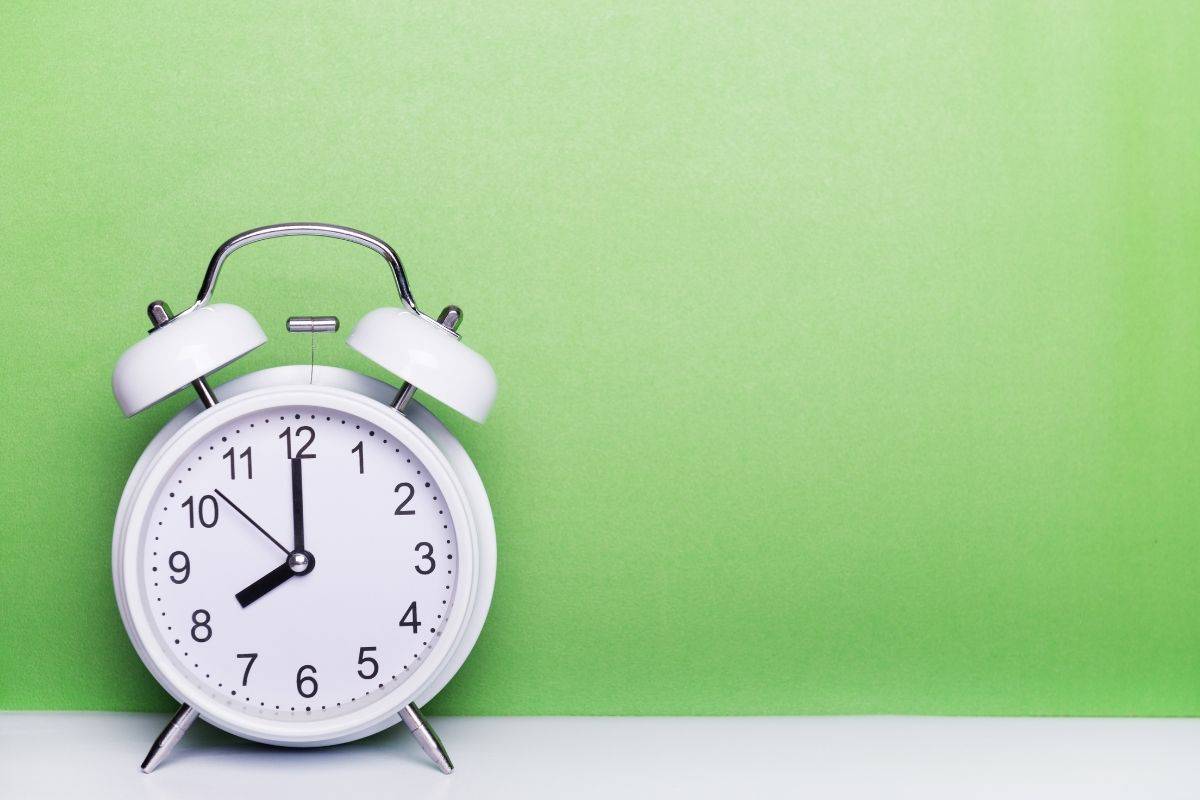 This maximizes nutrition absorption. It can take between 2 and 3 hours to cook a pressure cooker. A slow cooker is the best choice, but a saucepan on the stove can work.
General Cooking Method

It doesn't matter what ingredient you use, the process of making bone broth is the same regardless of how many recipes you make.
Start with raw or cooked bones

It is important to combine joint bones and cartilage, especially if you are looking for collagen or other joint care components. Any wild, grass-fed or free-range bone is acceptable. You can use chicken frames.
If you find it easier to save bones from family meals, you can freeze them. However, ensure that your dog is able to eat any sauces that could be harmful to his digestive system.
You can add whole chickens, meaty bones, and turkey leg halves to make the bone broth double as a meal. You can add additional animal meat.
Use water to cover the bones, then add vinegar

Because this helps keep the broth thick, it is important that the water cover be at least one inch deep. Add 2 tablespoons of applecid vinegar. Cover the broth with a lid during the cooking process.
Turn the heat down on your slow cooker. Before serving, remove any accumulated scum.
Fter Cooking
After cooking, discard the bones and add the meat and soft tissue. The broth should be jelly-like when it is chilled. Let it cool, then remove any fat.
This fat can be given to your dog unless he is suffering from pancreatitis.
Broth Recipes

These broth recipes may prove to be beneficial for your pet.
Beef Marrow Broth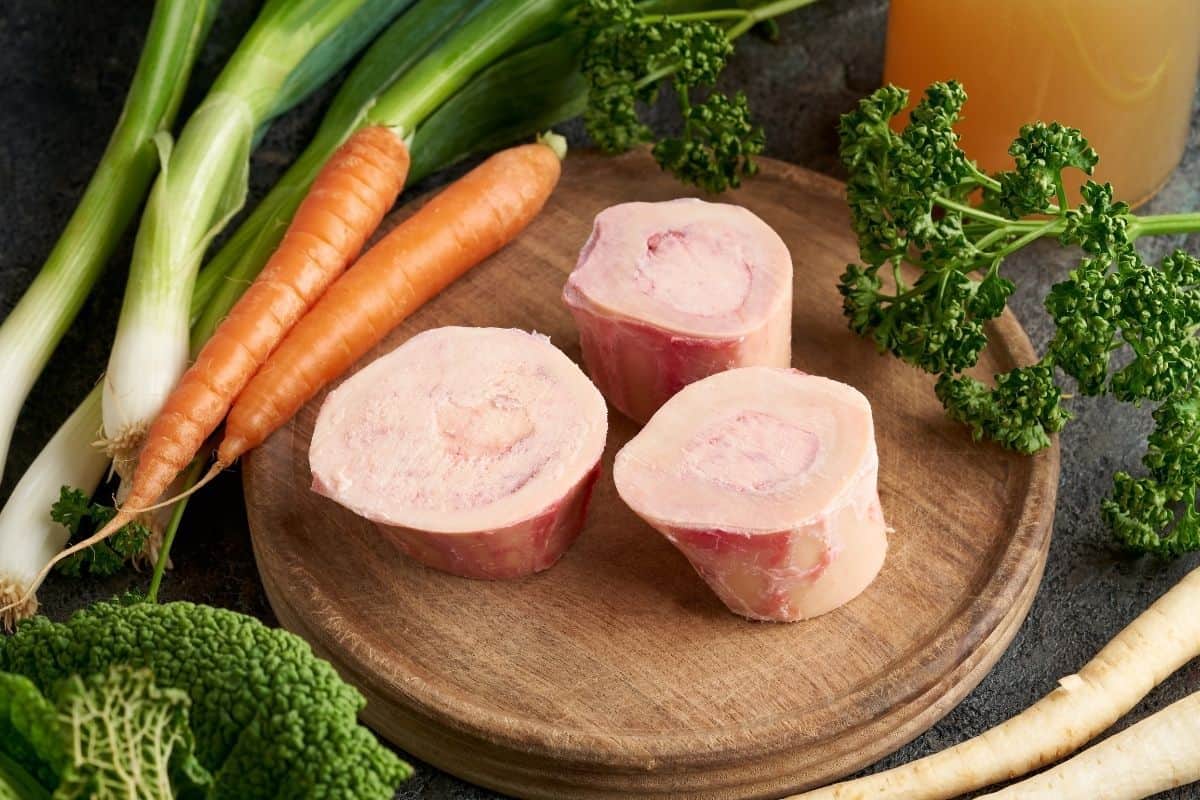 Ingredients

Beef marrow bones, 3 poundsWaterCarrots, 4 of them Olive Oil – 3 tablespoons Apple cider Vinegar – 1/2 Cup
Method

Place all the ingredients in a large pot or crockpot. Make sure to add the vinegar to the mixture. This is what draws all the nutrients out of bones and makes the broth. Add the water to the pot and boil for at least 24 hours. Let the broth cool down before you give it to your pet.
Pig Leg Broth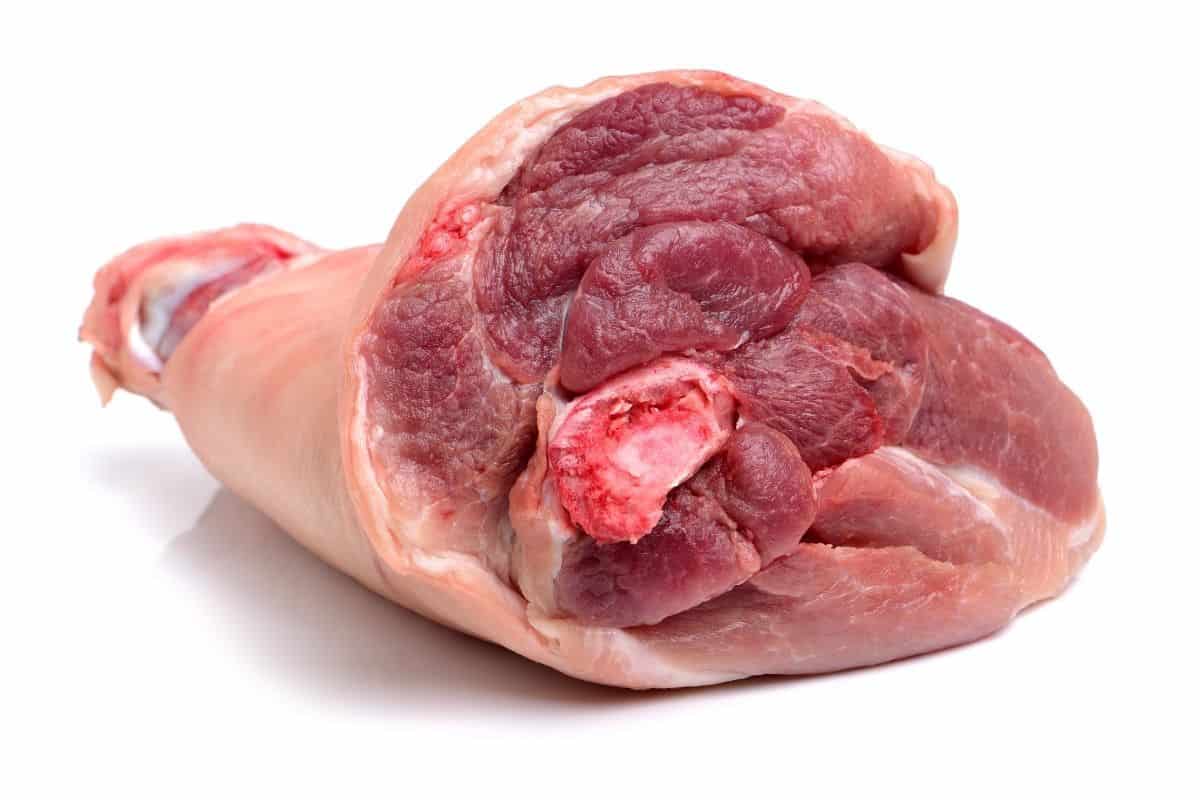 Ingredients

Four pig legsOlive oilGarlic- 3 cloves Parsley- 3/4 cupCarrots- 2 WaterLemon Juice
Method

Combine all ingredients in a large pot. Boil the mixture on low heat for 24 hours. After 10 minutes, drain it and add the parsley. Let the broth cool. Store the broth in the freezer until you're ready to use it.
Chicken Broth

Ingredients

Chicken feetWaterLemon juice
Method

Take off the nails from the chicken feet and place them in a pressure cooker. Add the lemon juice to the broth. This allows the broth to be pulled out of the bones. Add the water to the mixture and let it cook for 75 minutes. Once the broth is done, allow the broth to cool.
Turkey Leg Broth

Ingredients

Turkey legs
Method

You can use a pressure cooker to cook the turkey legs. This will only take 75 minutes if you use a pressure cooker. Once the mixture has cooled, add the turmeric powder.
Mushroom broth

Ingredients

Shiitake mushrooms and duck feet – 3 Carrots, 2Turmeric, 1 Tomato Garlic, 1 clove WaterParsley Fresh ginger 2 pieces
Method

Combine all ingredients in a large pot. Boil the mixture for 10 minutes at high heat. Remove any foam from the top. Once the mixture has boiled, reduce the heat to low. Drain the broth and let cool.
Extra Ingredients

You can add the following ingredients to your recipes if you want to achieve a particular outcome, such as a solution for your dog's medical problems or healthy bones.
Ginger- has cancer-fighting properties and is an anti-inflammatoryMedical mushrooms – helps to keep the immune system strong and healthyRosemary – is an antioxidant and aids in healthy digestionTurmeric – is an anti-inflammatory Kelp – balances the thyroid and glandular system
How to Store Bone Broth

It is smart to prepare bone broth ahead of time and keep a recipe for bone broth in your fridge. This is especially important when considering the many health benefits of bone broth.
You can store your broth in the fridge if it needs to last more than a few days.
It is a good idea to freeze bone broth in a muffin tin. This will keep it fresh for the longest time and allow you to access it quickly.
In each muffin pan, place half a cup of broth. Instead of freezing the whole bag of broth, you can thaw the broth you require for a specific recipe.
This method makes freezing broth very simple. You simply need to place the disks in a bag and they will freeze quickly.
Are There Any Drawbacks to Bone Broth?
Bone broths for dogs can generally be considered safe. However, some dogs may react negatively to certain ingredients.
A potential drawback to bone broth is its long cooking time for some broth recipes.
Some recipes, for instance, call for a cooking time of four hours. This increases the quantity of glutamic acid found in bone broth.
Excessive intake of bone broth can lead to a host of health problems for your dog.
You should also be aware that dogs may consume too much bone broth and not enough of other amino acids.
There is also the possibility of lead poisoning. Some animals could be exposed to higher levels of lead. This can affect their bones and the broth they are served.
Consume high-quality proteins and bones to reduce your dog's exposure to lead.
Choose bone broth products that contain few ingredients if your pet is allergic.
Before you give any bone broth to your dog, make sure your veterinarian has checked for any medical conditions.
Summary

There are many benefits to bone broth for dogs. It is particularly effective for pets who are elderly or chronically ill.
You can make bone broth for your dog by making a homemade treat. This will allow you to tailor the ingredients to your dog's needs.
If you are short on time, consider buying store-bought broth. It should be organic, non-GMO, free of preservatives, flavors, and salt.
9 Best Store-Bought Dog Bone Broth Recipes. Dog Food Smart.