A pasta sauce made in Italy can add variety and excitement to your dog's diet, especially when it is combined with meatballs or beef.
Are tomatoes safe? What are the other ingredients you should avoid when making a dish for your four-legged friend's pet?
Can Dogs Eat Tomatoes?

The short answer to your question is yes.
The Negatives

Tomatoes are a member of the nightshade plant family and can cause digestive problems in dogs.
This is true for immature and green tomatoes. They contain a glycoalkaloid substance called tomatine. Consuming large amounts of this substance can make dogs sick. It can cause vomiting, diarrhea and other stomach problems.
Solanine is also found in the stems and leaves of tomato plants. This substance can cause serious health problems if consumed in large amounts.
You should be looking out for signs such as lethargicness, drowsiness and confusion. Also, look out for dilated pupils or a slowing down of the heart rate. If your dog has any of these symptoms, you should immediately seek medical attention.
The Positives

Dogs can enjoy the full-bodied, red tomatoes at peak maturity. They are free from any side effects and sicknesses.
Tomatoes can actually be a good source of fiber. This improves their digestion and regularity in bowel movements.
This is due to the tomato skin, pulp and crushed tomatoes seeds. Dog foods are often called "tomato pomace".
Although some consider these to be waste products from the tomato plant, nutritional experts will tell you that they are essential parts to eat because they contain vitamins and minerals.
Additionally, tomatoes contain lycopene which is a powerful antioxidant. It has been shown to combat cancer cells in animals and humans. This can help with skin and fur health and prolong the life expectancy and maintain eye sight.
Beta carotene is the substance that gives tomatoes their attractive red color. Beta carotene is essential for the production of vitamin B within the body and can be beneficial to eye and skin health.
Tomatoes are rich in vitamin A as well as vitamin C which is an important antioxidant and immune system booster.
Vitamin C is not a requirement for dogs, but it can prevent the formation of cancer cells and strengthen weak or sensitive immune systems.
Ingredients to Avoid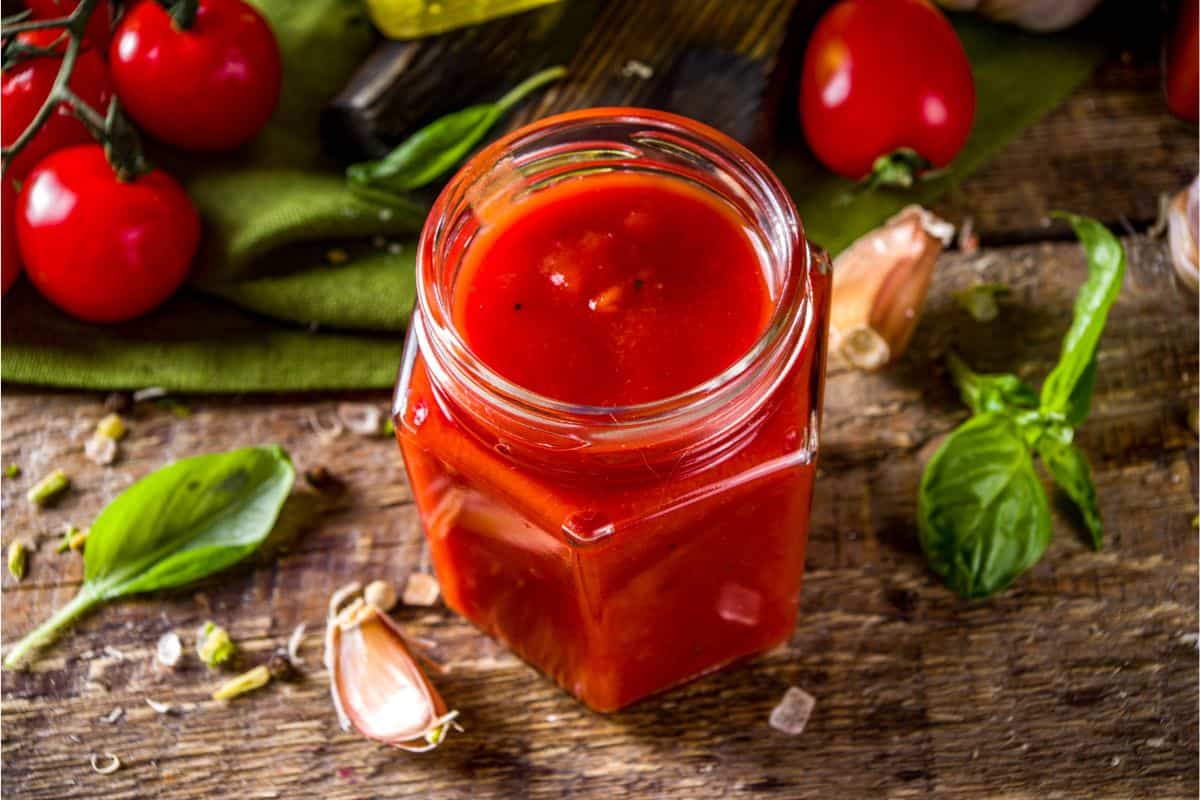 Many tomato-based sauces, especially those of Italian origin, contain many herbs, spices, seasonings and vegetables that give the sauce its rich, delicious flavor.
While these ingredients are fine for humans, they can be very problematic for dogs.
Here's a list of ingredients to avoid when making sauce for your dog.
Salt & Sugar

In large quantities, both of these ingredients can be dangerous for our health. It is no surprise that the same negative effects are felt in dogs.
Sugar in their foods can cause digestive problems, such as upset stomach, vomiting and diarrhea.
Sugar can also lead to significant weight gain in animals and humans, which can lead to a host of health problems.
Salt intake can lead to a host of cardiovascular problems including strokes and heart attacks. Salt poisoning (also known as hypernatremia) can also occur from too much salt. This can lead to diarrhea, fever, seizures and swelling.
Salt in the blood can cause this. This causes muscles to lose moisture, shriveling, shaking and jerking.
Salt poisoning can cause neurological symptoms such as convulsions, death, or even comas.
Onions & Garlic

Even though garlic and onions are delicious, they pose a host of dangers to a dog's health. They can attack red blood cells which can lead to anemia, poor health, weakness and even death.
While it is best to avoid excessive consumption or limit its intake to a small amount, toxic effects can occur, including bad breath, drooling and nausea, vomiting, diarrhea and physical weakness.
These symptoms can be treated with IV treatment to rehydrate your dog and medication depending on how severe the toxic effects are.
Canine anemia can also lead to blood transfusions that can be costly, painful, stressful and even invasive for owners.
Ingredients to Try (In Small Doses).

Basil

Dogs can safely consume basil in small amounts, but excessive consumption can cause loose stools/diarrhea and allergy effects. It can also cause digestive problems like bloating, flatulence, stomach pains, and stomach discomforts.
Basil in small doses can have many health benefits for dogs.
Basil is another great source of antioxidants. It's good for fighting the growth of cancer cells and has anti-inflammatory properties. This makes it a good choice for older dogs suffering from joint problems.
Basil can also be used to counter oxidative stress by using beta carotene or anthocyanins to remove free radicals (uncharged molecules).
Basil is also good for your heart health. It contains healthy oils that lower cholesterol and magnesium which can improve blood mobility and circulation.
Antioxidants have calming effects that can lower anxiety and stress levels in dogs.
This is achieved by reducing corticosterone levels, which can cause anxiety in dogs.
Antioxidants can also be used to prevent cellular damage and promote a longer life span. They counteract joint conditions such as arthritis and other heart problems that are common in older dogs.
Bell Peppers

Bell peppers provide a great source of vitamin C and beta carotene, and are also a good source of antioxidants. They are useful for canine health problems that may not be natural.
Bell peppers also contain almost 92 percent water and contain healthy fats, carbohydrates, and proteins that can be beneficial for your dog's overall health.
Your dog will get the energy it needs from fats and carbohydrates, while protein can build muscle.
Also, peppers contain manganese as well as magnesium. This is an important mineral for dogs of all ages.
There are some health risks associated with excessive bell pepper consumption.
First, dogs are carnivores, so a diet high in vegetables will not provide them with the nutrition they need to thrive.
Bell peppers and other vegetables can cause excessive consumption, which can lead to bloating, nausea and diarrhea in dogs.
Even small quantities of spicy peppers such as jalapenos should not be consumed. They can cause discomfort, pain, and digestive distress in dogs.
What about other tomato products?

Most tomato-based products have a problem with added seasonings or ingredients. This is why you should be cautious when giving them to your dog.
Tomato Soup

Many tomato soups include cream and cheese to add body and flavor. However, dogs can experience digestive problems such as nausea, bloating, vomiting, and stomach pains.
Many of the spices and seasonings in tomato soup are also not good for dogs. For your safety and security, homemade tomato soup is best.
Ketchup

In addition to the additional seasonings and spices, ketchup often contains xylitol. This artificial sweetener can cause kidney problems in dogs, vomiting, weakness and stomach pains.
Last Thoughts

Tomato sauce is a delicious and tasty addition to your dog's diet. However, it is important that you are aware of hidden ingredients, seasonings and spices.
Making your own is always the best way to achieve the healthiest results. This can also be a tasty and nutritious treat for both dog and owner!
Can Dogs Eat Tomato Sauce? (Ingredients To Watch Out For!) Dog Food Smart.