Ear wax is a normal condition in dogs. Cerumen, also known as ear wax, is produced by certain glands in your dog's ears. An ear wax color chart for dogs can help you to determine your dog's health.
What is Ear Wax?

The ear wax collects dirt, pollen and bacteria from the inner ear.
After these foreign substances are collected, the wax naturally oozes from the ear, cleaning the ear canal.
Ear wax is something that's normal in humans and dogs. However, it's important to be aware of any changes in the smell, color and amount of earwax so you can identify potential health issues within your dog.
The ear organ is composed of three parts: the outer, middle, and inner ear canals. You will see the outer ear, or external ear canal. It consists of cartilage skin and fur.
This is also known as the pinna. Most diseases that affect dogs start with the pinna. Healthy dogs will have a pinkish inner pinna.
Does a dog's ear wax have to be normal?

Yes. Ear wax is normal in dogs. Healthy ear wax serves many purposes, including:
Keep your ear canals clean.
Are Certain Dog Breeds More prone to Ear Wax Problems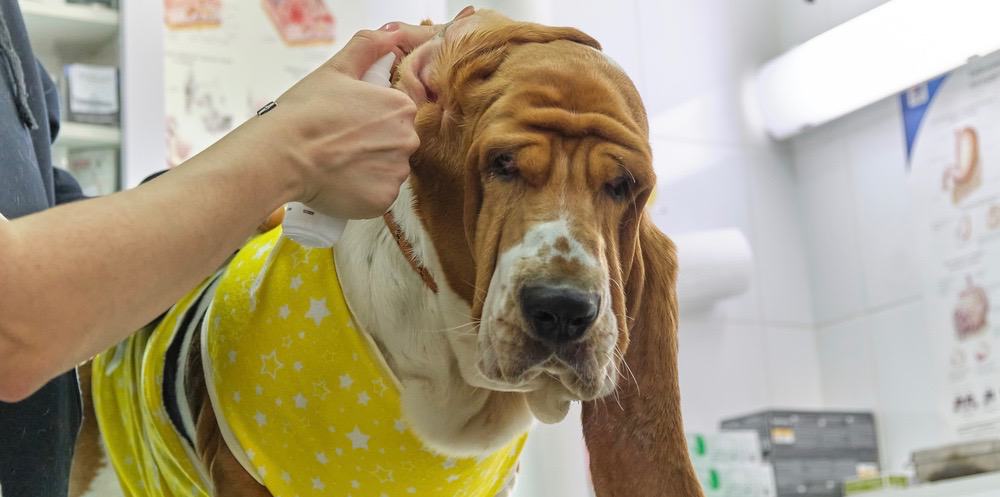 Some breeds of dog have more ear wax than others. These include breeds such as Cocker Spaniels and Basset Hounds, Poodles and English Bulldogs.
It is due to the shape of their ears, and the possibility of hair growing out of their ear canals. They may also have an overproduction problem that causes ear wax to grow.
Ear wax can also be caused by other factors. You may notice that your dog has more ear wax if he is often taken to the pool or beach.
The moisture in the ear can encourage bacteria to thrive, which could lead to diseases.
You can prevent ear infections by placing cotton balls inside your dog's ears whenever you anticipate him getting wet.
You should also ensure that the hair is not entering the ear canal or causing infections when it's being cut.
Chart of Dog Ear Wax Colors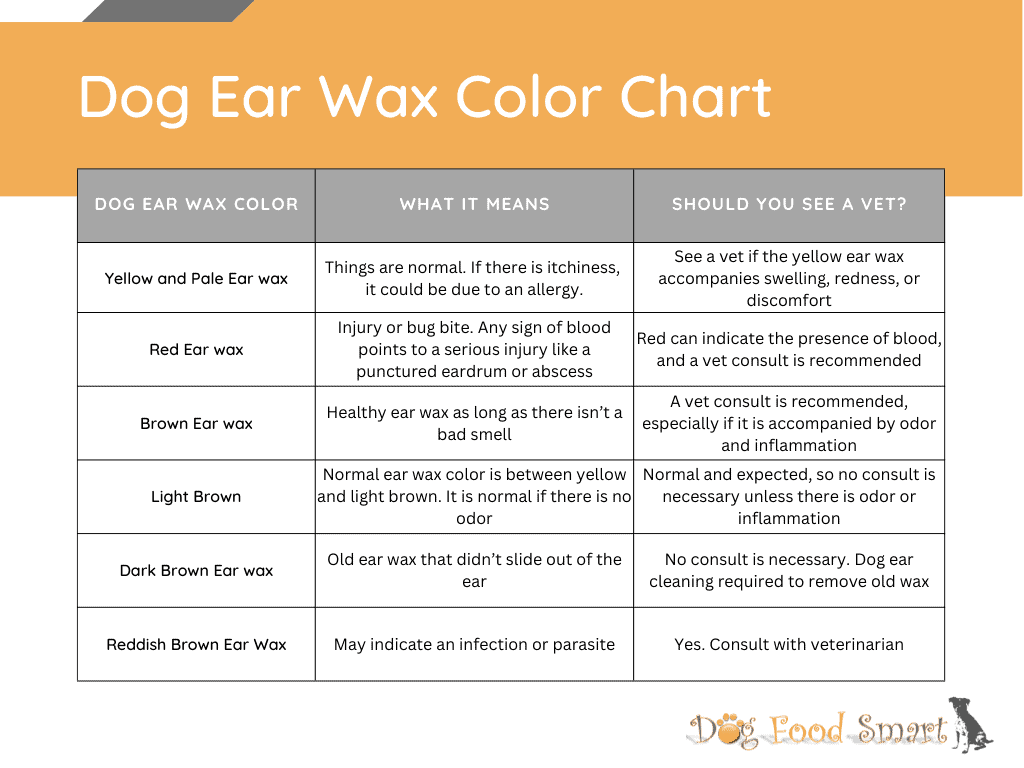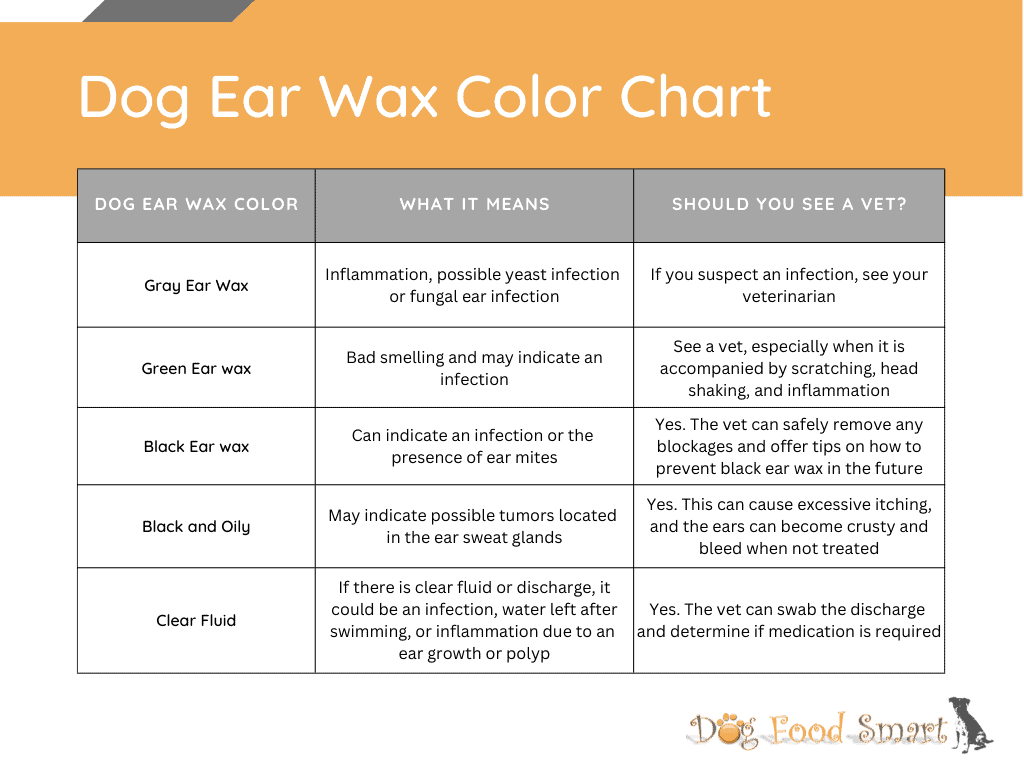 Yellow/Pale Ear Wax

You may notice yellowing or pallor in your dog's ear wax. This could be normal, but it may also indicate that your dog may have an ear infection.
This can happen to your dog if he has too many moisture in his ears.
Red Ear Wax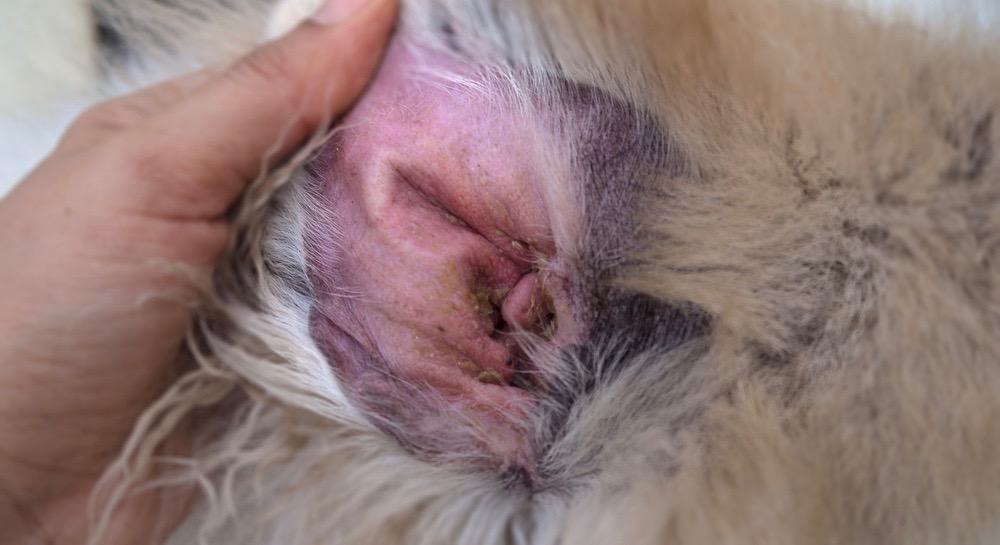 This is a warning sign that your dog may have reddened ear wax. This is usually a sign that your dog has blood in his ear wax.
It could be that your dog scratches his ears constantly or that he has suffered from insect bites or other injuries to his ear canal.
The worst case scenario is when his ears burst. This can cause bleeding, which then mixes with the wax.
Brown Ear Wax

This is normal. You should expect a different texture of ear wax when you have an adult dog than when your puppy was. Ear wax that is darker in color than normal for healthy dogs, such as older dogs, tends to be more dense. The range is typically yellow to light brown.
Dark Brown Ear Wax

It could be a sign of an ear mite infestation if you see dark brown ear wax clusters, or it looks like coffee grounds. Sometimes, ear wax that is dark brown or black can also be a sign of a yeast infection.
If you see dark brown ear wax you should consult your doctor. This is a sign that there may be an ear problem.
Reddish Brown Ear wax

Ear mites can easily spread from one dog to the next. Ear mites can cause inflammation and pain.
Ear mites can be detected by ear wax color. In this instance, you might want to consult your veterinarian.
Reddish brown earwax can be caused by a variety of factors, including allergic reactions, polyps and excessive swimming or bathing.
Light brown ear wax

It is normal for dogs to have light brown ear wax. If the ear wax is stained or has an unusual odor, it should be considered normal. A veterinary consultation will determine what treatment your dog needs.
Remember that the ears of dogs can contain small amounts bacteria and fungi. Overgrowth and inflammation can occur when the wax builds up.
Green Ear Wax

You might notice yellowish or pale green ear fluids and not just wax. This could be inflammation. This is usually caused by P. aeruginous bacteria, which occurs in the middle and external ear canals.
It is often resistant to drugs and can be difficult to treat. A severe infection may be present if the ear fluid becomes oozy and produces a strong odor.
Gray Ear Wax

Gray ear wax is a warning sign. Gray ear wax is usually a sign that your dog's ear canal environment has changed. This environment change can affect the color of the earwax. These yeast organisms are common in the ear canal as well as on the skin.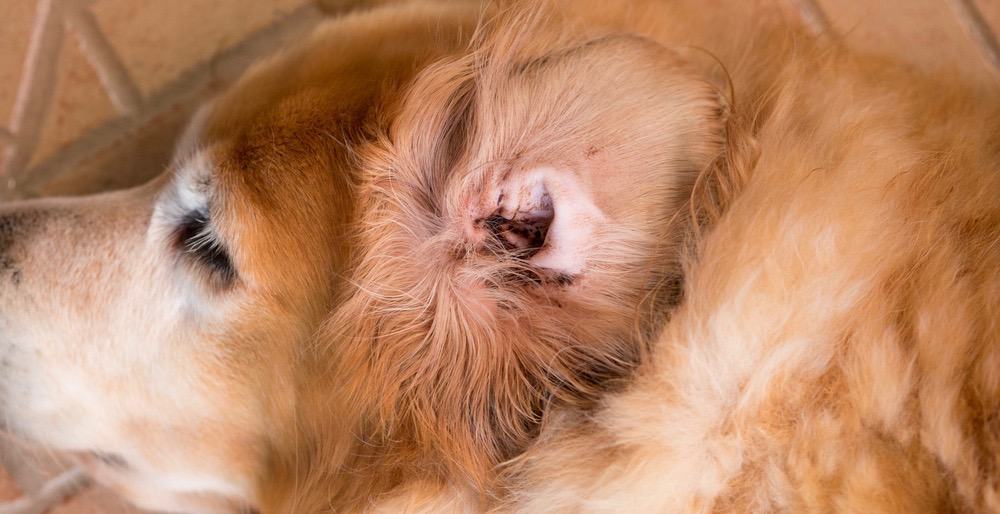 Black/Dark brown Ear Wax

Dark brown ear wax in dogs is usually an indication that the ear wax has not slipped out as it should.
It can be clogged with bacteria and dirt. For the best treatment, your veterinarian should be consulted if your dog is prone to black or brown ear wax.
Dog Ear Problems: Symptoms and Causes

Most often, ear wax problems in dogs are caused by infection of the outer ear canal.
These infections can be caused by yeast, bacteria, ear mites or infected injuries. Polyps and allergies can also cause infection.
Your dog may be exhibiting unusual smells or inflamed skin. You may also notice him wailing and scratching his ears.
The amount of ear fluid produced in the ear can also be a sign that the ear has become infected. This is because the ear wax tends not to be as abundant.
You should get your dog checked immediately if you suspect that the ear infection has spread to the middle ear. Your dog may become unbalanced. It could even cause loss of hearing and strange eye movements.
You should be aware that yeast and bacteria can affect the ear, which can change the smell of your dog.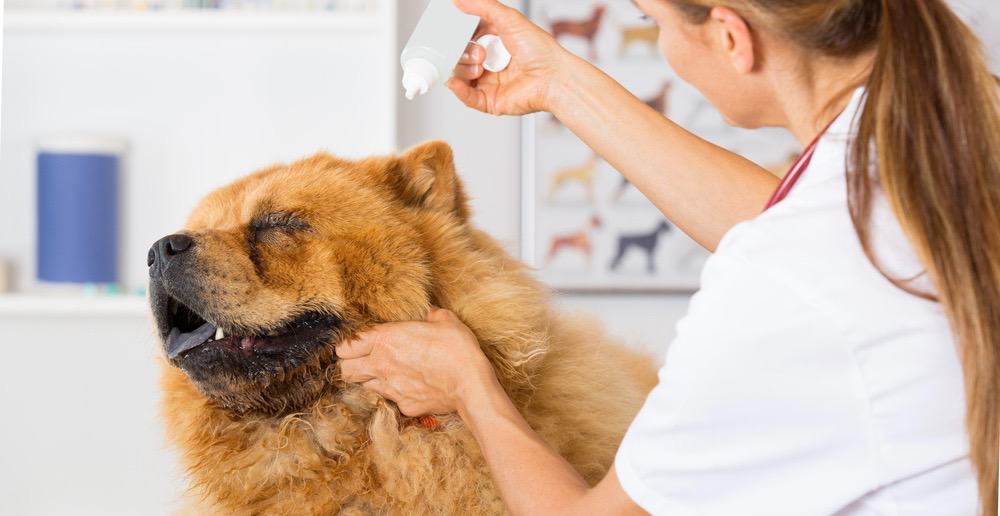 External causes of yeast and bacteria in your dog's ears include injury or grooming. These aren't the only ways your dog can get ear infections.
Some conditions in an old dog may cause problems with his ears. To ensure your dog's health, you should consult your veterinarian.
A healthy diet for your dog is important for overall health.
These conditions include:
Keratinization disorders (seborrhea, overproduction of cerumen)IdiopathicAutoimmune diseases (pemphigus complex, lupus erythematous)Non-neoplastic polypsTumors (malignant or benign)Foreign bodies(plants, hair, seeds)Hypersensitivity (FAD, food-borne allergies, atopic allergies)Endocrine disorders (hormone imbalances, hypothyroidism, Cushing)Hay Fever and Allergies: Allergies are a very common cause of excessive ear wax for a dog. The skin barrier is broken down in an allergic reaction, which causes increased wax production in the ears. These conditions are a favorite habitat for bacteria, which can increase inflammation and irritation. Ear mites can cause severe pain and inflammation, and are often associated with darkened ear wax. If you see a dark, brown or black ear wax, call the vet. Infections: Your dog may be more susceptible to getting ear infections than others. You need to know what ear wax color is normal, and what to look out for. Discuss this with your vet.
About half of ear infections are due to allergies in dogs.
Other than that, the foreign body must be causing the infection. You can minimize the chances of problems by being careful when grooming your dog. These issues can also be reduced if you aim to have a healthy dog.
Prevention of ear problems in dogs

We have already stated that ear wax accumulation in dogs is normal. However, there are some cases when certain conditions or activities may cause ear canal infection.
If your dog scratches his ears constantly, it could be a sign of allergies. If he doesn't get treatment, it can lead to inflammation and infection.
Visit your veterinarian to get the best advice for your dog.
Most cases involve prescribing medication. However, sometimes it is necessary to take more severe measures.
You should not wait for your dog's ear problems to occur. Instead, be proactive and prevent them from happening.
Also, you need to ensure that your dog is healthy so that he doesn't become ill with any health issues. Also, you should observe your dog to check for signs that his ears may be infected.
How to Clean Your Dog's Ears (Ear Wax Removal).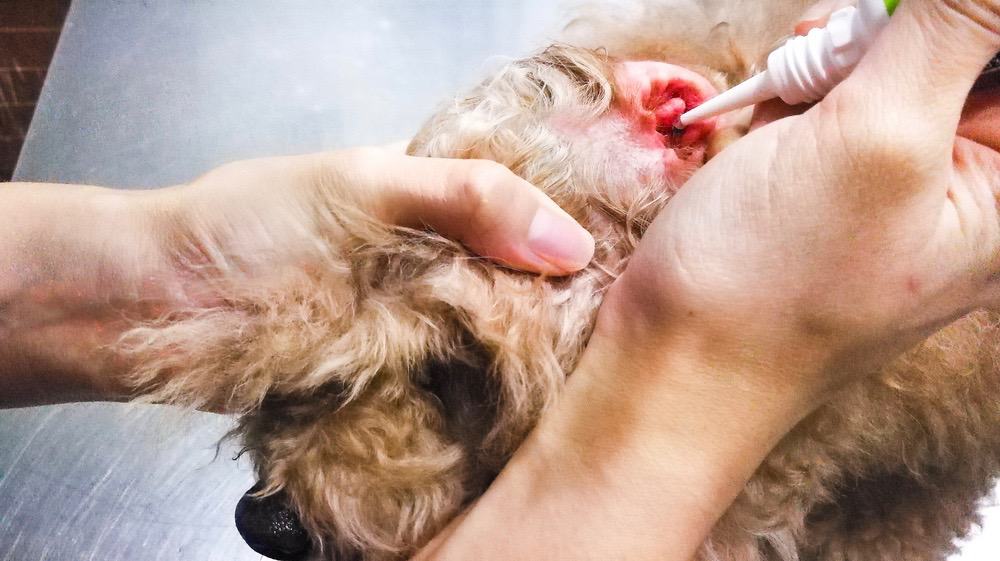 Don't wait for your dog to get an ear infection before cleaning his ears. Regular grooming should include cleaning his ears, though some breeds may require more.
You don't have to know what to do if you're unsure. Your veterinarian or groomer can help.
It isn't difficult to clean your dog's ears. It is important to use gentleness and the correct cleaning solution.
Your dog's ears should be protected from the cleaning solution.
To clean your dog's ears, you don't need any special equipment. All you need is the cleaning solution and gauze or cotton balls.
Q-tips should not be used as they can push the wax further down into the ears.
Your dog should be placed between your legs. To break up any wax or other debris, massage the ear gently for approximately one minute. This will be a fun part for your dog. Gently remove the solution from the dog's ears using the cotton balls. The solution will contain wax. You will also see wax. Give him the treat.
Why shouldn't you clean your dog's ears?

You don't have to clean your dog's ears if they are healthy and appear clean. If your dog starts to exhibit an unusual smell or discharge, it is best to clean their ears.
If your dog starts shaking or scratching their ears more than usual, it is probably time to clean them. If your dog's ears are red, inflamed, or in pain, contact your veterinarian immediately.
Dog Ear Wax vs Ear Mites

If ear wax in dogs is not light colored and does not have an odor, it will be easy to distinguish between ear mites and dog ear wax. Ear wax from a dog suffering from ear mites is darker and more blackish, and will look a lot like coffee grounds.
A foul-smelling odor will also develop. Ear mites can cause your dog to itch and scratch excessively. Ear mites can also produce wax, which can cause ear irritation.
When to See a Vet

The only way to determine if your dog's ear wax is healthy is to check for signs of an infection. Redness, inflammation, redness and frequent head tilting, scratching and head tilting are all signs of a dog ear infection. It is possible that the inflammation is not always present in the outer ear. Therefore, the vet will need an instrument to examine the inside.
Last words

Dogs produce a certain amount ear wax just like humans. However, you need to monitor it because it can indicate what is going on within your ear canal.
It is also important to examine the amount of wax produced. If the amount produced is excessive, it is an indication that your dog has a health problem. Your dog's ears will be healthier if you address any problems as soon as they are noticed.
A routine of good grooming and a thorough understanding of the color chart for dog ear wax will help to avoid unnecessary trips to the vet.
A healthy dog and proper nutrition will help reduce the chance of an ear infection.
Most Frequently Asked Questions

What does normal dog earwax look like?

A dog's healthy earwax will look pale or yellowish. Be aware of any wax buildup, dirty ears, or darker ear wax. These could be signs that there is an infection or other problem.
What are the Signs of a Dog Ear Infection?

You may see pawing, rubbing, and bloody discharge in your dog's ears. There might also be redness, irritation, or odor. Dog ear infections are not likely to go away by themselves. If you wait too long to get treatment, it may be more difficult to manage.
What amount of ear wax should a dog have?

Dogs can tolerate small amounts of ear wax. You should be aware of any ear wax buildup as this could indicate a problem that needs to be addressed with your vet. Ear wax buildup can lead to infections and cause severe pain.
Dog Ear Wax Color Chart: What to Watch for Dog Food Smart.