The American Kennel Club says Labrador Retrievers is the most popular dog breed to own. This is a natural result of their playful nature, sweet disposition, and love for fetch.
However, just like any other family member, they need to be cared for properly. You need to know how to feed a lab pup, regardless of whether it is 4 weeks old, 8 weeks, 10 weeks or 12 weeks old.
Your dog's development and longevity will be influenced by the nutrition you provide during their puppyhood. Puppyhood is the most crucial time in a dog's life.
If you feed your Labrador too often, it will develop joint problems. If you feed Labradors too little, they may not reach their full potential.
You will need to take good care of any lab puppy you adopt or plan on adopting.
This includes knowing how to feed a lab dog. It is vital to develop dogs because it improves their quality of life and longevity.
What Should a Lab Puppy Eat?

Your puppy is like any other baby. He or she will be growing rapidly and will require a steady supply of nutrition in order to thrive. It's time to introduce dog food once your puppy is no longer dependent on mom's milk.
Dogs usually need three meals per day, but it all depends on their position in the Labrador growth charts cycle.
Your puppy will eat most of the food that is available to him, which could cause excessive weight gain and bone problems down the line.
To ensure your lab puppy is healthy and happy, you should follow a lab puppy food chart. Labradors need the best food possible.
Lab Puppy Feeding Chart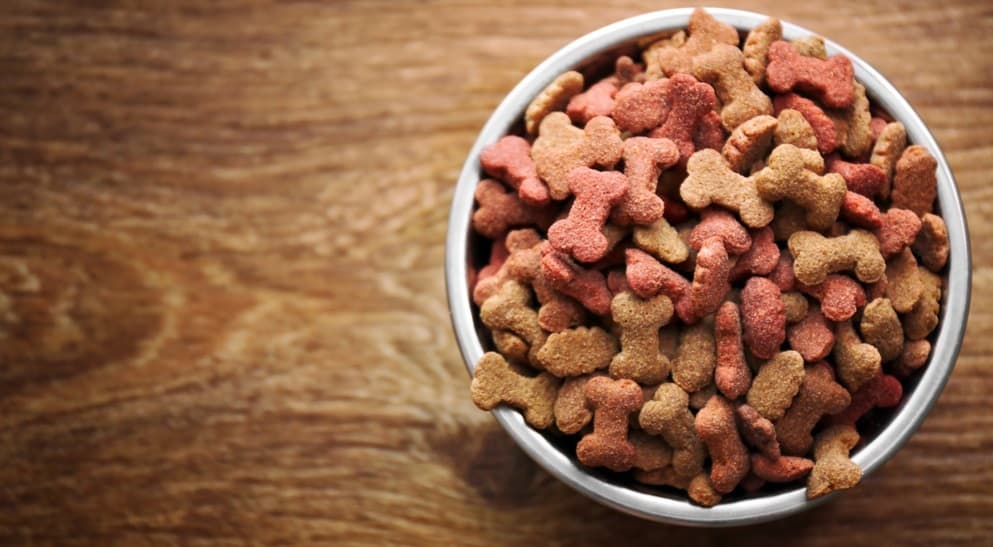 These are the best feeding tips for a lab puppy

* 0-30 days: Puppy needs to drink mom's milk. However, if your puppy is not eating well, you can give him puppy milk formula. Introduce softened puppy food slowly over the next 4 to 6 weeks. Puppy should not yet be weaned. 8-12 weeks: Puppy should have been fully weaned. Puppy should also be offered puppy food three to four times per day. Puppy should consume 2 to 3 cups of food per day. 12 weeks to 6 month: Puppy should be eating puppy food 2-3 times per day. 6-15 months: Puppy should continue to eat puppy food. Give puppy two equal meals per day.
Our Top Dog Foods for Lab Pups

This post includes affiliate links. I will be compensated for any purchases made after clicking on my links.
Royal Canin Labrador Retriever Puppy (Editor's Choice)Hill's Science Diet Dry Dog Food (Runner-Up)Purina Pro Plan Dry Dog Food (Budget-Friendly)Purina ONE Smart BlendBlue Buffalo Life Protection Formula
How Much to Feed a Lab Puppy?


Lab Puppy 2 Weeks Old

Your Labrador puppy should still be with his mother at 2 weeks of age, drinking her milk. The average puppy opens their eyes in two weeks. However, they are still dependent on their mothers. You can monitor the growth of your litter of puppies if you are a breeder.
Dogs that are more assertive may take more milk than they should, making others hungry or smaller.
If you notice that a few of your pups seem underweight, you should make sure they get enough milk. You can also make up the difference by giving your puppy formula.
Lab Puppy 3 Weeks Old

Your lab puppy will learn to walk in sync at three weeks of age. Although he still needs his mother's milk, your lab puppy will soon be able stand and sit up on his own.
This is also when your puppy will start to get his milk teeth. Some breeders may offer puppy food, but it is best to wait until the pup is old enough to eat. If his mother isn't producing enough milk or he is hungry, this is an exception.
Lab Puppy 4 Weeks Old

Although your 4 week old lab puppy is still with his mother, he will be drinking his mother's milk. This is the right time to start puppy food.
To ensure that your puppy doesn't get upset, you should slowly introduce puppy food. You can mix 1/4 of puppy food with 3/4 water to accomplish this.
To ensure that your puppy is comfortable with the mixture, you should only give him a small amount to get him started. This mixture can be given to your puppy multiple times per day. However, you should not force it to eat.
It is a slow process that requires patience.
Lab Puppy 5 Weeks Old

Your lab puppy should have tasted puppy food at 5 weeks old. He should also be more open to it now than he was a week ago.
As the puppies become less dependent on their mother's milk, you will notice that the mother spends less time with them.
The puppies will still be able to nurse if they need it. The mother will no longer lay down to feed her puppies. Instead, she will stand up and feed them.
Lab Puppy 6 Weeks Old

Your puppy mix should interest your 6-week-old lab puppy more than the other puppy mixes.
You can gradually reduce the amount of water until the puppy eats all the food offered.
By this point, the puppy will be more active and willing to go on his own without being accompanied by his mother. Because he is no longer dependent on his mother, this is the best time to wean him.
Puppy 7 Weeks Old

Your lab puppy should be almost weaned by 7 weeks. As they no longer require it for food, puppies at this age can only nurse as permitted by their mothers.
They should be able to eat the watered down food and then move on to pure puppy food.
Lab puppies 7 weeks old should be fed dry food rich in healthy protein. They might gain too much weight if they are given wet food. High-fat foods are not good for labs, but you don't want your puppy to be skinny.
Lab Puppy 8 Weeks Old

Your lab puppy of 8 weeks should be weaned. Puppy need food three to four times per day. Your puppy's food needs will vary, but generally, an 8-week old lab puppy will require 2 cups of puppy food each day.
Do not allow your dogs to eat what you have prepared. It will make it harder for them to track how much they ate.
Don't overfeed them. Your veterinarian will be able guide you in determining the ideal weight for your puppy.
Lab Puppy 9 Weeks Old

A 9-week-old lab puppy will normally have spent about one week at his new home. Most likely, his food has been altered or is being changed from the original diet of the breeder to the one you would prefer to feed your lab puppy.
To avoid disrupting their digestive system, any food changes should be made slowly.
This week your puppy will be more curious, so it is crucial to follow a lab puppy feeding schedule and eat a balanced diet.
You can also give your dog cooked meats but make sure they are not removed from the plate.
Lab Puppy 10 Weeks Old

A lab puppy of 10 weeks should be eating right away. Your puppy may need between 2 and 3 cups of puppy food per day depending on his size and hunger.
Allow the food to rest for 10 to 15 minutes before removing any leftovers.
This will teach your puppy to eat what is given and help him establish a regular feeding schedule. Be careful not to give your puppy too much food. This can cause undue stress on his developing bones.
Lab Puppy 11 Weeks Old

At 11 weeks, your lab puppy will be extremely hungry. Your puppy will be at its most active growth stage, and you can expect him eat more and appear constantly hungry.
If he doesn't feel satisfied, increase the amount of food. But keep your feeding schedule consistent so he doesn't ask for food from outside the window.
Your puppy should eat 3-4 meals per day. Each meal should contain equal portions. Your puppy will likely need about 3 cups of food per day. Your puppy should be taller now so he needs to have a slim waist.
Lab Puppy 12 Weeks Old

You should be able reduce your puppy's food intake to just 2 cups per day by 12 weeks. Although it is best to give your lab puppy at 12 weeks 3 meals per day, this can be difficult if you work all day. However, this is a crucial developmental period.
It will help your baby's digestive development and ensure that he or she is eating 3 meals per day.
It is important to regulate his weight now, as Labradors are known for their insatiable appetite.
Lab Puppy 13 Weeks Old

A puppy lab puppy 13 weeks old is bound to be busy. Although he may seem hungry, labs are known to indicate they aren't hungry. Your lab should be eating a healthy, lean diet to prevent any weight gain.
Remember that your lab will be more curious than ever and may eat items that aren't food.
This could be dangerous for your furbaby. Keep your floors clean and watch out for what he picks up from the outside.
Lab Puppy 14 Weeks Old

By this time, your 14-week-old lab puppy should have learned how to use the potty. He may still need to be reminded to go outside, but should have good bladder control.
He will then lose his milk teeth to get his adult teeth.
Your pup's teething stage will be the hardest. Make sure he isn't biting too hard. Dry food can help to relieve his biting urges, which will be his top priority.
What are the Calories A Lab Puppy Should Consume?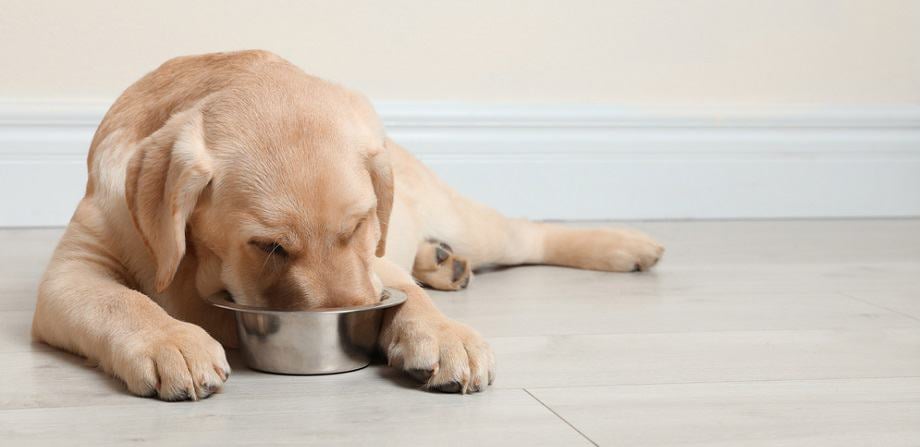 Your Labrador will need to eat more frequently if they are younger or smaller. They should eat between three and four times per day.
Hypoglycemia is a dangerous condition in which puppies can go longer without eating. As they get older, the amount of calories that your puppy requires changes.
Based on your puppy's current weight, the daily calorie requirements for them is calculated. It is important to regularly weigh your puppy to adjust the food portions.
Calculate the RER (Residual Energy Requirement), and multiply it by 2. To determine how much food your dog needs, you can find its RER (Residual Energy Requirement). The RER formula is 70 (weight in kilograms).3/4
If your Labrador is 10kg in weight, their RER = 70 (10)3/4, which is 400. Their daily intake should therefore be 800 calories
What Human Foods Can A Labrador Puppy Eat?

Labradors are able to eat certain human foods which provide all the nutrients they need for their growth and health. These foods include:
Meat-puppies can eat meat. This is because they are carnivores and meat-pups can eat meat.
What are the most dangerous foods for Labrador puppies?

Some human foods can be dangerous and poisonous for your Labrador. These are the foods you shouldn't feed your Labrador:
Theobromine is found in chocolate. This can be dangerous for dogs.
What is the Average Growth Rate of Lab Puppies Each Week?

For every week your puppy is old, he should be 2 pounds heavier. For example, a puppy 12 weeks old should weigh in at 24 pounds. Lab puppies will weigh half their adult weight when they reach 18-20 weeks of age.
Because his weight can change depending on growth spurts and other factors, you should be able to see the waistline of your puppy so that it is not too small but not too big. He should feel his ribs underneath his skin but not be able to see them.
5 Best Dog Foods For Lab Puppies

Royal Canin Labrador Retriever Puppy (Editor's Choice)Hill's Science Diet Dry Dog Food (Runner-Up)Purina Pro Plan Dry Dog Food (Budget-Friendly)Purina ONE Smart BlendBlue Buffalo Life Protection Formula
1. Royal Canin Labrador Retriever Puppy

Editor's Choice: Best Dog Food for Lab Puppies Overall

Royal Canin puppy food is our recommendation as the best puppy food for Labradors. This food is specially designed for Labrador Retrievers, taking into consideration future problems and the best nutrition for Labradors.
It is also rich in nutrition to support healthy skin and coat development. It is recommended that puppies aged 8 to 15 months can eat this food.
Pros:

* Specific to breed * Supports healthy joints * Promotes hair and skin health * For puppies up to 15 months old * Helps to maintain ideal weight
Cons:

* We couldn't find any!
2. Hills Science Diet Large Breed Puppy
Runner-Up
Our runner-up for the best puppy food for labs is the Hills Science Diet food that is made for large breeds. The food's formula is made specifically for the needs of a large breed puppy.
This food comes with both glucosamine and chondroitin, which is important when it comes to joint development for large breeds.
Pros:
• Formulated for large breed puppies
• Made with high quality ingredients
• Exciting flavour to please your puppy
• High in vitamins, which is good for growth
• High levels of calcium for bone development
Cons:
• Contains a high amount of grain
3. Purina Pro Plan Large Breed Puppy
Budget Friendly
Considering how much puppies eat, you might need a budget friendly food. For this, we suggest the Purina Pro formula.
This food is made specifically for large breed puppies and is formulated with high amounts of high-quality protein, including salmon, chicken, and lamb.
The food is also legume-free, which is important in preventing bloat and digestive issues. It is made with weight management in mind, helping your pup get off to the right start.
Pros:
• Natural sources of glucosamine
• DHA from fish oil for brain growth
• Made for large breed puppies
• High-quality protein
• Weight management
Cons:
• Not formulated for skin care
4. Purina ONE SmartBlend Large Breed Puppy Formula
Another great food choice for Labrador puppies is the Purina One SmartBlend puppy formula for large breeds. This means that it includes natural sources of glucosamine, which is essential for joint development for Labrador Retriever puppies.
It also contains good levels of protein, which is important for brain, heart, and muscle development, putting your puppy off to the right start. It is also intended to be easy to eat and digest.
Pros:
• Formulated for large breeds
• Great for brain development
• Easily digestible
• Natural sources of glucosamine
• High protein for heart development
Cons:
• Contains rice and corn
5. Blue Buffalo Life Protection Formula Puppy
The last puppy food for labs that we will be looking at is the Blue Buffalo Life Protection. While this is not specific for large breeds, it does have a lot of great nutrition for all developing puppies, including DHA and ARA.
DHA and ARA are both found in mother's milk and are essential for brain development. This food has no fillers either, making it a healthy choice.
Pros:
• Contains DHA and ARA for brain health
• Formulated with antioxidants, vitamins, and minerals
• No chicken by-products
• No fillers, corn, wheat, or preservatives
• Contains nutrition for joint health
Cons:
• Not breed or size specific
2 Month Old Lab Puppy Weight
At 2 months, your Labrador Retriever puppy should weigh anywhere from 9 to 15 pounds. Any less than that and your puppy is going to need to eat more frequently in order to close the gap.
Puppies that weigh more than that should also be watched for food to make sure they are not gaining weight excessively. The placement on the range of your puppy will depend on his natural size, sex, and how much he ate from his mother.
3 Month Old Lab Puppy Weight
By 3 months, your pup should weigh between 13 and 23 pounds. You will notice that the space between the two ranges increases and will continue to vary based on your dog's individual size.
As long as your puppy is staying on his growth curve, your puppy should be growing well. Make sure that your puppy is consistently gaining and not plumping out or thinning. You should never be able to see your puppy's ribs and his sides should not bulge.
4 Month Old Lab Puppy Weight
When your puppy is 4 months old, you should know whether your puppy is going to be a larger or smaller lab. The ideal weight range here is anywhere from 18 pounds up to 30 pounds.
Watch carefully to be sure that your puppy is growing steadily still and that his weight has not stagnated. A full-grown Labrador Retriever, on average, weighs around 75 pounds. So at 4 months, your pup should not be quite half the weight he will be as an adult.
5 Month Old Lab Puppy Weight
When your lab puppy has reached 5 months old, you can expect your puppy to weigh anywhere from 25 pounds up to 40 pounds, depending on the size and sex of your dog.
Your puppy should still be sticking to his growth curve, so follow your vet's recommendation as to whether your pup weighs a healthy amount or not. Make sure that you can see your puppy's waist easily.
He should be lanky and little bit awkward in his body, without any sign of puppy fat remaining. If he seems plump, you might consider cutting back his food slightly to help get him down to the right weight.
6 Month Old Lab Puppy Weight
At 6 months old, your lab puppy should be between 30 and 50 pounds. While your puppy still has a ways to go as far as growing goes, he should be getting longer and taller, continuing to slim out as he gets bigger.
Remember to watch for excess weight gain as that could be harmful to your puppy overall.
He should still have a good amount of energy and be getting a lot of exercise to maintain his health and his weight. Keep consistent with his food to ensure that he is growing as well as he should be.
Switching From Lab Puppy Food To Adult Food 
You will be able to determine whether your puppy is ready to be switched to adult food by his height. If he has stopped growing upward, it is likely time to stop puppy food and transition to adult food. For labs, this happens at about 12 months of age.
To switch foods, you will need to gradually mix in the new food with the old food over the course of several days to avoid stomach upset.
What If My Lab Puppy Won't Eat?
Puppies need to eat more often than adult dogs do. They are growing rapidly, burn a lot of calories, and need the fuel. If your puppy has stopped eating suddenly, and you have not changed food, you need to call your vet once it has gone past a day.
Their appetites will increase and decrease through growth cycles, but should never stop completely. If your lab puppy is refusing food altogether, you need to take him in to be seen by the vet.
What Nutrients Does A Lab Puppy Need?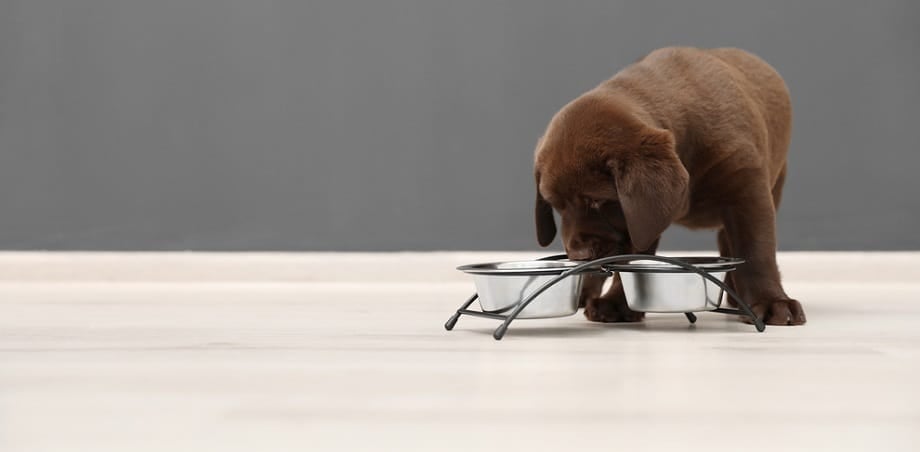 A balanced, high-quality diet rich in vitamins and minerals is essential for your lab puppy. Lab puppies require fatty acids in their food to maintain their coasts and reduce shed.
A diet high in protein and antioxidants is a good choice and can provide long-term health benefits.
A diet with less grains is healthier. Labs are inclined to eat a lot and will eat almost anything. So make sure you're careful about what food you give them.
It is important to ensure that the first ingredient in a recipe is a type of protein.
Do You Need to Feed a Lab Puppy Supplements

It is the ingredients that make it more appealing to feed your lab puppy food than adult dog food. Puppy food has more nutrients and calories that adult food because it is meant for growing dogs.
You don't need to give your puppy any supplements. Puppy food is often enriched so you don't need to give your puppy too much vitamins and minerals.
Too much calcium can cause more damage than good. Talk to your vet if you would like to include glucosamine in your lab's diet. This will help to prevent joint problems.
How much water should a Lab Puppy drink?

After a puppy is weaned from his mother's milk, he needs to be hydrated constantly. Younger puppies need half a cup of water every 2 hours.
Older puppies should drink around an ounce per pound of their body weight. You will need to take out the water bowl at night when housetraining your puppy.
To ensure that he is able to go to sleep, be consistent with when it is taken out.
What amount of exercise does a Lab Puppy need per day?

Your lab puppy's age will determine how much exercise he needs. A puppy 3 months old will need about 15 minutes of exercise per day. It is possible to calculate 5 minutes of exercise per month for each age group.
An average puppy 6 months old would need to exercise for 30 minutes per day. You don't need to exercise puppies a lot, as they are very energetic.
You should not take puppies younger than 3 months for walks. This exhausts them and makes it unnecessary.
Comparison of commercial dry dog food and raw and cooked food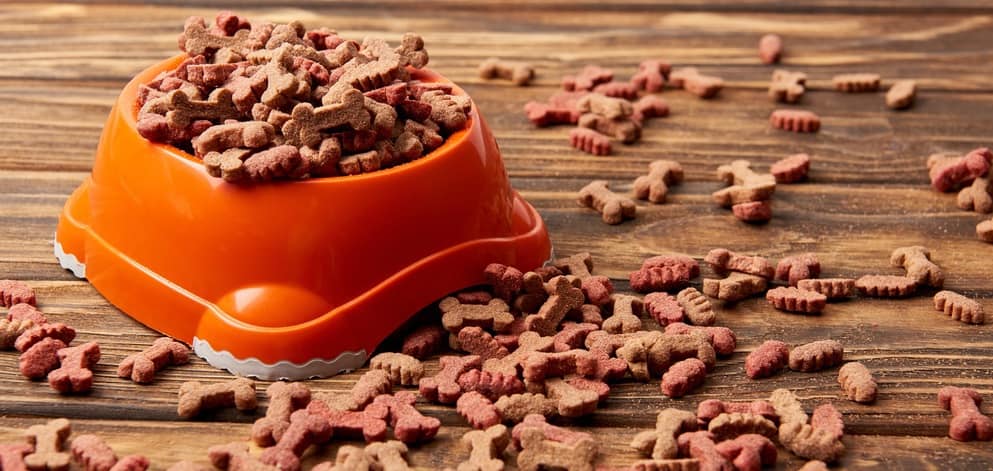 We can assume you are familiar with the amount of food that a Labrador puppy should be fed. There are many choices when it comes to feeding Labrador puppies. You'll find both supporters and detractors of each method. Even vets don't agree. Let's do a quick roundup:

Raw or cooked food prepared at home

You don't have the time to play with puppies when it comes to nutrition. You should be able to recognize the difference between home-cooked and natural food. You can find entire books on raw feeding and homemade pet food. You can get one to become an expert.
My personal opinion and that of many vets is that getting used to raw food can be quite difficult for puppies.
My limited skills as an animal nutritionist are not what I want to risk my puppy's future. My puppy will be the victim if I make mistakes!
Commercial Dog Food

We are comparing dry and wet foods. As a treat, you can either stick to dry foods or add wet food.
The best thing about commercial puppy food is the clear instructions on how much and how frequently to feed them. You have the opportunity to get feeding advice from your vet since you need to take your puppy in for a check-up as soon possible.
One thing I would like to point out about commercial food is that they tend to be less good for you if they aren't very expensive.
It doesn't mean you have to choose the most expensive product. However, I recommend that you go with a brand recommended by your vet or choosing a middle-priced option.
Wet food is not only expensive but it can also cause gum disease in your dog. This is where kibble can be helpful. Wet foods are a treat. I recommend that we choose wet foods made by the same company that makes the kibble.
This is because you need to reduce the amount of kibble you give your dog in order to compensate for any extra wet food.
How many times per day should you feed your puppy? (Lab Puppy Feeding Schedule)

You can feed an adult dog twice daily, but your puppy should be fed more often. Good puppy food will include feeding instructions.
You should do this four times per day until your puppy is three months.
Not Too Fat, not Too Thin

Unfortunately, I cannot give you any guidelines as to how much your puppy should weigh and at what age. Even the best Labradors will not be identical. Some Labradors will be bigger than others, while others will grow at a different rate. It is possible to give a general guideline.
Although young pups are more likely to have roly-poly bodies, it is possible for them to develop a waist from three months old. It is not acceptable to see the ribs.
You should consult your vet immediately if you suspect that your puppy is overweight. If you suspect that your puppy is overweight, the same applies. Don't risk underfeeding. Before you make any changes to your puppy's diet, get the opinion of the vet.
Free Feeding

People work most of the day so they leave food out for their dogs.
One problem is that a puppy might decide it's okay to eat all the food in the morning. He might feel hungry later in the day but there won't be food.
Labradors, in particular, can eat out of boredom, and I guarantee that your Labrador pup will be bored if you're not there.
If you are unable to do it yourself, consider asking a family member or friend to take care of your dog at lunchtime.
Eat, Love, and Play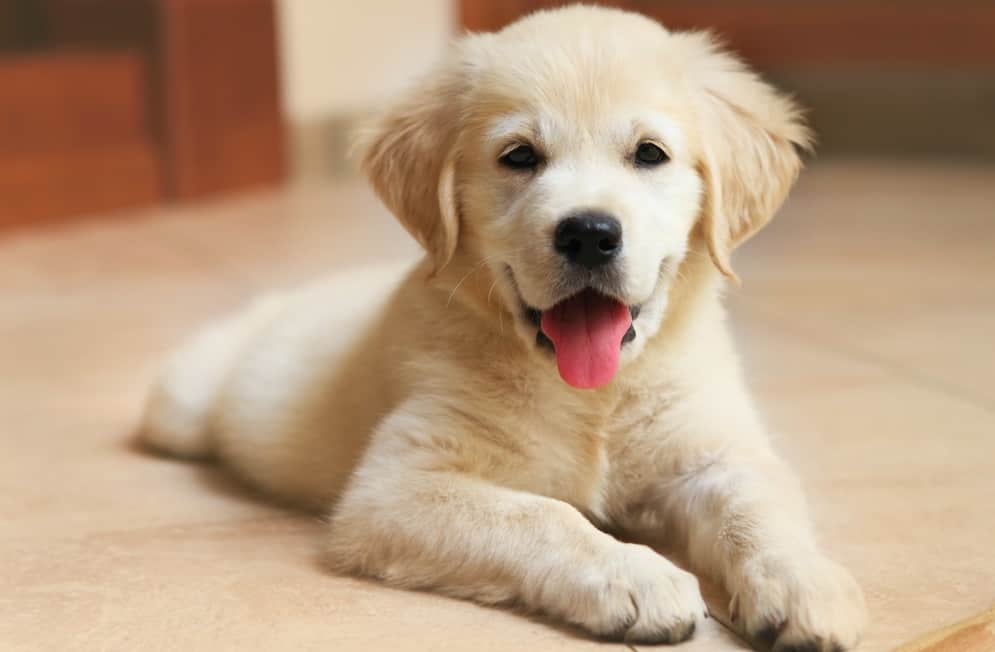 Play and love are just as important for your puppy's health than a healthy diet. Your Lab puppy will also enjoy training, so make sure you give your Lab plenty of time and not just the best puppy food.
Most Frequently Asked Questions

How many small meals should I feed my puppy?

Your puppy should receive three to four meals per day between 12 weeks and six months. You should limit your dog's intake to no more than three cups of dog food.
How Often Do You Need to Feed Your Labrador?

Your lab's size, activity level, and metabolism determine how much food you give it each day.
Most store-bought dog food recommendations are dependent upon your puppy's weight. Our chart below provides guidance on common foods for Labrador puppies.
What are the benefits of feeding your puppy a high quality diet?

Premium food is made with higher quality ingredients and has a higher nutritional content. This means that you can feed your dog less but still get the same nutritional results.
What are the Best Foods for Labradors with Allergies?

Hypoallergenic or low-ingredient food options may be necessary for Labradors with allergies. ).
It is a good idea to speak with your veterinarian about a special diet that suits your dog's needs.
What are the Signs of a Food Allergy

If your dog has hot spots on their skin or tender spots from frequent licking or recurrent ear infections (which could result from yeast accumulation), they may have a food allergy.
Itching and scratching are common symptoms of allergies. Ask your veterinarian for allergy testing to determine the cause of your dog's reaction.
What is the Average Labrador's Weight When Fully Grown?

A healthy adult male Labrador weighs between 29 and 36 kg. A female Labrador weighs around 25 to 32 kilograms.
How do I weigh my puppy?

You can simply weigh yourself before and afterwards holding the dog. Then subtract the difference.
What amount of exercise should a Labrador get each day?

Labrador retrievers, which are energetic and active dogs, require daily exercise. You can take Labrador retrievers for walks, play in the yard, or fetch a ball. For extra exercise, you can train them to ride on bikes or run.
How long should I feed my Lab Puppy Food?

Although smaller breeds can be fed as adults at 9 to 12 months, Labradors, which are larger dogs, can still be used for puppy food until they turn 12.
Lab Puppy Feeding Chart Labrador Puppy Food Smart