Although it's natural for dogs to lick their feet when grooming themselves, you might have noticed that they seem to be doing so excessively. You may now be trying to figure out how to stop your dog from licking their paws.
There are many reasons why your dog might lick its paws. These include allergies, skin conditions, injuries, pain, mental disorders, and even skin problems.
It is important to determine what causes your dog's paws to itch and to treat it or train them to stop it.
This article will explain why your dog licks its paws. It also explains how to stop it from happening again.
How can I tell if my dog is chewing or licking?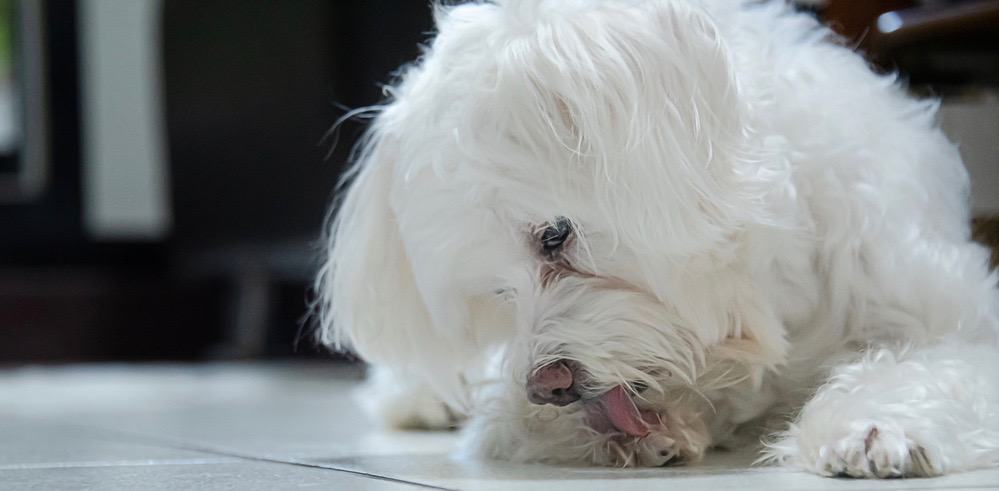 These are signs that your dog is licking inappropriately.
The pink or red stain on your dog's paws is caused by a yellow or orange color. Dogs with darker coats will see a more prominent stain. This is because the porphyrin pigments found in their saliva come into contact with their feet more often than normal. Normal chewing and licking are not enough to cause discoloration. However, excessive licking can lead to infection. Your dog may be licking its paws due to injury.
Why do dogs lick their feet?

These are some common reasons your dog may be licking its paws.
Skin Allergies

A skin allergy, also known as dermatitis is when your dog's skin becomes inflamed by a new particle. This can cause them to lick their paws.
Your dog's skin reacts to chemicals and particles just like humans. Your dog may lick these substances on their paws by using their tongue to scratch at it.
You should be aware of what substances your dog has come in contact with if he starts to lick excessively. These substances can be either man-made or natural, such as chemicals found in lawns and plant leaves.
Untreated allergies can lead to serious health problems for your dog. The immune system releases stress hormones, which can cause severe reactions.
Allergies to Food

It can be hard to recognize food allergies and itchy paws are common.
Talk to your vet if you aren't sure what your dog is allergic too. They may recommend a diet that eliminates certain ingredients or creates a special diet for your dog.
Cleaning

Dogs love to lick their bodies as a way to clean themselves. Dogs often lie down on their backs and lick their legs and skin to get rid of dirt and residue from their skin and hair. Dog saliva is rich in enzymes that kill bacteria and keep wounds clean.
Dogs will naturally clean their paws more frequently if they touch the ground and floor. This helps prevent bacteria from multiplying on the ground and causing skin infections.
Because they have a more texture than human tongues, dog tongues can remove dirt from the paws.
You should make sure your dog licks their paws if they have stepped on something dirt. It's easier than letting your dog ingest the dirt on their paws.
General Pain

If your dog is in pain, they will lick your paws. Dogs can feel general pain from arthritis and other joint issues. As a nervous response to the pain, your dog may lick its paws even though it isn't directly on their skin.
Arthritis is a common condition in Labradors and German Shepherds. This condition can cause cartilage wear between the bones of your dog, causing pain when your dog walks. The bones of your dog can become fused and stop moving over time.
Your vet can help you determine if your dog may have arthritis.
Injuries

If your dog accidentally injures their paws, they will lick the area to stop the infection from spreading and to relieve the pain. You can prevent the injury from getting worse by finding it and monitoring it.
Your dog may start licking his paws abruptly if he has stepped on something sharp or burned his paw pad.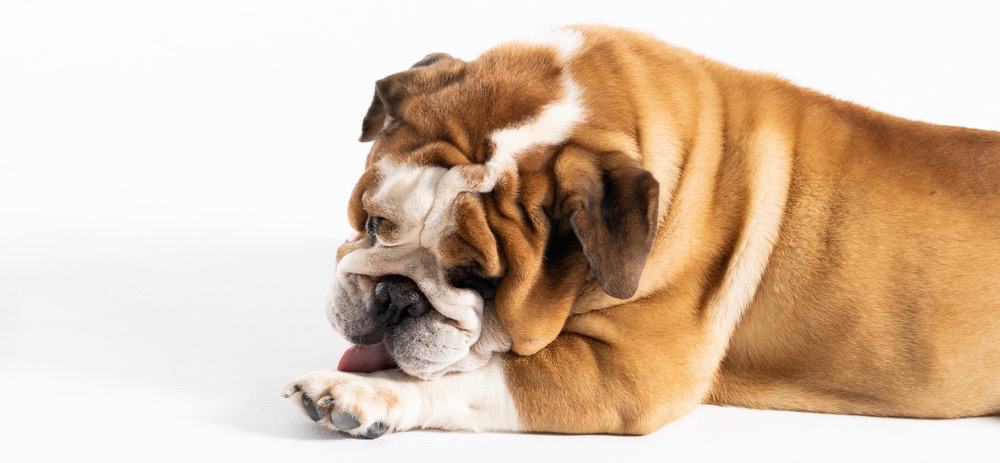 Your dog might have been bitten by another insect or stung by bees. This could cause physical reactions and paw licking.
Many dogs experience severe or allergic reactions to bee stings and spider bites. However, most bites cause only mild discomfort for a brief time. If your dog is experiencing labored breathing or swelling, constant licking, and/or nausea, you should immediately take him to the vet.
Fractures or Sprains

Your dog may be licking their paws while showing other signs, such as crying or limping. This could indicate a more serious injury like a fracture or sprain. Avoid excessive aggression and pay attention to your dog. It may be necessary to take your dog to the vet.
Blisters or Burns

You should see your vet if your dog develops reddish or cracked paws, or if you notice blisters and peeling. If your dog is exposed to chemicals or walks on hot pavement, this can occur. This can make paw licking painful and uncomfortable.
Mental issues

Just like humans, dogs can develop anxiety or nervousness and become stressed. As a coping mechanism, or nervous twitch, your dog may start to lick their paws when they get anxious.
Boredom can also be a problem. Dogs that are not mentally or physically stimulated may start to lick their paws in an attempt to pass the time.
To keep your dog happy and healthy, it is important to keep them active and engaged by doing chores. If your dog is left alone, make sure someone comes to visit them and walks them.
It is possible that they might experience separation anxiety. This condition causes stress in dogs when left alone. As a result of residual stress, dogs may lick their paws.
Your dog may also be inclined to lick their paws. Your dog will lick their paws for a certain amount of time, and it becomes a pattern that lasts regardless of the reason.
Bad habits can be hard to break so it may be difficult to stop your dog licking their paws. If your dog is suffering from cognitive problems like autism or dementia, it may be a bad habit to lick their paws.
Parasites

Itchy paws can be caused by parasite infections such as mange or a flea allergy. Your vet will suggest treatments to relieve itching and remove parasites. Dogs that lick their paws can also cause a fungal or bacterial infection.
This can lead to excessive licking, more pain and discomfort, and even worsening of the condition. Any bacteria or fungus can be eliminated by taking a bath or applying creams to the skin.
Cysts

A cyst or tumor on your dog's paw can cause paw licking. Examine your dog's paws. You should make an appointment to see your veterinarian if you find any lumps or bumps that aren't present before.
Secondary Infections

Paw licking could indicate a serious problem for your dog. To determine the exact cause of paw licking, consult your veterinarian.
You should not continue licking as saliva may cause secondary yeast infection.
What can I do to stop this compulsive behavior?

You should stop your dog from chewing on his paws or licking them without any explanation.
Excessive chewing and paw licking can cause inflammation, skin irritation, hot spot, open wounds, and yeast infection.
It may not seem like an issue right now, but you need to stop it before it becomes a problem.
How to stop dogs from licking their feet

These are some ways to stop your dog licking his paws.
As Paw Coverings, use socks or dog boots

You can stop your dog from licking its paws if you cover them with clothing. The dog will not be able to lick the covered paws. Wrap the paws with a piece of clothing or socks.
Dog booties are also available. You can also use dog booties to limit licking. Because of irritation, your dog may chew on the boots.
Dog boots prevent licking and injuries from occurring. Multiple socks or boots are available to stop your dog from licking the other paw.
Elizabeth Collar

The Elizabethan collar or cone collar are extreme, but effective in stopping your dog from licking irritated feet.
One could be yours already, as it is given to dogs following surgery, neutering or spaying in order to keep them from picking up their stitches.
These collars are not for dogs and they will run into furniture to remove it. The Elizabethan collar is not only uncomfortable but it also prevents your dog's skin from being rubbed.
Bitter and Citrus Apple

To stop your dog licking areas on his body, you can give him juice from the citrus fruits. Citrus juice is not liked by dogs so you can apply a few drops of the juice to the paws to stop them from licking it.
Dogs will be discouraged from chewing or licking bitter apples because of their unpleasant taste. The spray can is easily applied and stored.
Lemon juice, lime and orange juices are also good options to stop your dog from licking their paws. It will make them resentful and even irritable.
Applying the extracts to the paw continuously will eventually stop your dog from licking it. You can also apply the extracts to socks or bandages to stop your dog chewing them.
Keep an eye on the dog's paws when they come in

You can stop your dog from licking their paws when he comes in from the outside. If you don't like dog boots or covering your dog's paws, this is what you should do.
It is a great way to protect your dog against environmental allergens. While it won't prevent an injury such as a bee bite, it can help with atopic dermatology, which is common during walks and outside time.
Use a Moisturizer/Balm

A moisturizer, balm or dog paw wax can be used to treat excessive paw licking in dogs who are suffering from dryness. Make sure your dog's paws dry and clean before applying the balm. Look for products that contain natural ingredients such as coconut oil and shea butter.
Make sure to follow a well-rounded diet and routine

To determine if your dog is paw-licking due to boredom or stress, you should examine their daily routine. Consult your veterinarian to determine if the problem is caused by an allergy.
You should also ensure that your dog gets plenty of exercise every day, especially if paw licking is a sign of a behavioral problem.
Consider hiring a dog walker to walk your dog daily if your dog requires more mental stimulation while you are away at work. It can also help with separation anxiety.
You want your dog to feel safe at home and that they are free from stress triggers.
Dog training to stop licking their feet

Without using any collars, coverings or other topical treatments, you can teach your dog to stop licking its paws. However, this must be done under strict supervision.
Your dog should be engaged in many activities to break his licking habits. Your dog will stop licking your paws if he is engaged in other activities. Second, give your dog toys and other distractions.
To stop your dog from licking their paws, make a distinct sound like "eh!" They will soon realize that you don't want them to lick their paws.
If they become aware of the problem, it is easy to interrupt them and direct their attention to something else. If the habit is not a cause, this will help to reduce the licking.
Avoid Allergic Conditions

Itchy paws in dogs could be due to recently planted trees, shrubs or grass. Intradermal skin testing by a veterinarian dermatologist is the best way to determine if your dog chews or bites a particular plant.
To find out what your dog reacts, you can search local pollen reports online. Pollen can cause allergic reactions in dogs when it comes in contact with their skin or when they inhale.
You can reduce your dog's exposure by not walking during high pollen times. These times are between 5 and 10 a.m., then again at night.
To keep your dog's feet dry when they go for walks outdoors during allergy season, make sure you have dog boots.
Probiotics for the Immune System

Probiotics have been widely accepted by veterinary professionals as being safe and beneficial for dog health.
The gut is the most important part of the immune system. Therefore, it is essential to feed friendly bacteria to the gut.
Trip to the Vet
Visit a veterinarian if your dog is still picking at his paws despite all of the above.
Your vet can examine the paws and determine if there are any problems. The nervous reaction could be caused by joint pain.
How to Stop Your Dog from Licking His Paws Home Remedies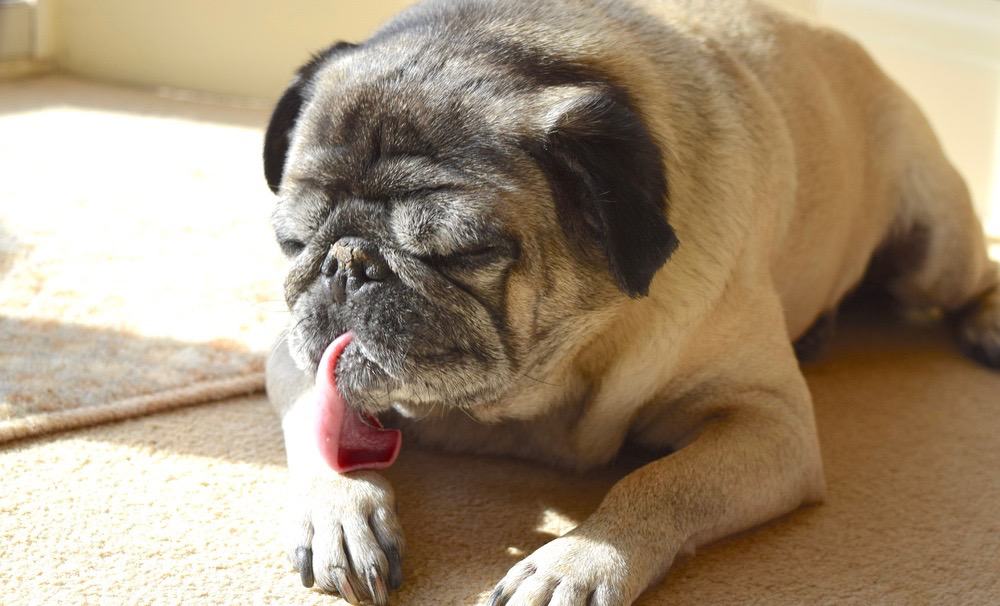 These are some home/natural remedies that you can use to stop your dog from licking his feet. Talk to your vet if you are unsure if any of these remedies are safe for your dog.
Diet Improvement

It may be worthwhile to examine your dog's diet to determine what is causing allergies. Your dog should be fed high-quality, allergy-free food.
To avoid upset their stomachs, it is important to slowly change your dog's diet. Talk to your vet to learn more about changing your dog's diet.
Cleaner Environment

Some dogs can be allergic to dust mites or dust. You should wash your dog's bedding with warm water at least once a month and dry it in direct sunlight.
Wash the bedding every other week if your dog has an allergic reaction. Dust furniture once a week and vacuum the floors. Use strong cleaning products that contain strong fragrances.
Close the windows and doors during high pollen seasons.
Take care of your dog

If your dog is licking their paws to remove dirt, you should wash them once a week.
Wash your dog with a shampoo and conditioner for dogs. Rinse their feet between the toes.
loe Vera Gel
Aloe vera gel can be applied to your dog's skin to soothe it. You can only use small amounts. Your dog should not lick it. If your dog becomes allergic to the product or their skin begins to swell, discontinue using it.
Tea Rinses

Tea rinses can be used to soothe itchy skin. The herbal tea can be made with dried chamomile or calendula, nettle and green tea.
One tablespoon of the herb should be boiled in a cup. Let it boil for five minutes. After boiling the water, strain the herb and allow it to cool down before you put the tea in a container.
Allow your dog to stand for five minutes. Repeat this process twice daily to reduce irritation. Alternately, soak a cloth in the tea and cover the area with it for five minutes each day.
Grated Cucumber

Cucumber has been known to soothe inflamed and sensitive skin. For five minutes, grate a cucumber and apply it to the area. This will reduce inflammation by doing this twice daily.
Flea Treatment

Flea treatment can be used to eliminate fleas from your dog's skin if they are causing irritation.
Baking Soda Bath

Warm water and baking soda can be used to soothe the feet of your dog. This mixture will soothe the itching and reduce any licking.
Coconut Oil

Coconut oil is antibacterial and antifungal, so it can be applied to the paws of your dog. Coconut oil can also be used to combat yeast and bacterial infections.
Last words

If your dog is licking their paws too much, don't ignore it. This could indicate a problem or be a sign that your dog is having more serious issues.
Even though dogs can clean their skin with their tongues, it is important to stop any dog from licking the skin.
Talk to your vet to discuss paw licking and offer suggestions on what you can do.
This article should have provided you with information about how to stop your dog from licking your paws.
Most Frequently Asked Questions

You can give your dog Benadryl to itchy skin.

For dogs with mild to moderate allergies, Benadryl can be used by pet owners. These could be seasonal allergies, environmental allergies, food allergies, or reactions to bites. Benadryl will be a positive reaction in most dogs.
Do you need to refer your dog to a dermatologist?

To make an appointment with a dermatologist, you will need to have a referral from your veterinarian. There are certain cases where a regular veterinarian can help you without having to refer you to a specialist.
What is the reason dogs lick their feet after eating?

After a meal, a dog may start to lick their paws. It doesn't necessarily mean that they are hungry. This is normal behavior and not a sign of a problem. It is possible for the dog to lick their paws when they are lying down in their bed.
What causes a lickgranuloma

Lick granulomas can be caused by allergies or behavioral conditions. Lick granulomas are formed when your dog licks his paws too often due to boredom, anxiety, or stress.
How to stop your dog from licking its Paws Dog Food Smart.
Did you miss our previous article…
https://www.topdogadvisor.com/cane-corso-life-expectancy-how-long-do-cane-corsos-live/