German Shepherds, the third most intelligent dog breed, are loved by their owners because of their loyalty, temperament and obedience.
German Shepherd puppies are very sought-after and it's not surprising that people wonder if they can afford them.
A German Shepherd puppy purchased from a reliable breeder will typically cost between $1,800 and $3,000.
The price of a puppy will depend on several factors, including its age, color, location, and how much the breeder paid for health checks and vaccinations.
Adopting a German shepherd from an animal shelter can cost you $150. However, some rescue groups can charge as high as $500 to adopt a German shepherd.
Sometimes, you may be lucky. A friend or family member might have an older German Shepherd that has given birth to a litter of puppies and is looking for homes.
A German Shepherd puppy is likely to be cheaper and even free. What if you don't have such a connection?
We'll be looking at the cost of a German Shepherd puppy and what different German Shepherds cost. Let's first look at what makes German Shepherd Puppies so expensive.
What makes a German Shepherd Puppy so expensive?

ge
This is the biggest factor in determining how much you will pay for a German shepherd. The rule of thumb is that a puppy's age is a determining factor in how much you will pay for it. This is what many people look for when purchasing a puppy.
German Shepherd puppies aged 8-12 weeks will be more expensive than those that are older. This is because they are at their most adorable. Everyone wants a cute puppy, so prices go up.
The price of puppies 12 weeks or older will drop. The prices for an adult German Shepherd will drop even further.
You should also consider that senior German Shepherds are more likely than younger dogs to develop health problems.
Coloring

A dog's color can have an impact on its value. German Shepherds, in particular, will be more expensive than black or tan German Shepherds. Because rarer colors of coat are harder to breed, this is why they are more expensive.
Genetics

Although purebred German Shepherds can be expensive, mixed-breed puppies are more common and are cheaper. This will help to save money on vet bills.
The Litter Size

The basic principle is that a puppy will cost less if there are more pups in a litter.
Where you live

You may be surprised to know that the cost of a German Shepherd puppy will depend on where you live. You may be able to pay less for your puppy if you live in an area with low living costs or a shortage of German Shepherds.
Additionally, certain states and cities may have stricter breeding regulations which can lead to more expensive puppies.
Health Screenings/Vaccinations

A reputable breeder can provide proof that their puppies have been vaccinated and that they have had health screenings. Breeders might even pay for genetic testing and provide proof. This gives you insight into the health of a particular breed or even behavioral traits.
Breeders often pay quite a lot for screenings, vaccinations and testing, which will increase the price of their puppies.
The Cost of German Shepherd Puppies

You may have noticed that there are many types of German Shepherds. Purebred German Shepherds can come in many sizes, body types and colors.
You can however divide German Shepherd types into show and working lines. There are five distinct variations.
Canadian Show Line
Price: $1800 – $3000
The American/Canadian Show Line can often be seen at dog shows in Canada and the US, as the name suggests. Their back legs are shorter than their front, so their angulation is distinctive.
They have shorter heads and slimmer bones. American/Canadian Show Lines come in many colors but most commonly they are solid bi-color, such as black with an ash saddle.
The first breed of German Shepherd that was bred was for its looks. They are less energetic than other German Shepherds, and they have less energy than working lines. They are still playful and loyal and make great pets.
West German Show Line

Price range: $5,000 to $8,000
Only the German Shepherd Breed Standard is used to breed the West German Show Line. This means that the West German Show Line is only bred according to the German Shepherd Breed Standard. The result is a dog with a beautiful, uniform appearance.
West German Show Lines are characterized by a strong, pronounced build and a black-tan saddle.
They are great guard dogs and need to be exercised regularly. West German Show Lines can be very social and are great for family pets.
West German Work Line

Price range: $1800 – $3,000
The West German Working Line was primarily bred for working dogs. You'll find them in law enforcement or military settings. They are built to endure difficult situations.
This type of German Shepherd is often seen in movies. They are also very similar to Max von Stephanitz's original German Shepherd.
West German Working Lines are a great breed for family pets and have a wonderful temperament.
DDR/East German Working Line

Price range: $2,500 to $3,000
DDR/East German Working Line dogs were created after World War II and were maintained by the East German government. This dog breed is so strict that it prevents the gene pool from being diluted.
If you wish to breed DDR/East German Working Line dogs, they must not have any history of hip dysplasia. Their distinctive look is characterized by large bones and glossy dark hair.
Because they were originally bred to be guard dogs at the border of East Germany/West Germany, these dogs are able to withstand extreme weather conditions for a long time.
Czech Working Line

Price range: $2,500 to $3,000
The Czech Working Line is basically an evolution of the DDR/East German Shepherd. If you believe it, the Czech Working Line is one of the most intense German Shepherd breeds.
Czech Working Lines are not known for their beauty. They are loyal, obedient dogs with great temperaments. They may also be one of the most reliable guard dogs.
What Other Factors Can Impact the Price of a German Shepherd Puppy's Puppy?

Your puppy will likely have hunting champions in their lineage. This will increase the price, compared to puppies whose parents were not champions.
Breeding dogs, K9s and dogs who have won dog shows are the most expensive German Shepherd adult dogs.
The annual cost of owning a German Shepherd

It is only the beginning of your journey as a dog owner. As your puppy grows into a happy, healthy dog, there is also the cost involved in looking after them.
The cost of looking after your German Shepherd depends on their individual needs, age, health, and size. The cost of looking after a German Shepherd depends on where you live and the equipment and supplies that you purchase.
We'll show you some figures below so that you can get an idea of the average cost of caring for a German Shepherd.
How Much Does It Cost to Look After a 1-Year-Old German Shepherd?

Food: $300 – $500Medical care (laboratory tests and general care): $100 – $200Vaccinations/immunizations: $100 – $200Neutering/spaying: $100 – $300Parasite control and treatment: $100 – $150Miscellaneous expenses, such as a collar, grooming supplies, training, leash, bowls, and toys: $500 – $1,000
The cost to look after a German Shepherd puppy for the first year is $1,100 – $2,000.
Your German Shepherd puppy's annual cost could rise to:
Food: $500 – $1,000Medical care: $100 – $200Vaccinations/immunizations: $100 – $200Parasite control and treatment: $100 – $150Miscellaneous costs: $500 – $1,000
The total annual cost is now between $1,300 and $2,550. These figures don't include costs for unexpected injuries, sickness, travel, or activities such as competing in dog shows.
Dogs will also need to be taken better care of as they age than puppies or adults.
Your German Shepherd could reach 12 years old and you could be paying $15,400-$30,400 on an average.
What is a reasonable price to pay for a German Shepherd puppy?

Trusted breeders must consider the costs of raising, caring for and feeding their German Shepherd puppies.
A purebred German Shepherd puppy is worth $1,200 to $2,000 This will depend on the size and location of your litter.
It is possible to understand the costs involved in caring for purebred German Shepherd puppies and why breeders charge such high prices.
AKC registration (Basic Individual dog Registration): $30Vaccinations – $100 – $500Microchipping – $50Deworming – $25Vet-ups at the Vet: $125Genetic Health Testing – $250 – $750
The minimum price you can pay for a puppy in your area is $580
Parental costs (For the Mom)

Stud services: $500-$1000C-sections and other complications in birth: $2,000-$7,000Cost of dog food and supplements: $100- $200Vet check-ups at a vet: $125Veterinary checks: $125
$725 is the lowest cost for maternity care in an uncomplicated delivery.
When we consider how much a breeder must pay to care for their puppies and their mother, it is clear that this is a fair amount.
Avoid low-cost pet shops and people selling puppies for sale online if you're looking to adopt a puppy. These puppies can be dangerous because they are often raised in very poor conditions, which can lead to health problems.
These puppies are often bred in puppy farms or by novice breeders. These breeders care more about making a profit than making sure that their puppies are healthy.
You may save money on the short-term, but vet bills will soon mount up if you purchase a puppy cheaply.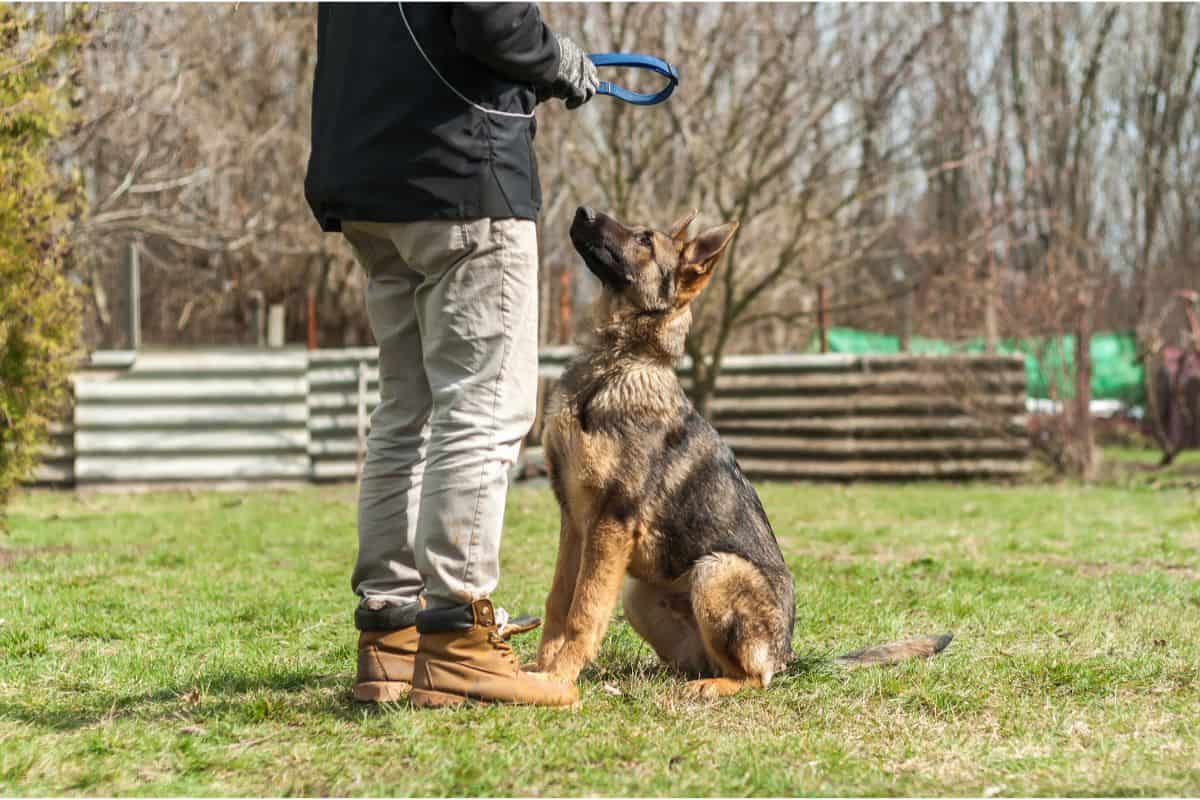 Male vs. Female: Which German Shepherd Puppy Should You Get?

You might want to take into consideration your past experience with dogs if you aren't sure whether you should get a male or female German Shepherd.
A female German Shepherd is better if you are new to the breed or you want a family dog. A male German Shepherd is recommended if you need a dog that will guard your home or work.
German Shepherds, regardless of their sexuality, are intelligent, obedient, and full-of-energy. There are some differences between males and females to be aware of.
German Shepherd males are generally larger than their female counterparts, making them great guard dogs. They are more assertive and possess a dominant temperament.
They may be territorial and possessive of their owner. This is because they want to protect you from any harm. They may also have a family member they love.
They will gravitate to the person who feeds them, trains them, and spends the most time with them.
Female German Shepherds are smaller than their male counterparts and mature faster. Female German Shepherds are therefore easier to train and manage.
German Shepherds of the female gender are less territorial than their male counterparts and don't tend to be more loyal to one member of the family. They are a great family pet, and often get along well with children.
Things to Consider Before You Get a German Shepherd

German Shepherds can live up to 12 years depending on how they are cared for, their diet and how often they have sex. So before you buy a German Shepherd, think about how much you can dedicate to caring for your dog.
Can you, for example, walk your German Shepherd one hour a day? Do you have time to groom them daily? And, perhaps most importantly, are you able to teach them.
You must take the time to properly train, socialize and walk your German Shepherd. You might be better suited for another breed of dog if you don't have the commitment or time to do these things.
German Shepherds were originally bred to be work dogs in order to make people's lives easier. Their attachment to their owners is more deeply ingrained than in most dogs.
It is easy to compare caring for a dog to caring for a child. This is especially true for German Shepherds, who are very committed to their owners. Dogs are not like children, who can be independent and learn to speak and act for themselves.
German Shepherds don't stay puppies long and eventually become large dogs over 100 pounds. However, this doesn't mean that they will be more dependent.
You can't train a German Shepherd to be independent. They will have separation anxiety and chew at your furniture.
Let's look at what you should do before you adopt a German Shepherd and what factors will make you an outstanding German Shepherd owner.
ctive Lifestyle
German Shepherds were designed to work dogs and require lots of exercise. To keep their brains active, they need to be able to walk for long periods of time as well as play games like fetch or tug-of-war.
The American Kennel Club recommends that adult German Shepherds exercise for at least two hours each day. It's great to include your German Shepherd in an active lifestyle.
Your German Shepherd can accompany you on your adventures, whether you are running, walking, biking, or hiking. They are a great companion for exercise.
If you aren't very active but want to improve your health, your German shepherd and their exercise needs could be a motivator.
German Shepherds are intelligent dogs and can get bored easily with certain activities. It's important to introduce your German Shepherds to new games and new environments.
Living Conditions

German Shepherds are extremely loyal and will not leave your side. It is important to ensure that you and your family can live comfortably with your German Shepherd.
Keep in mind that German Shepherds can be large dogs. A German Shepherd adult male can weigh in at around 100 lbs so they will need lots of space.
It is important to speak to your children, partner, and any other family members before you decide to adopt a German Shepherd. They will be more than happy to share in the care and training of your dog.
Children should be included in dog training if they have a German Shepherd.
Consider whether your apartment is large enough to house a German Shepherd. Also, be aware of any restrictions regarding pets.
Also, consider the noises your German Shepherd may make, such as barking, pausing, or howling, and how it will impact your neighbors. Are they going to be happy with the noise or are they going to be more tolerant?
You should also consider whether you have enough yard space for your German Shepherd to exercise and enough room in your neighborhood for your dog to go for a walk.
Other pets

It is also important to consider whether your German Shepherd will need to be socialized with other pets, such as dogs and cats.
German Shepherds were originally domesticated as herding dogs. They have an instinctive protective streak that protects their owners. Although this is a wonderful trait, it can lead to aggression.
A German Shepherd can be too protective and defensive if they are not socialized early on. They may also become aggressive towards pets and other people.
You don't want your dog to bark or lunge at anyone while you take them on a walk or when you have people over.
Socialization with dogs, especially puppies, is important. Your German Shepherd should feel comfortable around people and animals.
Many young dogs end up in shelters because they weren't properly socialized or trained as puppies. German Shepherds can reach 100 lbs at age 8-10 months.
Even if your German Shepherd is well socialized, many end up in rescues due to owners not being able to provide the exercise they need.
German Shepherds that are not properly trained and socialized – or left too late – will be more difficult to instill positive behavior and curb undesirable behaviors like barking, jumping and biting.
German Shepherds who aren't getting enough exercise or bored are more likely to damage your furniture.
It is crucial that you are able to dedicate the time and effort necessary to properly train your German Shepherd.
Health issues

Due to their long history of breeding and their large size, German Shepherds are more likely to have common health problems. German Shepherds are most likely to experience the following ailments:
Ear infectionsEmotional stomach problems that can lead to vomiting or diarrheaSkin allergies
Your German Shepherd's age can make it more likely that they will have serious health problems like:
Progressive Retinal Atrophy (which can lead to night blindness)Elbow DysplasiaBloating twisted stomach that can cause instant death)PancreatitisHip Dysplasia (this is extremely common)Urinary Tract Infections (this can lead to kidney stones)ArthritisCancer
As with all pets, it is important to plan financially and emotionally for the possibility that your German Shepherd will need more care later in life.
Heavy Shedding

German Shepherds shed their undercoat in spring and autumn, and have a double coat of medium-length hair. Fur balls will be all over your home, including on your clothing, floor, couch, and table.
Many German Shepherd owners have admitted that they no longer can wear dark colors at home, and have their Roomba clean up after their German Shepherds' fur.
Separation Anxiety

This has been mentioned briefly before, but it is important to recognize how German Shepherds experience separation anxiety.
German Shepherds were bred to work dogs and are always looking for new challenges. When you are away from your home for work, it is easy for boredom to turn into separation anxiety.
Separation anxiety may manifest in barking, howling, chewing on furniture, and marking.
If they are left alone for longer than 3-4 hours, adult German Shepherds feel anxious. It is important to keep them physically and mentally active.
Many German Shepherd owners will turn to their neighbors, friends, and family members to take care of their German Shepherds when their owner isn't there.
Many owners hire dog sitters and dog walkers to take care of their German Shepherds when they are not home.
Most Frequently Asked Questions

Can I Adopt a German Shepherd for Free?

You have to be extremely lucky. You might know someone who is unable to care for a German Shepherd, or perhaps someone whose German Shepherd recently gave birth to a litter.
Is A German Shepherd A Good First Dog To Adopt?

You don't have to be able or willing to spend the time training, socializing, walking, and caring for your German Shepherd.
Last Thoughts

Adopting a German Shepherd or any other dog is not something to take lightly.
Before you adopt a German Shepherd, it is important to research the financial and time implications as well as the demands on your time and the sacrifices required to care for this beautiful breed.
We hope you found this article helpful and that it has helped you make informed decisions.
Do You Think It's Worth Buying A Purebred German Shepherd Puppy What is the Average Cost of German Shepherd Puppy Puppies? Dog Food Smart.