Of course, there is a lot of discussion about what foods dogs should eat. However, these discussions often don't follow any actual facts. They are often driven by fear-mongering facts which seem to be spreading through the dog owner community.
This guide will discuss whether string cheese is safe for dogs, as well as any other types of cheese.
Are Cheese Strings Bad for Dogs?
String cheese can be enjoyed by dogs, but they should only be consumed in moderation. However, if your dog is lactose intolerant, you should not give your dog string cheese.
String cheese should be enjoyed as a treat, not a main part of your dog's diet. String cheese is safe to be fed to dogs in small amounts. String cheese is similar in taste to plain cheeses like cheddar and mozzarella, but it's more processed.
String cheese can be made with either mozzarella or cheddar cheese depending on which flavor you choose. They are made by stretching mozzarella thinly until it can be separated into thin ropes, rather than being rolled into a mozzarella ball.
The product's unique shape and texture are natural, so there are no added chemicals.
There are some brands that add unnecessary ingredients. It is important to verify the ingredients before giving a cheese string to your dog.
If a dog is lactose intolerant, they will show signs after eating cheese. You may experience gas, diarrhea, and bloating. Your veterinarian should diagnose your dog if you suspect they may be lactose intolerance.
Most dogs can eat small amounts of string cheese as long as they are not being abused.
Is Eating String Cheese Beneficial For Dogs?

Small amounts of cheese can be beneficial for dogs, just as it is for humans. String cheese is rich in nutrients such as vitamins A, B12, calcium and healthy fats. These nutrients are good for your dog's overall health.
Dogs love cheese. This is because it hides medication. Simply cut off a piece of string cheese and wrap it around the medication.
It is easy to make sure your dog gets their medication each day.
String cheese should not be consumed more than once a day. This is unless the string cheese is small enough that the dog can still eat one piece per day.
How much string cheese can a dog eat?

There are many factors that influence the amount of cheese a dog can safely consume. These include age, size, weight, activity level, and gender. Cheese should be enjoyed as a treat, not a main part of a dog's diet.
Dog treats should not make up more than 10% of the dog's daily calories. If you are unsure, your veterinarian can help determine how many calories your dog should eat each day.
String cheese's calories will be clearly displayed on the package. This can help you understand how much your dog can consume.
String cheese has approximately 80 calories. Adult dogs can have no more than two sticks per day, if they don't have any other treats.
What to do if your dog eats too much string cheese?

String cheese is not toxic to dogs. Your dog won't be effected by toxicity or other long-lasting side effects.
It is possible that your dog is sick. If this happens, you should give your dog lots of water and refrain from eating string cheese for a while.
Although some owners might wish to induce vomiting, cheese isn't toxic or poisonous so it is not necessary. You should consult your veterinarian. Inducing vomiting in a dog that has already eaten string cheese will cause severe discomfort.
If your dog takes a bite out of string cheese, it is best to keep an eye on them so that you are aware of any signs.
Even if your dog doesn't vomit, it is possible that they will experience an upset stomach. This could cause your dog to feel bloated, gassy and slow, which can make them uncomfortable. Most likely, your dog will also experience diarrhea.
To help your dog get back on track, you can prepare simple white rice and boiled chicken.
Make sure your dog has plenty of water, especially if they are vomiting or have diarrhea.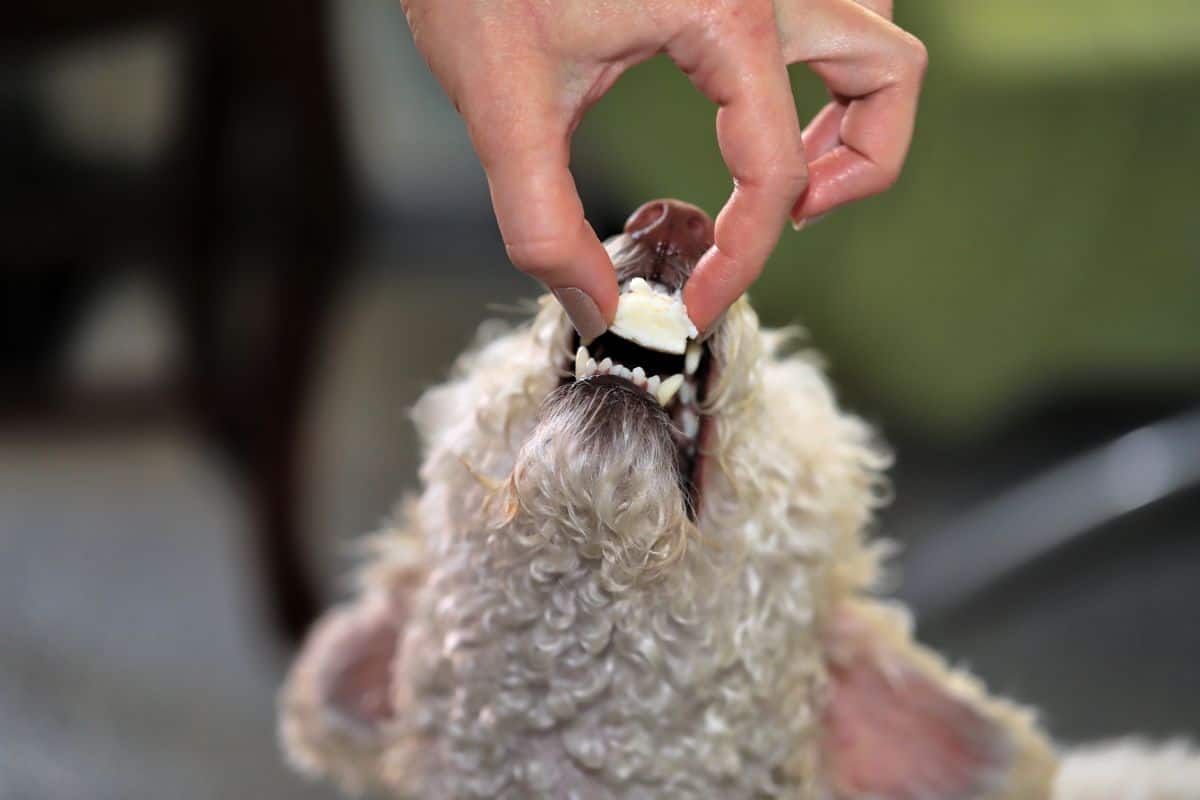 String Cheese Alternatives for Dogs

This article is primarily about the safety of string cheese for dogs. You might be wondering if other cheeses are safe to feed dogs.
Cheez Whiz is another common cheese dog owners give their dogs as a treat or to conceal medication. This cheese is safe for dogs, unless your pet has an allergy to lactose. Cheez Whiz can also be used to entertain dogs for longer periods of time than string cheese.
You should use the same guidelines when giving your pet Cheez Whiz as you would for cheese strings. Cheez Whiz should be only given in small quantities and not too often. Cheez Whiz is processed more and is less healthy than cheese sticks.
KONG Bacon and Cheese Easy treat is a dog-friendly cheese product.
The KONG product is very similar in appearance to Cheez Whiz, except that it was specifically formulated for dogs. It is very easy to fill the KONG toys with activities.
If your dog is lactose-intolerant, real cheese such as plain cheddar cheese or cheese strings, is your best option.
Last Thoughts

String cheese is safe for dogs as long as they are not lactose-intolerant. String cheese is not recommended for overweight dogs. It contains high amounts of fat, lactose and calories.
Other than cheese strings, only certain cheese products are safe for dogs. Talk to your veterinarian if you have any questions about other types of cheese.
Can String Cheese be eaten by dogs? Dog Food Smart.
Did you miss our previous article…
https://www.topdogadvisor.com/dameranian-pomeranian-dachshund-mix/