There are many things you need to know about your Lhasa Apso puppy.
To determine how large your dog should be, you can use the Lhasa Apso Weight Chart. However, you need to know how big the breed is and what concerns you should have.
The Lhasa Apso, one of the most well-known dog breeds, is strong and independent.
Even the most bull-headed dog will require guidance and care to ensure their health. Here are some things you should know.
What is the Full Growth of a Lhasa Apso?
Your biggest question regarding your Lhasa Apso might be what is a fully grown Lhasa Apso.
Because they are smaller dogs, they reach adulthood earlier than larger breeds.
You can generally expect your Lhasa Apso puppy to stop growing around his first birthday.
When he turns six months old, he should slow down his growth. He will only gain a few inches and a few more pounds, but his growth should cease at one year.
Lhasa Apso Weight Chart
A Lhasa Apso Growth Chart will help you determine if your puppy is following his growth curve and how large he should be once he is fully grown.
However, it is important to know how to use the weight charts.
You will usually use the weight chart to determine the average weight for your puppy.
A puppy of 5 months old can average between 9.25 and 12.25 pounds.
It is important to realize that the chart is based on averages and is not based upon anything solid.
You might not find your puppy in this growth chart, but as long he's growing steadily and consistent, there shouldn't be any concern.
The chart can also be used to estimate how large your dog will get as he grows older.
If your puppy is at the low end at 9.25 lbs at five months, he will still be at the low end at 13.5 lbs as an adult.
Lhasa Apso Puppy Weight Chart
AgeWeight lbs3 months5.5 – 7.5lbs4 Months8.25 – 12 lbs6months11.5 – 14 lbs7 months11.5 – 15 lbs8months12.5 ­ 16 lbs9months12.5 ­ 16.5 lbs10months13.25. -17.5 lbs12months13.5 -18 lbs
Lhasa Apso Growth Chart: What to Expect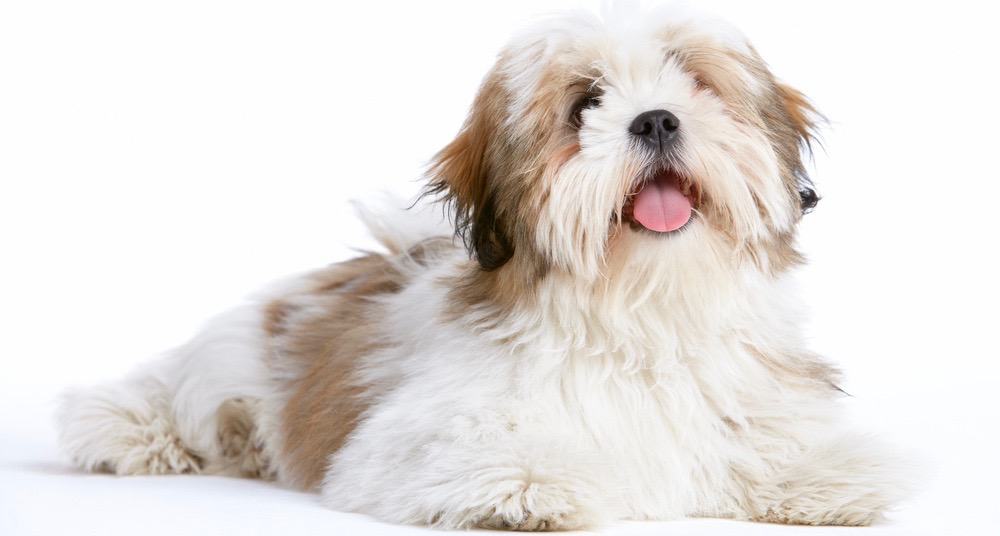 Birth – 2 Weeks
A Lhasa Apso will never weigh more than one ounce when he is born. Although they do gain weight quickly, they will not be able move much until about two weeks of age.
They will then open their eyes and explore the world around them. At this stage, they should be with their mother and be completely dependent upon her milk for food. They shouldn't be given any puppy food.
3 Weeks – 12 Weeks
Between 3 and 12 weeks old, there is a lot of growth. If a Lhasa Apso is to be healthy and strong, he must stay with his mother at 3 weeks.
The puppy will be weaned off mother milk at 12 weeks and then moved to dog kibble. He will also have been rehomed from his litter.
This is also when you will experience the most growth. You can gain anywhere from a few pounds to as much as 8 to 10 pounds.
4 Months – 9 months
Between 4 and 9 months old, your puppy will continue to grow quickly. Your puppy should weigh between 8-10 pounds by age 4 months.
Your puppy will be 9 months old when he should weigh in at 12.5 to 16.5 pounds.
These are just averages as we have said before. Your puppy should be staying on the growth curve. If he is always heavier than his average weight, he should remain that way.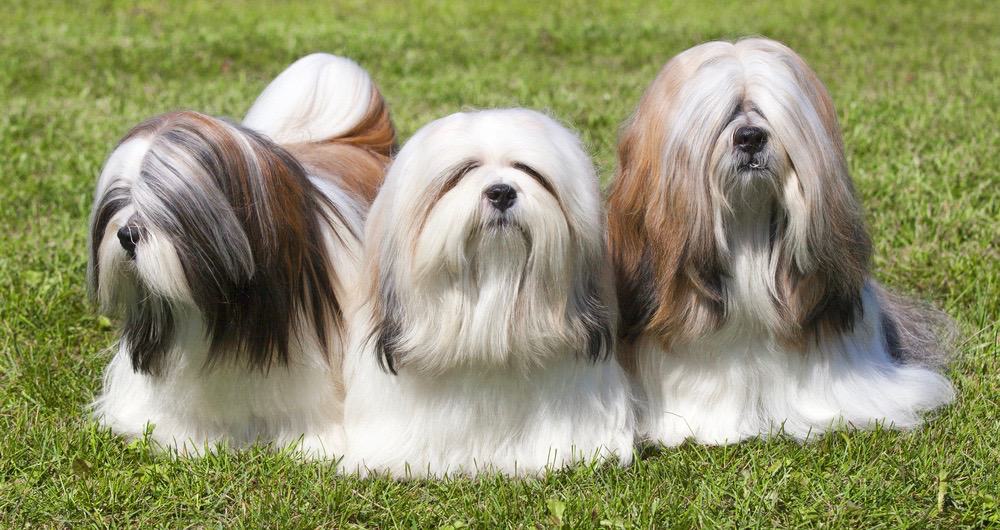 10 Months -18 Months
As you look at the Lhasa Apso growth charts, you will see that the puppy's growth slows down as they reach 10 months old.
While he should continue to gain weight and grow, it will be very minimal compared to other growth spurts. This should be done by 12 months of his age. After that, nothing will happen.
dult
Your Lhasa Apso puppy should be approximately one year old, as we have already mentioned.
Lhasa Apsos typically measure around 11 inches in height and weigh between 12 to 18 pounds. However, this is just an average.
Because your dog will no longer be growing, you will need to switch his food from puppy food to adult food.
How Big Do Lhasa Apsos Get?
If you're looking at your Lhasa Apso puppy, and are wondering what his future looks like, you should first check the Lhasa Apso Weight Chart. This will give you an idea of the size breakdown at different ages.
However, this is not the only way to get a sense of what to expect.
If you are familiar with your parents, another way to gauge your dog's final size would be to examine their parents. Dogs are generally the same size as their parents.
Also, you can look at the paws of your puppy. Larger paws indicate a larger dog. Your dog will need to grow into these paws.
A DNA test can be performed on your dog to determine its genetic makeup. This test is tricky because of the many options available and not all reliable.
Is My Lhasa Apso's Growth Affected by Neutering/Spaying?
It was once believed that the sooner you spay/neuter your pet, then the better.
In recent years, however, it has been suggested that you wait until your dog reaches maturity before fixing him.
There are many benefits to spaying or neutering your dog early. You won't have to worry about your dog running away, getting pregnant accidentally, or even becoming pregnant. It is also proven to protect against certain types of cancer.
Your dog's bones will grow fully if you wait for him to be mature.
Spaying or neutering too early in large breeds can lead to bone and joint problems. Lhasa Apsos do not have a large breed so they will not be affected.
Lhasa Apso Height Chart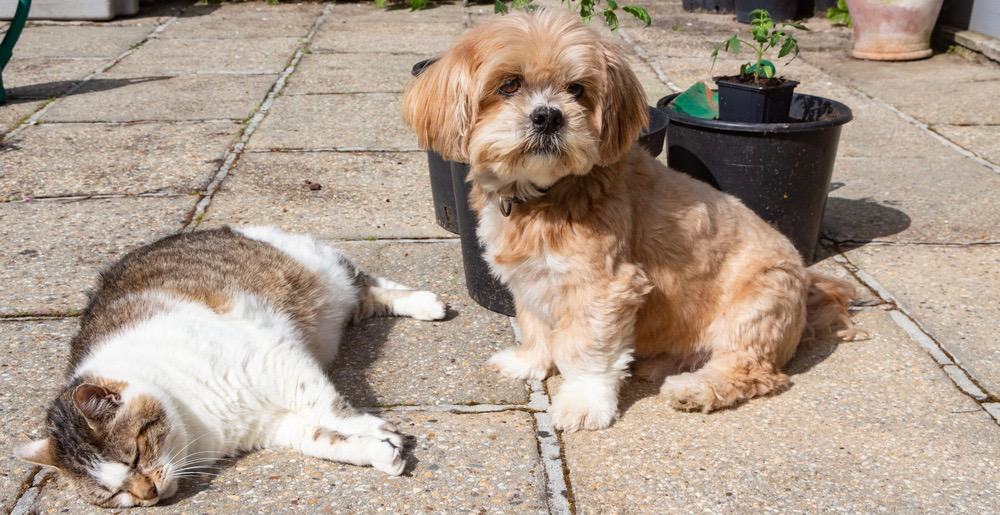 Knowing how tall your Lhasa Apso will grow is an important part of its growth. Lhasa Apsos don't have to be very tall, and they won't need to worry about their height.
The height difference between males and women is negligible, but males tend to be heavier.
Lhasa Apso's average height is between 10-11 inches and 25-27 centimeters.
Measure your dog's height by having him stand on all four legs. This is how dogs measure their height.
The height of a dog is just like its weight. Your dog might be shorter or longer than this.
Shih Tzu vs Lhasa Apso Size
Shih Tzus and Lhasa Apsos are frequently compared because Shih Tzus were originally a mix of a Lhasa Apso (and a Pekingese) and a Shih Tzu.
Although Shih Tzus may have Lhasa Apso, they are not the exact same breed.
Lhasa Apsos tend to be slightly taller than Shih Tzus in terms of their size. Lhasa Apsos average height is 10 to 11 inches, while Shih Tzus range from 9 to 10.5 inches.
A fully grown Lhasa Apso weighs between 12-18 pounds and a Shih Tzu weighs between 9-16 pounds.
The appearances of the breeds are different, despite the differences in their size. Lhasa Apsos have a longer fur that reaches the floor and is parted in the middle.
Shih Tzus wear long double-coats but they are not like Lhasa Apso.
Factors that Affect Lhasa Apso's Growth
Genetics & Gender
If you're trying to determine what factors influence the growth of Lhasa Apsos, the first thing that comes up is the genetics and gender question.
They will be roughly the same size as their parents in terms of genes. This is the most important factor in determining how big your dog will grow.
Because there is no difference between the genders, Gender doesn't have much to do about a Lhasa Apsos growth.
Nutrition
A common expression is "stunting growth", which refers to the idea that certain foods will make you smaller.
Lhasa Apsos is a different breed. Although nutrition has little to do about a dog's physical growth and health, it can have an impact on his future health and the strength of his bones.
To ensure your dog grows strong and healthy, it is important to give him a healthy and balanced diet. However, he won't be affected by poor nutrition.
Physical Activity & Health
Your dog's health and physical activity can have an impact on his growth. Although it may not be obvious in his physical stature because the breed is so small, it can have an impact on his growth in terms bones, joints and organs.
Your dog could become overweight if he doesn't get enough exercise. This can cause major problems later in life.
What if my Lhasa Apso is not the right weight?
Do not panic if you're looking at your Lhasa Apso's weight chart and see that your dog isn't where you expected him to be.
First, make sure you're choosing the right age for your dog.
Keep in mind that the weights listed on the growth charts are averages. This means that there will always be dogs who are smaller or larger than that average.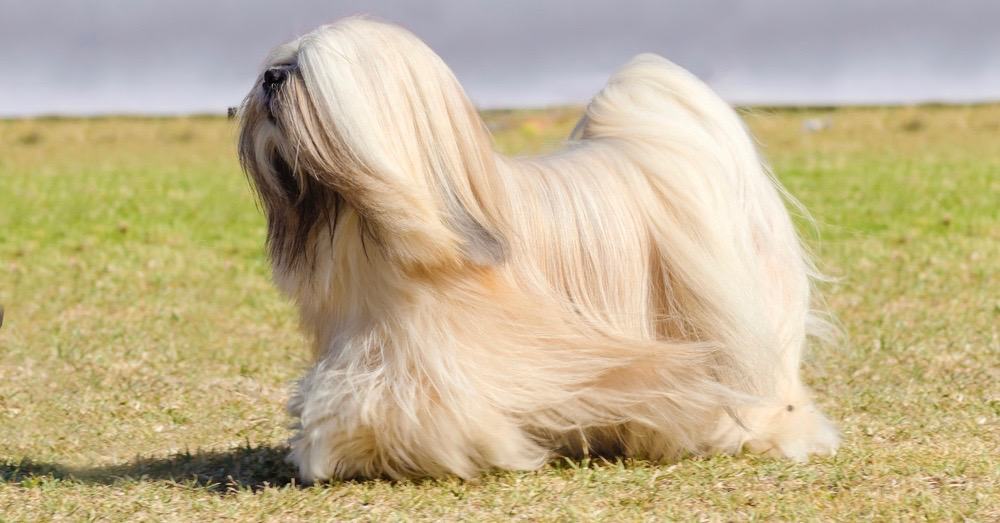 There is nothing to be concerned about as long as your dog grows in the same direction.
Your Lhasa Apso should not be too thin or overweight. These conditions can be very concerning and should be discussed with your veterinarian.
Keep a log of the weights of your dog so you can show your vet what could be causing it.
Lhasa Apso Genetics and Common Health Problems
Purebred dogs can develop some health condition.
The Lhasa Apso is a healthy breed. The Lhasa Apso is a robust, healthy breed with very few genetic problems.
Kidney dysfunction is the most serious health problem that Lhasa Apsos can inherit. It can range from mild to severe and it is impossible to determine if the dog has it before adopting.
Although it is possible to treat milder forms of the disease, organ dysfunction is more serious.
Lhasa Apsos can be a bit lazy and are at risk of becoming obese if they are not given proper nutrition and exercise.
Obesity can cause a variety of health problems. It is difficult for Lhasa Apsos to lose weight due to their natural laziness.
Last words
After you've decided Lhasa Apsos is the right dog for you, it's important to take good care of them.
A Lhasa Apso Growth Chart will allow you to monitor the size of your dog in relation to his age. This will allow you to guide you in keeping him as healthy and happy as possible.
Remember that dogs come in all sizes, so your dog may not be the same weight or height as others.
It's okay to let your dog grow, but make sure you give him love and the right food.
Lhasa Apso Weight Chart – Size & Growth Chart Dog Food Smart.