Parvovirus can be fatal to your puppy or dog.
Parvo survival rates are high for dog owners who give their dogs excellent care and prompt medical intervention.
This article will discuss what parvo is and how it works, from infected to recovered.
What is Parvo?

Canine parvorirus is responsible for the development of parvo in dogs and puppies. The virus can spread easily through contact with infected dogs or other contaminated materials.
Your puppy is at risk of contracting parvovirus if he licks, sniffs or eats contaminated excrement.
Indirect transmission can occur when someone who has recently been exposed to infected dogs comes into physical contact with your puppy.
It is therefore crucial to use a parvo disinfectant.
Which dogs are most at risk of parvo?

The most susceptible puppies to parvo are those who are between six and six months old. Dogs under six weeks of age retain some antibodies from their mothers, provided that they receive the full round vaccines against parvo.
At six, eight, and twelve weeks old, puppies are immunized against the parvovirus.
The disease is not transmitted to puppies until they have received all three immunizations. Parents must be vigilant during this time to prevent their dogs from contracting it.
It is strongly recommended that puppies receive a dose for parvo vaccine between 14-16 weeks of age. This applies to all doses.
The Stages of Parvo

Infection

Viral particles can be introduced to the puppy through fecal matter from infected dogs. These particles can be derived from the mother dog, the environment, and inanimate objects like clothes.
To infect a puppy or dog, a small amount of fecal matter is necessary.
Incubation

Incubation is a period of three to seven days during which the dog is not showing symptoms but is still infected.
This is when the virus seeks out cells that are fastest growing. Generally, this begins with the tonsils and lymph nodes in your throat.
These fast-dividing cells are the virus's best friends, and it can quickly multiply rapidly, which allows it to spread to other parts of the dog's body.
After it has spread and reached the circulation, the virus will search for other sources to rapidly divide cells.
Parvovirus can infect tiny puppies' hearts, causing inflammation and problems with the heart muscle.
Symptoms Begin

Parvo infects bone marrow and targets young immune cells. This causes a decrease of white blood cell count, which in turn lowers the body's capacity to protect itself.
This allows the virus to easily infiltrate the GI tract. This is the area where most of the virus's harm occurs.
The virus attacks the small intestinal lining. It prevents the dog's digestive system from absorbing nutrients, and also prevents fluid loss.
Symptoms that often appear at this stage include:
Diarrhea

Diarrhea, one of the most common symptoms of parvovirus in dogs, is a leading indicator. It can happen due to a number of factors, including allergies or dietary changes. However, it is particularly concerning for puppies.
Unvaccinated puppies and adult dogs might experience diarrhea. This could indicate that they are infected by parvovirus.
Lethargy

Your dog may also experience energy drops due to parvovirus. Lethargy could be an indication. This could indicate a health problem.
It is normal for dogs to nap after a strenuous activity. However, your veterinarian should be notified if your dog shows signs of energy loss.
Dogs suffering from lethargy are prone to sluggishness, lack of enthusiasm for things they normally enjoy (such as walking) and grogginess.
Fever

Fever is another common symptom of parvovirus. Many ailments can be treated by the body raising its internal temperature.
Dogs are more comfortable than humans in terms of their body temperature. Their average temperature is between 99.5 and 102.5F. Anything beyond this range will be considered a fever.
A fever in dogs can cause symptoms similar to those experienced by people, such as red eyes and decreased energy.
You can use a pet thermometer to determine if your dog has a fever if they show any of these symptoms.
Your dog's immune system will attempt to fight a fever by elevating his body temperature. This makes it harder for the virus to survive.
If your dog has a fever, you should take him to the vet. He or she will be tested for viruses and other diseases such as parvovirus.
Weight Loss

You should be concerned if your puppy is eating less or not interested in eating. Dogs need a lot nutrition, especially puppies in development. If they don't eat enough, it can lead to significant weight loss and anorexia.
Parvovirus can affect the gastrointestinal tract making it difficult for dogs to eat.
Vomiting

Parvo can indicate itself in dogs by vomiting. Parvo infections can be especially dangerous for dogs with sensitive stomachs. However, vomiting along with other symptoms could indicate a parvo infection.
Although there may be many causes of vomiting in dogs, it is important to rule out diseases and the possibility of your dog becoming ill from ingesting harmful substances or viruses.
You should take your puppy's vomiting down seriously. They might have parvovirus or another virus to which they do not have antibodies.
Dehydration

Dogs need water to survive. We've all heard of dogs slurping at the bowl. When the body doesn't have enough water and loses more, it is called dehydration.
You may be able to do some at-home tests to find out if your canine companions are thirsty.
You can start by gently pulling the skin between your shoulders and their backs to check their skin elasticity. Your pet should be receiving adequate fluids if it returns to normal.
If your dog's skin seems to be struggling to return to its normal position, it could be dehydrated.
Examining the gums of your dog is the second test. The color of your puppy's gums must be moistened. If you gently touch them, they will temporarily turn white.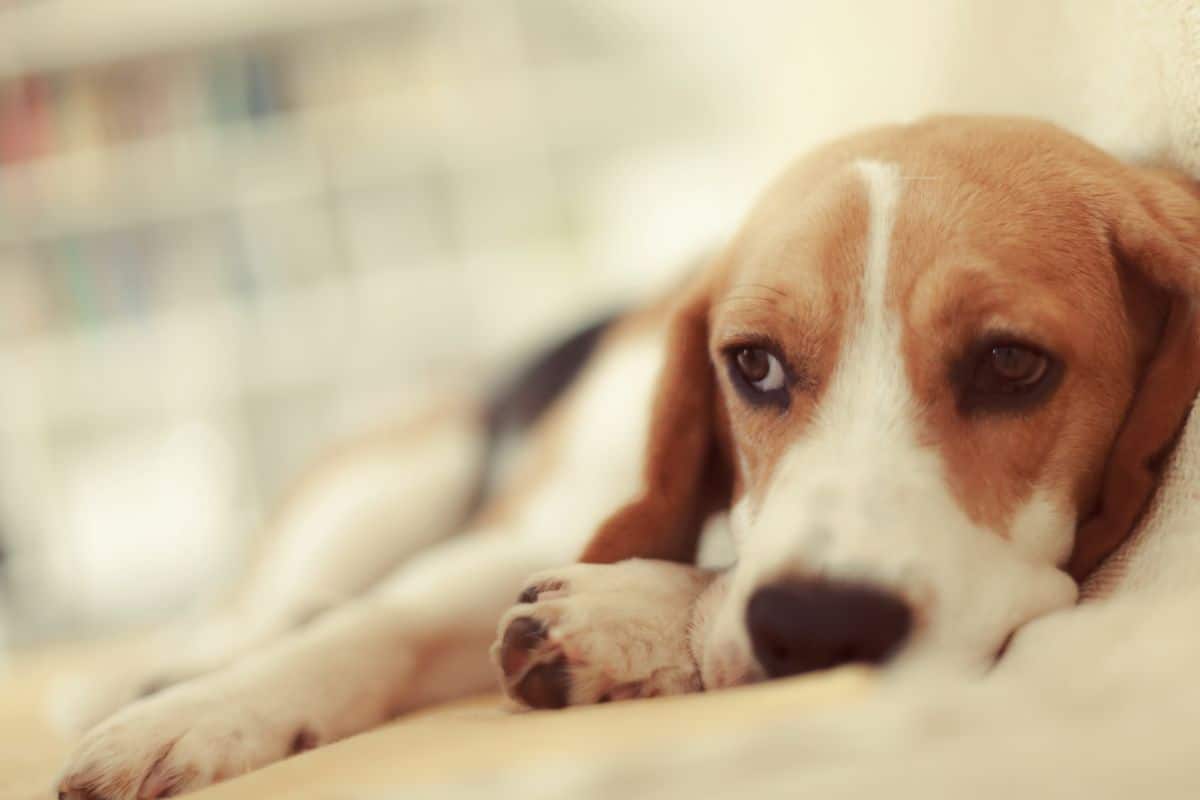 If they don't, it could indicate that they are dehydrated.
Parvo spreads from a dog to their intestines and causes inflammation. It is difficult to eat anything due to intestinal bleeding and inflammation.
It can lead to puppies becoming dehydrated. This should be treated as an emergency because your dog could develop septic shock or even die.
Depression

Sometimes it can be hard to tell if your dog is depressed. They may not be able to express their feelings or talk about their problems.
Being able to identify sadness in dogs is as important as them telling you. Parvo in dogs can cause depression due to illness.
Your puppy may be suffering from the blues if you pay attention to their body language. A decrease in appetite or tiredness could indicate that they are feeling down.
You should consult a veterinarian if you suspect that your puppy may be depressed.
Parvo can make your dog miserable if they feel constantly unwell or are unable to enjoy the things that they love.
Diagnosis

The most common and practical method of testing for CPV is the fecal ELISA. ELISA stands for enzyme-linked immunesorbent assay. It is a method used in home pregnancy testing.
The chamber is filled with a fecal sample. Antibodies bind to any parvovirus protein in the stool.
The color-changing chemical is then added to the compartment. If parvoviruses are present, it will alter the color.
Generally, CPV fecal ELISA testing can be done by your veterinarian in under 15 minutes. Although the ELISA test can be very precise, false positives or negative results may occur, which could require further testing to confirm a diagnosis.
Treatment

The first step in treating parvo is often hospitalization. An adult dog or puppy that is severely ill will need intensive IV hydration and 24-hour monitoring.
Adult dogs and puppies may be given anti-inflammatory medication, antispasmodics for vomiting, diarrhea, or antibiotics to prevent or treat septicemia.
Parvo can be treated in hospitals for between 5 and 7 days.
Your puppy can be treated at home by a veterinarian with some hard work and medication. Puppies require constant care and attention. If the puppy isn't properly taken care of, dehydration can quickly kill.
Anybody caring for a puppy at home must be attentive and prompt in meeting his needs, especially regarding hydration. If possible, take your pet to a hospital.
Recovery

Older dogs and puppies will be able to recover from parvo in 14 to 20 days. During home therapy or rehabilitation, it is important to keep the dog in one room.
For the first week, give your dog bland food until he is able to eat again. You can gradually resume his regular diet.
After your dog is healed, disinfect all surfaces. Parvovirus can be destroyed by cleaning products.
Pay attention to labels. If parvo is not listed, you should look for a cleaning product that claims it will eradicate the virus.
Parvo Prognosis

Dogs who are treated early and aggressively have a survival rate of 80-95%. The odds of survival for dogs who are not treated early and aggressively are usually less than 10%.
This is why it is so important to get in touch with your vet immediately if your dog shows symptoms of parvovirus.
Preventing Parvo

Education and prevention are key to parvovirus prevention. Preventative measures and awareness of symptoms are the best things you can do for your dog.
Vaccination

To avoid parvo, it is best to get your dog vaccinated. The first dose should be given to puppies between six and eight weeks of age.
From the time they turn 16 weeks old, boosters will be needed every three weeks. Because the virus is so dangerous and infectious, you will need to give your dog another booster shot when your dog turns one.
Unvaccinated dogs are not allowed
Your dog has a very low chance of contracting parvo if he or she isn't exposed to unvaccinated dogs. Before introducing your puppy to unvaccinated dogs, wait until they have had their first two shots.
However, this does not mean that your dog must be kept indoors.
Maintain A Clean Environment

Parvo is not able to spread through the air. It can survive on surfaces for more than a year, and it is very difficult to eradicate.
Regular soaps and disinfectants will not kill parvo so you'll need to use bleach to clean your home. Use half a cup of bleach to remove the virus from your house.
Consult a Vet

If you think your dog may have parvo, consult your veterinarian immediately. Parvo symptoms can include vomiting, diarrhea and not eating. Your pet might only be showing one of these symptoms.
Summary

Parvo is a common disease that occurs in the same order. This makes it easy to determine how serious your situation is and when to make an emergency visit to the vet.
Infection is the first stage. Next are symptoms, incubation and diagnosis. Then comes treatment.
While there are many exciting things about getting a puppy, it is also a time of great play and excitement. However, you must do all that you can to ensure your best friend is safe and healthy.
You and your dog will have more fun together if you take preventative measures and are familiar with the symptoms and signs of canine parvovirus.
Parvo – The Stages of the Virus in Dog Food Smart.