Dogs have a special ability to eat things they shouldn't. Raw chicken is one example.
Dogs can be exposed to raw chicken in many ways. This includes eating from a bag of grocery bags left on the ground or scraps of meat that fall to the floor.
Raw Meat is on the Rise

Diet Trends

Recent diet trends have allowed dogs to eat raw meat and poultry. This is something that many people do with good intentions.
We all know the terrible quality of dog food and have heard horror stories about what goes into each tin. This has led pet owners to choose healthier and more natural foods for their furry friends.
This trend is being supported in part by numerous internet fitness influencers that claim that raw meat lifestyles are the best for their health.
Raw chicken can be beneficial for your dog but it can also have serious negative effects that we will discuss later.
False Information

This rising trend is also caused by misinformation.
Dogs are thought to be descendents of wolves. They are well-known for their love of raw meat, so many believe that their digestive systems are well-suited to this ancestral lifestyle.
Many factors, including generations in taming and diet conditioning, have contributed to dogs becoming more sensitive. Consuming raw chicken can pose a serious health risk.
This misinformation can also be blamed on the internet, which has undoubtedly thousands upon thousands of contradicting sources of information about pet health. These are written by people who are not experts in animal nutrition or health but are simply proponents of their diet.
Are Raw Chickens Safe for Dogs?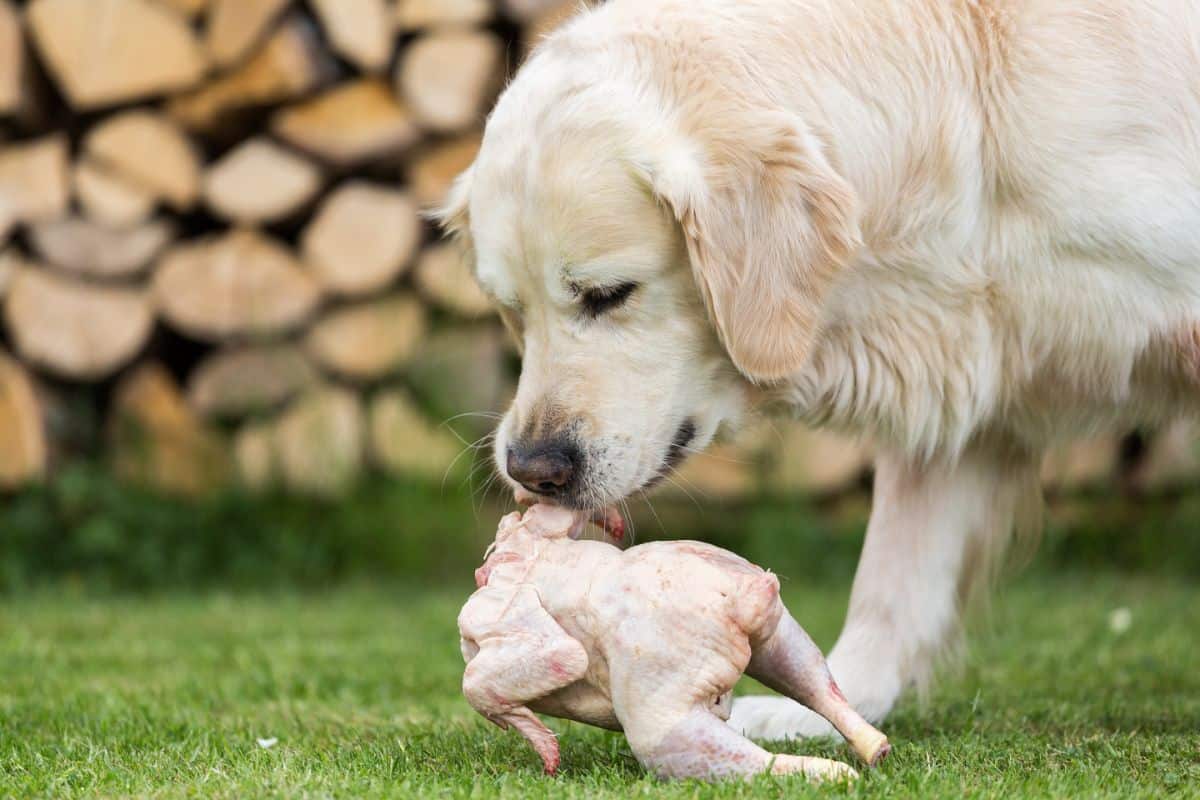 Although your dog might be able to eat raw chicken more easily than you, it can still cause health problems.
This doesn't mean that they will be bitten by every bite. While some dogs are more resilient than others. However, prolonged exposure to raw poultry can put them at risk of contracting the same bacteria and illnesses as us.
It is not completely safe or dangerous. Responsible pet owners should avoid it.
What are the Risks?

While proponents of this dietary choice emphasize the health benefits of raw chicken over other foods, it is important to recognize the potential dangers.
There are three main problem areas associated with dogs consuming raw chicken, all of them potentially serious, especially if exposed to on a regular basis, and these are salmonellamalnutrition, and choking risks
Salmonella Poisoning

This illness is one of the greatest risks associated with raw chicken consumption. It can also be a ghost tom about human consumption of poultry.
Salmonella is the most prevalent form of food poisoning. It is particularly common in meat that has been undercooked or uncooked.
The bacteria is found in the intestines and feces of certain animals. If proper precautions are not taken, the chances of transmitting the bacteria to your pet are greatly increased.
Salmonellosis symptoms include diarrhea, vomiting, fatigue, nausea, lethargy, and fever. It can also be dangerous for your pet and you.
Salmonella can be avoided by only giving your pet cooked poultry.
A second option is to create a work surface or chopping board for raw chicken preparation.
After the chicken has been prepared, clean your hands and the board.
This is the most important, because it reduces the chance of infection from contact with your face, mouth, bowl, toys, or dog's bowl.
This infection can be treated with antibiotics or IV treatment to replenish fluids. If your pet has a sensitive immune system, dysbiosis, or a compromised gut, it could prove fatal.
Campylobacter

This infection is particularly common in poultry and can lead to food poisoning and even abortion in pregnant dogs.
This bacteria can be found in the feces and intestines of poultry, turkeys and geese. It can also cause a gastronomical illness called campylobacteriosis. It is characterised by bloody diarrhea, dysentery syndrome (characterized by cramps, fever, and pain) and can lead to a gastronomical disease called campylobacteriosis.
This is particularly important to remember if you feed raw chicken to pregnant dogs. It has also been linked to colon tissue and jejunum damage.
Malnutrition

Malnutrition is not a diet of raw chicken. It's a diet that does not provide a healthy, balanced diet for your dog.
Just like humans, dogs need a balanced diet of vitamins and minerals to be healthy and happy. A lack of these nutrients can cause a dog's immune system to fail, weak bones, teeth and organ problems, as well as a decrease in energy.
If not treated, this can lead to worsening effects.
A balanced, nutritious diet rich in protein, mega-fatty acids, carbs, vitamins C, and other healthy minerals such as magnesium, calcium and phosphorus is the best way to ensure your dog's long-term health.
Choking Hazards

Raw or cooked chicken can pose a danger to your dog's health. If not taken care of quickly, it could prove fatal.
The chicken bones can become stuck in the teeth, mouth, and throat. This can lead to obstructions in the stomach and intestinal tract, as well as internal organ punctures if it is not dealt with quickly.
It is therefore important to give smaller pieces of chicken to your dog so that you can determine if there are bones in the meat. This will ensure that your dog is healthy and safe.
Habitual Vs Accidental

It is important to distinguish between raw chicken and cooked chicken for your dog.
Habitual

Your dog is more likely to get sick if raw chicken is a regular part of their daily routine.
This is simply statistical probability. The higher you serve a potentially hazardous dish, the greater the likelihood of experiencing negative side effects.
ccidental
However, if your dog merely ate some chicken on the floor while you were cooking food, it's unlikely that anything will happen.
This is largely due to the fact that they are likely to have ingested less than usual and the low amount of exposure.
Be aware of this and continue to watch your dog. Check for any symptoms mentioned in the previous section. If necessary, seek medical attention from a registered veterinarian.
Are There Any Benefits?
Raw chicken is still a popular option for dogs, despite the many negatives. What are the benefits, if any?
Nutritional

Raw chicken has a 80% protein content, which is why it is an excellent source of protein.
Fresh, raw chicken contains no sugars or carbohydrates, so you can be sure what your dog is eating.
Raw chicken can also be a good source of magnesium, potassium, vitamin D12, and other beneficial nutrients. However, there are safer, better options.
llergens
Another reason is that the product is free from hidden allergens that could cause issues for sensitive dogs or those with specific dietary needs.
This eliminates many of the concerns about hidden ingredients in dog food, and other similar items. However, there are safer and simpler ways to have such assurance. This dietary choice is safer than if it's simply cooked.
Price

In a time where meat prices are rising, chicken is very affordable to purchase. It is a popular choice for pet parents who are looking for nutritional value and a low cost option.
Safe Food Preparation Methods

If you insist that this is the best choice for your dog then it is crucial to take several measures to ensure your pet's safety.
First, organic chicken is a good option if you have the funds. Although it is more expensive, organic chicken is generally better than the standard ones.
Also, it is important to ensure that chicken is properly stored. It should not be left on the counter to warm up and sealed properly. There is a greater chance of bacteria contamination if this is not the case.
For added safety, make sure your kitchen is clean, particularly before, during, and after the preparation of raw chicken.
It is best to keep it simple, and without any seasonings or spices, as it will not upset the dog's stomach or cause them discomfort.
It is crucial to keep your dog healthy by monitoring them after they eat. This is easy and can be incorporated into the daily meal plan.
Keep These Things in Mind

There are many things to consider before you make this decision.
First, cooking chicken is safer than letting it go raw. Although some nutritional value can be lost in cooking, it is possible to supplement this with vitamins and minerals or as part of a balanced diet. This will easily negate any potential dangers.
It is also important to remember that there are many options that are healthier and just as nutritious.
Beef is high in protein and nutrients and can be safely eaten raw. Although beef is more expensive, you can find cheaper cuts that offer the same benefits, or at a lower price.
For optimal pet health, it is important to create a food plan. This will allow your pet to be in a better nutritional and physical condition.
Balance it and make sure all the vitamins and minerals mentioned above are present.
Avoid internet trends and fad diets. These are often short-term, easy to disprove (or not supported by science) and can be more expensive and dangerous in the long term.
To ensure optimal pet health, stick to proven methods and don't listen to anyone who is trying to influence you.
Last Thoughts

Voilà, all you need to know about raw chicken consumption by dogs.
It is important to keep your child healthy and happy, to maintain a balanced diet, to cook in a safe and clean environment, especially when it comes to raw chicken, and to focus on tried and true methods that have been proven to be safe, effective, and healthy.
Do I have to be concerned that my dog ate raw chicken? Dog Food Smart.