In recent years, the dachshund is a very popular breed. They are irresistible because of their cute little legs and big ears.
They make great pets and can bond with their owners over time. There are many types of Dachshunds. They come in different sizes, including the large dachsie and the mini dachsie.
You will want to research the breed before you add a dachshund to you home. How is their temperament?
Are they able to be trusted with small animals and children? What amount of exercise do they require? These are crucial questions to answer before you buy your dachsie.
The dachshund with short hair is one of the most popular breeds in the world.
Today we will take a deeper look at this breed to help you understand it better and decide if this is the right dog for your family.
Short Haired Dachshund Appearance

If you see a dachshund on the streets, you will be able to recognize it. Their short ears, short legs, and long snouts make them easily identifiable in both their miniature and standard sizes.
You will find a variety of colors in them, with black and brown being the most popular.
Your choice of a standard or miniature size dachsie will affect their size. They can weigh anywhere from 5 to 6 pounds to up to 32 pounds.
You should also keep in mind that dachsies can gain weight. Therefore, you need to watch their diet and make sure they get enough exercise.
Overview of the Short Haired Dachshund

Coat colorsBlack and tan, chocolate and tan, red, brindle, isabella, blue, merle, English creamCoat patternsPiebald, dapple, or solid colorOverall temperamentLoyal, stubborn, loving, energetic, protectiveDachsie heightMiniatures are between 5 to 6 inches in height, standard dachsies are between 8 to 9 inches in heightDachsie weightMiniatures have an ideal weight of 11 pounds, standard dachsies have an average weight of between 16 pounds to 32 poundsAre dachshunds hypoallergenic?NoGrooming requirementsLowDo short haired dachshunds shed?LowCommon health issuesSpine issues, intervertebral disease, obesity, diabetes, gum and dental problems, cancers, Cushing's disease, tumors, LaforaHow much exercise does my dachsie need?Between half an hour to an hour every day
Fun facts about the Short Haired Dachshund

If you buy your dachshund from a reliable breeder, it will cost between $1,200 to $1,500
What are the Pros and Cons of Choosing a Short Haired Dachshund Dachshund?

Dachshund prosDachshund conDachsies need very little groomingDachsies love to digDachsies have a tendency to be attached to one person, which can make them difficult to train.Dachsies can develop back problems which can require expensive treatmentDachsies will be loyal and loving to their owners.
The History of the Dachshund

In Germany, the dachshund was first bred around 1600s to be a hunting dog.
Dachshund actually means "badger hound" because they were bred for digging up badger holes and flushing out the animal.
This is why dachshunds are so small in legs and have such a long back. A dachshund with short hair is less likely than a dachshund with long hair to burrow after badgers. Instead, he will be more comfortable burrowing under blankets on your couch.
The miniature size of this breed was created around 1800, after it became very popular as a pet.
Because of its smaller size, the miniature Dachsie was able to chase foxes and hares more easily than the standard dachsie.
The American Kennel Club only recognized the dachshund in the latter part of the 17th century. In the 1930s and 1940s, the popularity of the Dachshund as an animal pet exploded. It is still very popular today.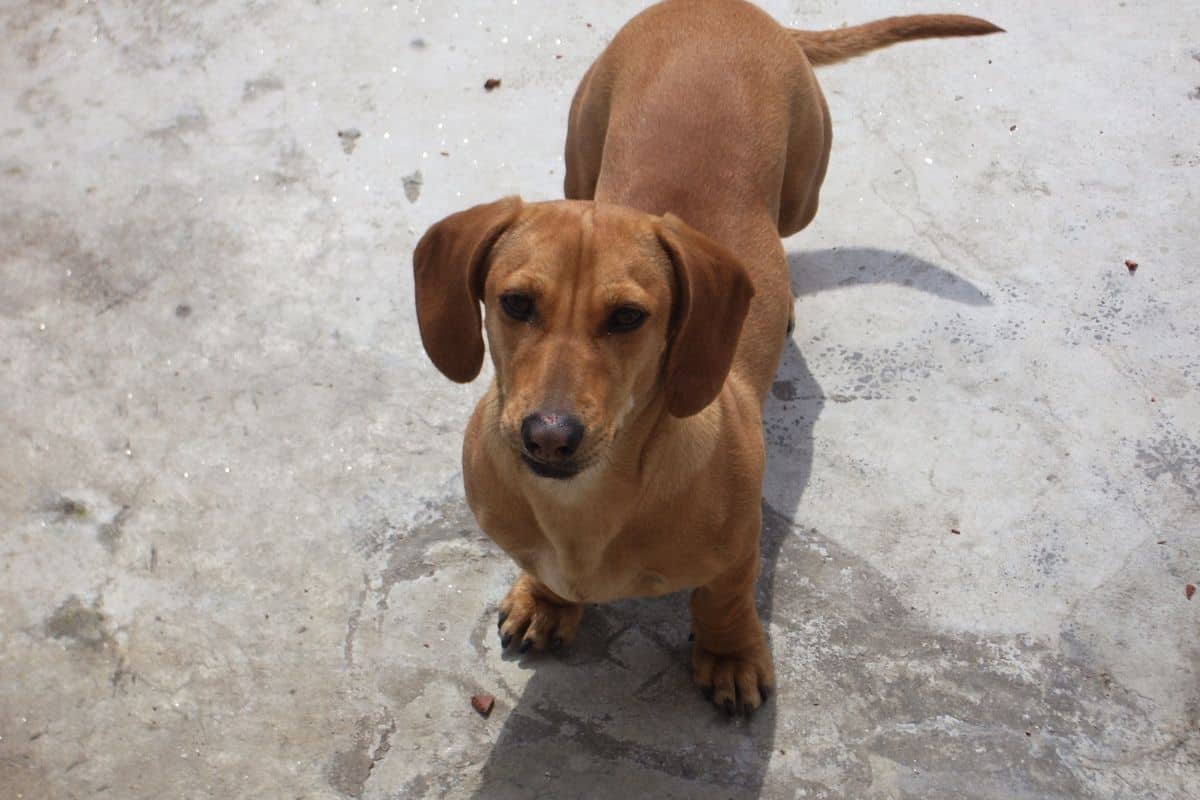 What is the Temperament of a Short Haired Dachshund's?

Your dachshund's short hair will show that they are very affectionate towards their owner. They will tend to be attached to one member of the household and become protective of them.
They are loyal and intelligent, and they tend to be very loyal to their owners.
It is also important to note that the Dachshund can be stubborn, making it difficult for them to be trained.
They are motivated by food so positive reinforcement and this will help you teach them how to listen better.
To keep your dachshund happy and healthy, give him lots of puzzles or toys to entertain him. If they are left alone, this can prevent them from being destructive in the house.
Keep in mind, however, that the dachshund's short hair can get attached to one person and they will suffer separation anxiety if separated from them.
They don't seem to be able to handle being left alone for too long. You will also notice that they become louder and more destructive at home.
Dachshunds are generally a loving breed. You can help them to learn what to expect and to be less stressed when you are away.
The Exercises of a Short Haired Dachshund

Dachshunds are not inclined to be physically active and may avoid exercise if they have to be separated from their owner.
You will need to ensure that your children get at least half an hour of exercise each day, as they are more likely to gain weight.
This is essential to manage your pet's weight. They would gain a lot of weight if they sat around all day without getting any exercise.
They won't complain about being under blankets. It is up to you to make sure they get the exercise they need.
Noting that puppies and young adults will require more exercise than an older dachsie, is also important. Because they are smaller, miniature dachsies won't require as much exercise.
You will need to make sure your dog is healthy and fit before you can train them for agility.
Walking your dachsie twice daily for 15 minutes is the best way to keep them in good shape. It will help them stay healthy and not overwhelm their little legs.
To let them get some exercise, you can let them run around in your yard.
Strenuous exercise can cause strain to your dachshund's back. Avoid letting your dachshund jump from couches or beds. Don't allow them to run up and down stairs.
Your dachsie may need to be treated if their back is injured. It can be expensive so any help you can offer will save your dachsie from a lifetime of stress.
You will need to groom and shed.

Your dachshund's short hair is not as long as its long-haired counterparts. However, they still shed some fur throughout the year.
Although it may not be as obvious because the hair is shorter and doesn't collect in clumps like other hair, your dachsie will still shed.
You should brush your dog's hair at least once per week to prevent excessive shedding. This will keep their fur tidy and prevent them from getting lost during seasonal changes.
A bristle brush, or a short slicker will be the best choice for your dachsie. They will help to remove any loose hairs. This will help you keep your dachsie clean, and remove any dirt or debris.
Dachshunds have floppy ears so you need to clean them once a month.
You won't be able to play with your dachsies' ears. It is best to buy veterinarian ear wiping products.
It will be gentle on your dachsie's ears and less irritating than ear drops. You can also get things done faster and more efficiently.
Your dachsie's ears should be cleaned at least once per month, if possible twice per month. Do your ears emit a foul-smelling odor?
Are you concerned about persistent ear infections? You will need to take your pet to the veterinarian to determine what is causing it.
You should also remember to clip the nails of your Dachshund regularly. To make it easier, you will need to do this at least once per month.
If your dachsie is hesitant to let you trim their nails, you may need to take them to the vet or place a muzzle around them for the duration.
Do not cut too close, as some dachsies may have darker nails that make it harder to see.
Feeding, Diet, And Nutrition

You should ensure that your dachshund is eating a balanced diet. They are a breed that is obsessed with their stomach and will tell you when they are full.
You will have to limit how many times they ask for your dinner.
Dachshunds can gain weight quickly, so it is important to monitor their eating habits and keep them on track. They will notice this more as they age and if they aren't exercising enough.
Your dachshund must be healthy and happy. You should cut back on the amount of food your dachshund eats.
If your dachshund is healthy, you should feel just barely between their ribs. If you are unsure about your dog's ideal weight, it is a good idea consult with your vet.
Keep in mind that standard dachsies will weigh more than miniature Dachsies. However, they will still need to eat slightly more because they are larger dogs.
Your dog should eat a high-protein, low-fat food. You can make your dog's skin very sensitive if you don't provide the right diet.
Your vet is the best person to consult if you have any questions about what you should feed your dachshund. Your vet will be able advise you on the best foods and diets for your dachshund.
Common Health Problems for the Short Haired Dachshund

The dachshund, like all pedigree dog breeds, is more vulnerable to certain health problems than other dog breeds. All dachsies have similar health issues, regardless of whether they are wire-haired or short-haired.
Most dachshunds' health issues are related to their backs.
Intervertebral disk disease is more common in dogs. This happens when the putty inside their discs pushes outwards. It can cause extreme pain for the dog.
Contrary to popular belief, it is not due to their short legs but their shorter backs.
This is a costly procedure that requires specialist veterinary surgeons to drill into the discs to remove the putty.
If this problem is not addressed, your dachshund will be in severe pain. Paralysis can also occur, which could severely impact your dog's quality life.
Another common issue is progressive retinal atrophy (also known as PRA).
Blindness can result in your dachsie. Degenerative mitral valve disease, Lafora, Cushing's and other diseases can also affect Dachshunds.
Are Short Haired Dachshunds Easier To Train?
Training a dachshund with a short coat will be more difficult than other breeds.
Because the dachshund's short hair can be stubborn and selective listener, it is a common problem. You will need to persevere with your training and provide lots of positive reinforcement for your dachsie.
Do not get mad at your dachsies if they aren't listening to you. Stick to your consistent, persistent demands and be as stubborn as possible.
You can quickly teach your dachsies the commands you want by using positive reinforcement and bribery.
Keep your training sessions positive, and avoid any scoldings. To prevent boredom in your dachsie, it may be worthwhile to keep the training sessions short.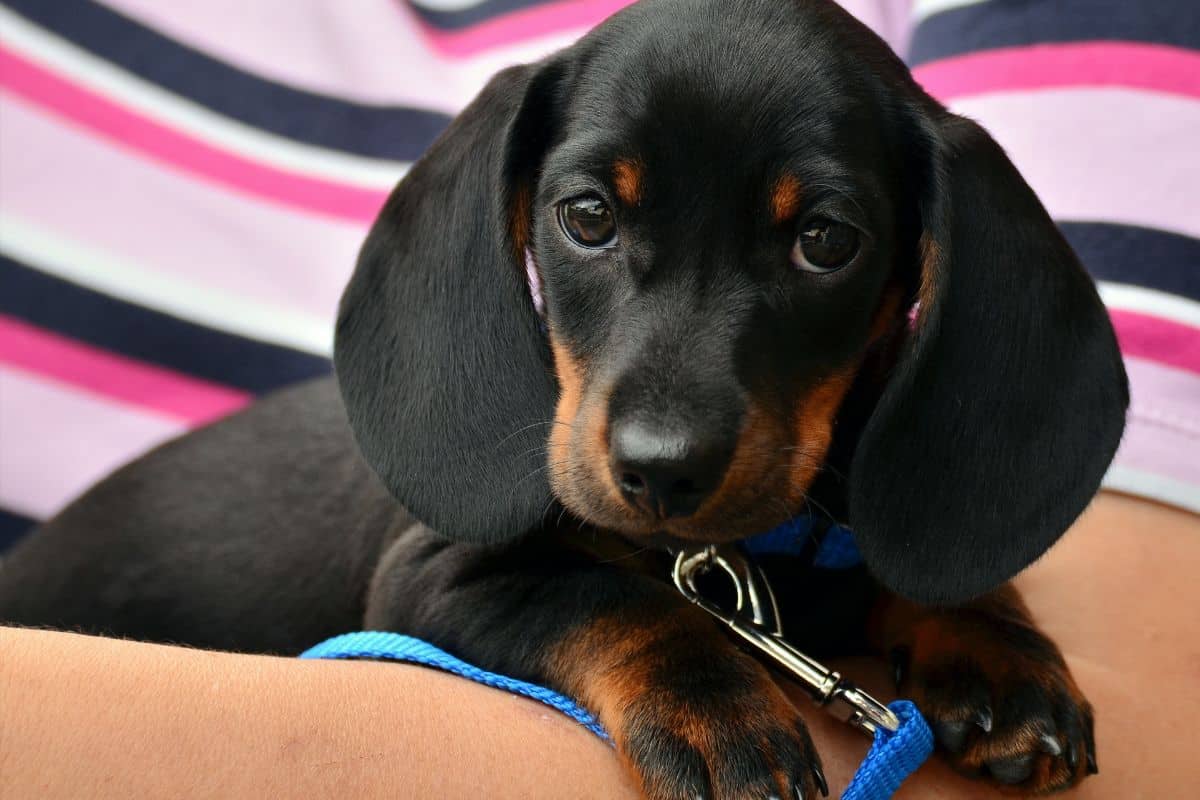 Most Frequently Asked Questions

Will My Short Haired Dachshund Heifer?

Even though their hair is short, even short-haired dachshunds will shed. To avoid getting overwhelmed by short dachshund hair, you will need to groom them at least once per week.
Your dachsie will shed more between seasons and especially during the winter months.
Are Short Haired Dachshunds prone to getting cold easily?

Yes, even dachshunds with short hair can get cold easily during winter months. You might find your dachshund like a sweater or coat in the colder months.
They also like to be covered up so they can keep their bodies warm.
Do My Short Haired Dachshunds Need a Coat in Winter?

Your dachshund's short hair will require a coat during winter. This is especially true if they are going for long walks outdoors. A coat that is too large or too small can make your dog look unprofessional.
It may be worth buying a sweater for your dachsie if they seem to get cold easily. They will be able to keep warm and comfortable while they are out and about, as well as preventing them from getting too cold.
Is My Dachshund Puppy A Miniature Dachsie Or A Full Size Dachsie?

This may seem silly at first. You might think that if your parents are miniature dachsies, then your puppy must be miniature dachsies.
The miniature dachshunds were bred from the larger dachshunds, so they can still breed full-size dachshunds, even though the parents are smaller.
You can tell if your dachsie is full-sized or small by comparing their paws to their littermates.
A dachshund with larger paws than its littermates will eventually grow to be a full-sized dachsie.
Weighing your dachsie will help you determine if they are full-sized or small. A standard-sized dachshund is one that weighs in at least 11 pounds after 1 year.
Routine is Important for My Dachshund.

Routine is important for your dachsie, as they will need a structure in their daily lives.
This is because they need to know what to expect every day. It also means that they won't be too upset if you leave them with a dog sitter for a few hours or a couple of days.
Your dachshund can tell you when they wake up, what they play with, how long they can expect to walk, and what time they can be fed.
This will make your life more balanced and help your dog feel less stressed about any deviations in the daily running of the household.
What Does My Dachshund Say About Their Smell?

Sometimes, your dachsie will roll in strange substances while you're taking them on walks. You may have to bathe your dachsi after they've returned from a walk to get rid of any smelly substances they might have ingested.
If your dachsie still smells funny after you've cleaned it, be sure to inspect them all.
You should be looking out for any changes in their skin. Also, check for any areas that are prone to infection or skin irritations. Also, make sure to check if their anal glands require squeezing.
If your dachsie's ears are the problem, you will need to treat them accordingly. To ensure that your dachshund is properly examined, it's best to take him to the vet.
Is it difficult to identify the source of the smell? You will have to take your dachshund in to the vet to get a complete check-up.
Why is my Dachshund snoring?

If your dachshund is scratching excessively, this could be a sign that there are pests aboard.
To keep them happy and healthy, make sure they get regular flea and tick treatment. You could also be allergic to food or household products.
To determine the cause of the problem, consult your veterinarian.
Do you notice that your Dachshund's skin is flaky and dry? They need to moisturize their skin. It may be necessary to change their diet in order to ensure they get the correct nutrients.
If you have any concerns about your dachshund's well-being, consult your veterinarian.
Is it possible to buy Dachshunds?

It is crucial to only buy dachshunds from reputable breeders and do your research before buying them.
Reputable breeders will ensure that your dog's health is at the forefront of their work. This means you don't have to worry about buying a sick pet.
You can also look for shelters that have adult short-haired Dachshunds available for adoption.
Summary

There you have it! Now you know all there is to know concerning the short-haired dachshund. The dachshund is a loyal and loving dog breed that can be attached to only one person.
They can be very protective of their owner and will hate to be separated from them. Dachshunds come in standard and mini sizes. They will require regular monitoring of their diet.
Dachsies are prone to separation anxiety and can become very vocal and destructive if they are separated from their owners. These pets are a wonderful addition to any home.
All You Need to Know About The Smart Short Haired Dachshund Dog Food