You can identify certain dog breeds with just a glance. The Dachshund is one such breed.
These breeds are so distinct that you can easily recognize the dachshund traits among mixed breed dogs.
There is a chance you may be curious about the breed of a dog you have rescued from a shelter.
You might wonder if they are part-dachshunds if they have a long back or very short legs. They are most likely part dachshunds.
Dachshunds can be beautiful and full of character. If you're thinking about adding a dog to your family, you may consider a dachshund.
This guide will look at standard and miniature Dachshunds in order to determine if they're right for you. Keep reading to learn more!
What is the Difference?

Let's first look at the differences between a miniature and standard dachshund.
These are two types of dachshund dogs, as their names suggest. These dogs are known for their long, stumpy legs and short bodies.
Sometimes they look funny because their backs are longer than other breeds.
These dogs are often called "sausage dogs" because of their long backs. What is the difference between a miniature and a standard dachshund?
A standard dachshund will be as normal as you'd expect. They are usually between 16 and 32 lbs and no longer than 12 inches tall.
They are a medium-sized to small dog breed and are perhaps the most popular type of dachshund.
The miniature dachshund, on the other hand, is tiny. The miniature dachshund is considered a toy breed and is basically a smaller version than a standard dachshund.
Miniature Dachshunds are very similar to standard dachshunds. They just tend to look smaller overall.
Miniature Dachshunds are usually less than 11 pounds and can measure approximately 5-6 inches tall.
Dachshunds can come in many different colors and types of coats. You can choose from smooth, wire-haired, or long-haired Dachshunds.
You can also find their fur in many colors, from black to tan and cream. Both standard and miniature dachshunds can have the same color and type of fur.
Size comparison

There are several sizes and types of dachshunds. We will compare standard and miniature dachshunds in this guide. However, there are two additional sizes that we should briefly mention. These are the tweenie and rabbit dachshunds.
Standard dachshunds, as we've already stated, are the original breed standard.
They are usually about 9 inches tall, and no higher than 12 inches high.
They can also weigh between 16 and 32 pounds, with male dachshunds being more heavy than females.
Miniature Dachshunds

We also mentioned earlier that miniature dachshunds are basically miniature versions of standard Dachshunds.
They are much smaller and measure only 5-6 inches high.
They also weigh less than 11 lbs. Male miniature dachshunds are generally larger than their female counterparts.
Tweenie Dachshunds

Tweenie Dachshunds, as you might expect, are a type dachshund that's somewhere in the middle of a miniature and standard dachshund.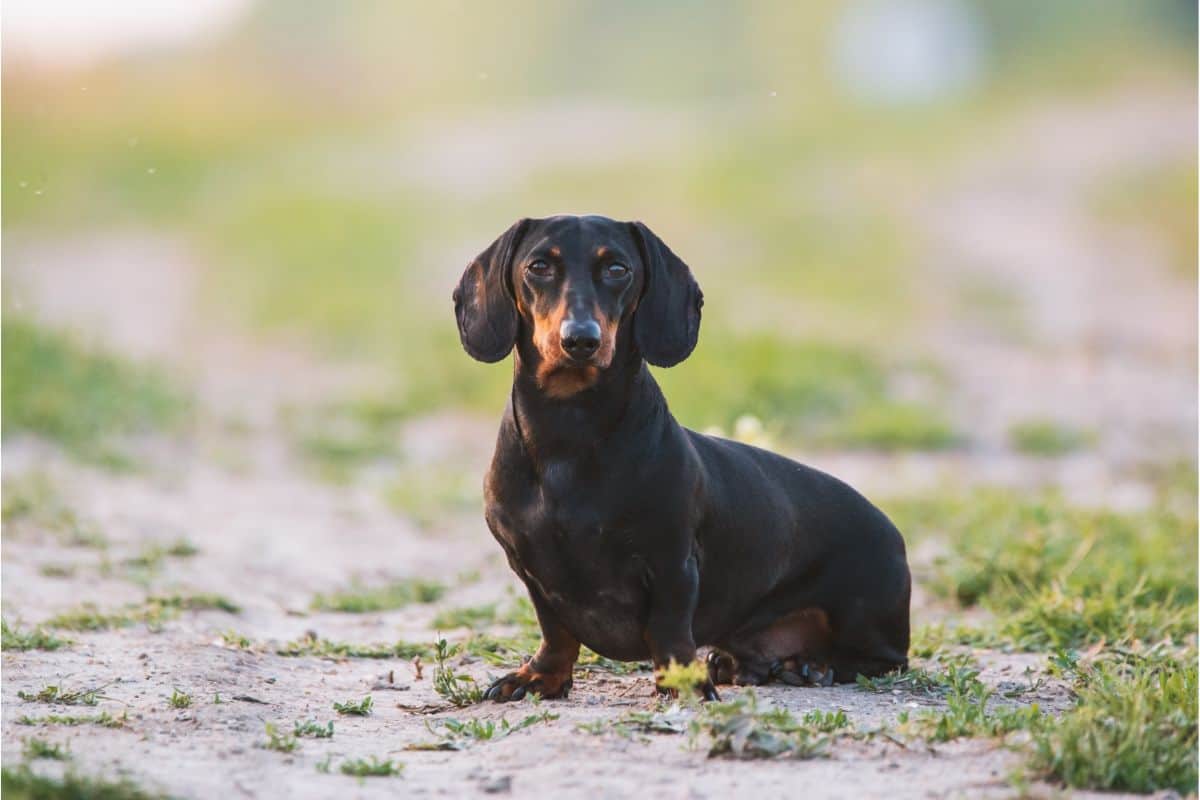 They are smaller than standard dachshunds but larger than miniature dachshunds.
Tweenie Dachshunds are typically between 11 and 18 pounds and no larger than 8 inches tall.
Rabbit Dachshunds

Finally, we now have rabbit dachshunds. This may seem unbelievable to you, but rabbit dachshunds are actually lighter than miniature dachshunds.
They are the smallest breed of Dachshund, and are very rare.
These dachshunds are usually between 8 and 11 lbs in weight and less than 6 inches tall.
A Brief Overview: Which Dachshund is Best for You and Your Lifestyle?
Miniature Dachshund

For families with one dog, miniature dachshunds are the best choice.
This breed can be suspicious of other dogs and should therefore be kept as an only pet.
They don't require a lot of exercise so they are great for busy families or households with no children.
There is no one perfect home for miniature dachshunds, but most dogs can adapt to any environment.
This is where miniature Dachshunds thrive.
Standard Dachshund

Standard Dachshunds tend to be a bit stronger than miniature Dachshunds. This is why this breed is better suited to families with children.
Children often play rough with dogs and a standard dachshund is better suited to this.
Most families will find a standard dachshund suitable. If you have children or live in a large household, we recommend a standard dachshund.
Miniature Vs Standard Dachshund

Let's now take a closer look at these differences between dachshunds.
Let's look at several breed types to help you choose the best one for you and your life.
Breed History

Let's start by looking at the breed history of miniature and standard Dachshunds.
The standard dachshund was the original breed of Dachshund. It was developed in Germany during the 1500s.
Although dachshunds can be shown today, their original purpose was to hunt badgers.
Standard Dachshunds are about the same size as badgers. This allows them to follow tunneling animals into their tunnels for hunting.
This made dachshunds more successful hunting than other breeds of dogs.
Standard dachshunds used to have longer legs than they do today. These legs were great for digging into the dirt and digging after prey.
It's not known when miniature dachshunds became recognized as a breed. These dogs were originally bred to hunt.
Standard dachshunds are bred to hunt larger prey such as badgers. Miniature dachshunds were created to hunt rabbits and squirrels.
Both of these breeds became companions over time. They were almost exclusively used for companionship by the Americans when they arrived in America in the late 1800s.
These dogs have a long history of hunting in other countries but in America their breed history is almost entirely associated with companionship.
Pease
We mentioned earlier that dachshunds can come in many shapes and sizes.
We've already talked in great detail about the differences in size between miniature and standard dachshunds. Let's now focus on the fur.
Standard and miniature Dachshunds may look very different depending on what type of fur they have and what color it is.
Your dachshund could have one of three types: smooth-coated or wire-coated.
Your dachshund might have different fur types.
There are several colors of dachshunds, both miniature and standard.
Your dachshund can be in many different colors.
Black and tan are the most popular color combination for Dachshunds. They can also be available in other colors, such as:
You can choose from black and cream, chocolate and tan, and solid redDapple and solid fawn. There are many more…
These colors can be used by both standard and miniature dachshunds.
The appearance of your dachshund in terms of its color and fur type will not affect which dog is best for you or your lifestyle.
Health

People often consider the health risks that a dog might have in the future when making a decision about buying a dog.
There is no way to know what diseases your dog might have, but many dogs live happy lives.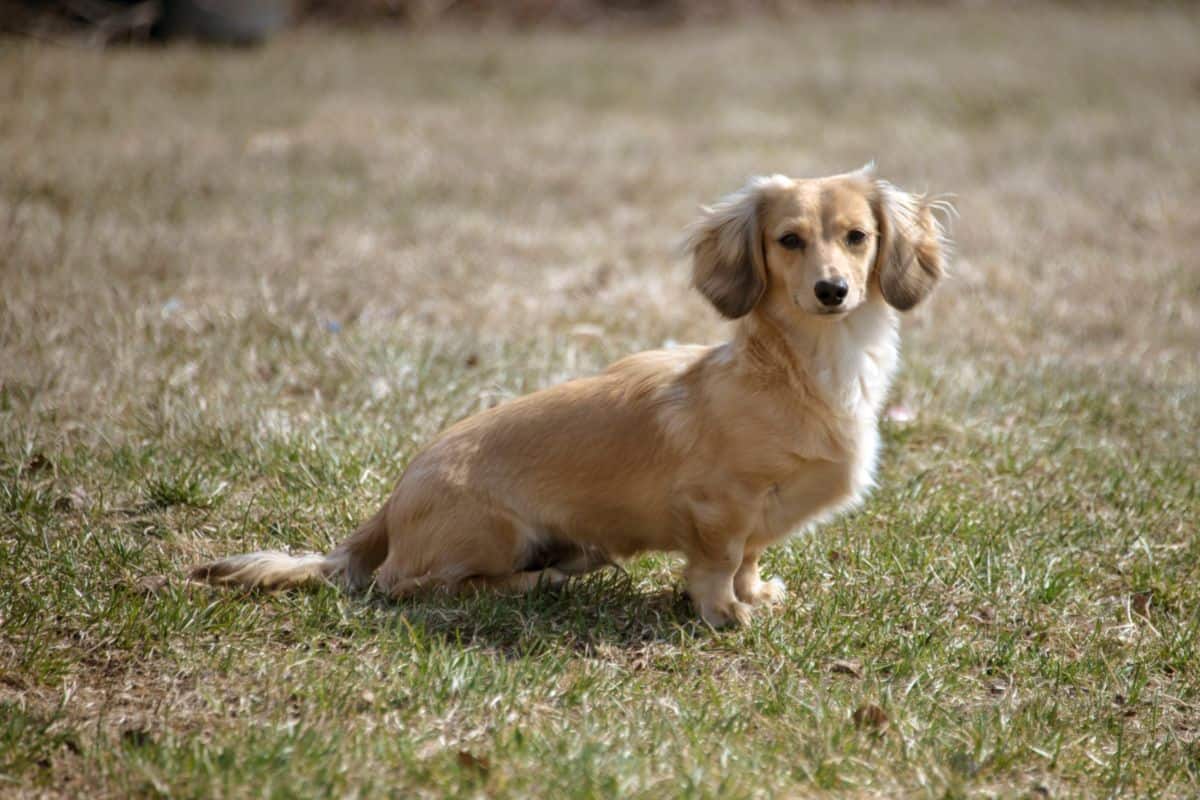 A pedigree can be a great way to get a good idea of potential health issues that may arise throughout the dog's lifetime.
There are many health issues that can affect your dachshund. These health issues include both standard and miniature dachshunds.
Health concerns will not likely affect whether you buy a standard or a miniature dachshund. However, they can influence whether you decide to purchase the breed in general.
Let's look at these issues to help you decide whether a Dachshund is the right choice for you.
As you might expect, their back is the most troublesome area on their body.
Dachshunds are known for their long bodies. Unfortunately, it is their long spines which are the most dangerous to them.
They can also develop IVDD back problems.
IVDD is an acronym for In vertebral Disc Disease. It is believed to affect approximately 25% of dachshunds in some way or another.
This is because IVDD is very similar in appearance to a slipped/herniated disk in humans. Therefore, the symptoms are very similar.
These include lower back pain, restricted mobility, occasional numbness and, in severe cases, paralysis.
Although IVDD is a common condition in Dachshunds, it can also be caused by genetics.
Overall, the odds of your dog developing this condition are 1 in 4.
Before you buy a Dachshund, it is important to be informed about this condition and any veterinary bills you might have to pay if your dog gets it.
Temperament

The temperament of your dog is an important factor to consider when buying a dog.
Because all dogs are unique, it is impossible to predict exactly which temperament your dog will exhibit.
Pedigree dogs are often bred with temperament as a goal. Dogs that are bred for their pets and not as working dogs will be a lot happier. What temperament are dachshunds most often characterized by?
It is common to believe that small dogs are snappy. Therefore, you might think that miniature dachshunds will have temperament problems when compared to larger dogs.
This is not true. There is actually very little temperament difference between standard and miniature dachshunds.
Dachshunds are known for their affectionate nature. These adorable dogs are loyal and affectionate.
You can feel secure when your dachshund's around.
Your dachshund will alert you if anything is unusual or out of the ordinary.
These dogs are wonderful and it is almost always a good idea to add a dachshund in the family.
It is important to remember that these dogs can be stubborn. Dachshunds are a stubborn breed, which can make training them difficult.
These dogs are loyal and will do anything for you, but they can also be a bit stubborn.
Dogs can often be stubborn, but this trait can be overcome if they are taught skills and tricks early in their lives.
If you are looking for a dog who can learn many tricks, then a Labrador/German Shepherd is the best choice.
Gility
This leads us to agility, which is the next category. Dogs need exercise. If you are looking to add a dog to your family, make sure you have enough time to walk them every day.
There are certain dog breeds that can be walked in shorter amounts of time, however.
How do standard and miniature dachshunds fare in agility and fitness?
A miniature dachshund would be the best choice if your dog needs to get as much exercise as possible.
Miniature dachshunds require only 30 minutes to exercise per day (45 minutes maximum). You only need to take one walk per day to keep them happy.
It is important to note that standard Dachshunds don't require as much exercise.
A standard dachshund needs around 60 minutes of exercise per day.
Although this is twice the amount that a miniature Dachshund needs, it is still quite low in comparison to other dog breeds.
Although we've measured the amount of exercise in minutes, it is important to note that the type of exercise can have an impact on how much your dog gets.
Do not forget that dachshunds have short legs. Running is much more difficult than walking.
A short run can help your dachshund get tired. You should also keep in mind that miniature and standard dachshunds are not the best choices if your dog wants to go for a run with you. Consider getting a bigger dog.
Training

Training was briefly mentioned earlier due to the stubborn nature dachshunds. But let's have a closer look.
What is the difference between training a standard and miniature dachshunds?
There isn't. Training dachshunds, no matter how small or large, will be difficult.
Dogs like these are known for being stubborn and difficult to train. These dogs are not stupid.
It is actually because these dogs are so intelligent. Dachshunds can ignore you commands, even if they are able to understand what you're saying. These dogs are stubborn and will not listen to anyone.
It is essential that you can exercise physical control over your dachshunds.
This simply means that it is essential that you can control your dog on a leash. They will likely not respond to commands like "stand", "heel" or "stop" when you're out walking.
It could become very dangerous if you can't control your dog.
It is possible to train dachshunds in obedience. You can do it if you have the patience, time and effort to succeed.
Although it will be more difficult to train a Dachshund than other breeds of dog, the rewards are well worth it.
Before you decide to take on this challenge, think about whether you have the time or not to train your dachshund. Or if it would be easier to choose a breed that is quick to learn commands.
Grooming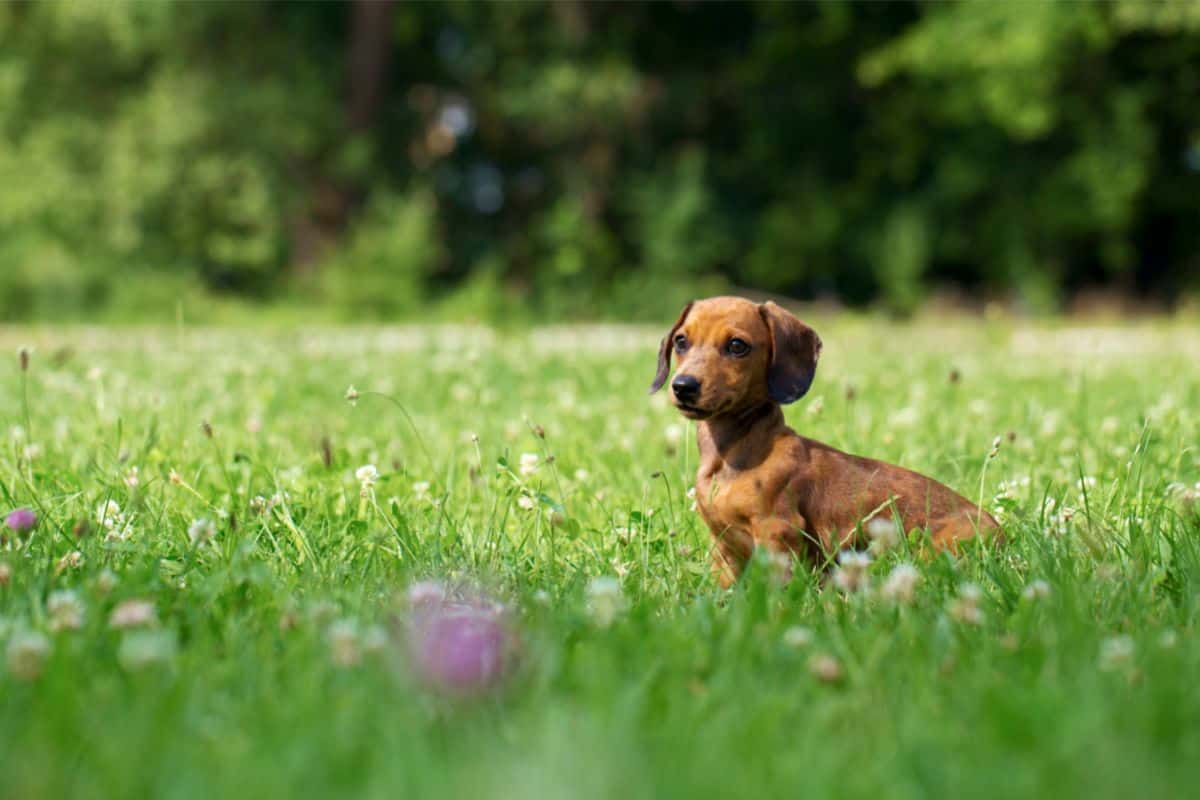 All dogs shed. Hypoallergenic dogs can shed fur even if they are groomed regularly.
It is obvious that your dachshund's size doesn't affect how well they are groomed.
For obvious reasons, standard dachshunds will shed more fur than miniature ones.
Ddachshunds shed moderately. It is affected by the type and color of your Dachshund's coat.
You will notice more shedding if your dog is long-coated than a smooth-coated one. Wire-coated Dachshunds will shed more than those with smooth-coated ones. What about grooming?
We have already said that grooming doesn't depend on the size of your Dachshund. However, it does impact the type of fur they have.
Smooth-coated Dachshunds require little maintenance. However, wire-coated and long coated dachshunds require more care. Regular brushing is necessary, as well as trips to the groomer.
Brushing dachshunds wire- and long-coated will be required at least 3-4 times per week.
They will need to visit the groomers about 3-4 times per year to have their hair cut. This will prevent your coat from matting and causing discomfort.
Grooming your Dachshund is more than just about their fur. You will also need clean their ears.
Dachshunds can have ear problems and get foreign objects in their ears.
It is vital to check the ears of your dog and clean them regularly to keep them healthy.
The size of your dog will not affect the quality of their ears, so it is basically a no-win situation in the mini vs. standard argument.
Cost

Because it is always changing, the cost of dogs can be a difficult topic to talk about. The cost of dogs has risen significantly in recent years but is expected to decrease in the future.
We can only give an average number when it comes down to the cost of buying a Dachshund.
One thing we do know is that miniature Dachshunds are typically more expensive than standard Dachshunds.
This holds true for most toy breeds. The starting price of a standard dachshund should be around $450/500, but the minimum price for a miniature one is $600. You will rarely find a dog for this much.
If cost is an important factor in your decision between miniature and standard dachshunds then you should probably opt for a standard one.
Popularity

It is difficult to determine whether miniature or standard dachshunds will be more popular.
These dogs will be listed alongside each other in most polls. It is therefore difficult to determine how many votes went for standard dachshunds and how many for miniature dachshunds.
Dachshunds as a breed are extremely popular. If you're looking for a dog your family and friends will love, a dachshund might be the right choice.
Life Expectancy

Let's conclude this comparison by looking at the last category, which nobody wants to think about: life expectancy.
Dog owners want their dogs to live forever. It is heartbreaking for them to leave us.
It is important to remember that life expectancy can be a factor in the purchase of a dog.
This is to make sure you are prepared.
Consider whether your average life expectancy (even though it is not certain that your dog will live as long as you do) is sufficient for you and if you are able to care for your dog for that length of time.
This is particularly important if you're thinking about buying a dachshund puppy.
Smaller dogs generally live longer than large dogs. Great Danes are one of the most short-lived dog breeds. Standard and miniature dachshunds can be considered small breeds. If you purchase one for a puppy, expect them to live quite long.
Miniature dachshunds are more likely to live longer than standard dachshunds because they have a longer life expectancy.
Standard dachshunds live between 12-14 years while miniature dogs can live as long as 16 years.
These are only averages and your dog might live longer than you expected.
Most Frequently Asked Questions

Which Dachshunds are the calmest?

It doesn't seem that a dachshund's size is a factor in whether or not they are calm. It seems to be related to their coat.
The calmest dachshunds are those with long hair.
The wire-coated Dachshunds are more hyperactive and yappy than the terrier breeds. Because the wire-coat was first introduced to their lineage, the terrier breed is responsible.
The smooth-coated dachshunds are a good mix of both.
Do Mini Dachshunds Bark A Lot?

Dachshunds as a breed are happy, playful dogs. Because they were originally bred for hunting, dachshunds are naturally prone to barking.
You might be shocked at how loud your dachshund barks when you hear them first.
Although they are small dogs, these dogs can be very loud and will bark a lot. This is what made them so great hunters.
Do Dachshunds Like To Cuddle?

A dachshund is the perfect lap dog if you're looking for one.
They are extremely loyal to their owners and require very little exercise.
They spend much of their time cuddling and relaxing with their owners. Cuddling is the one thing dachshunds truly love.
Are Mini Dachshunds or Standard Dachshunds Better Than LVDD?
LVDD is a common condition in dachshunds. This is something you should really consider if you're thinking of buying a dachshund.
LVDD may require an operation, which can prove to be very costly. Are standard or miniature dachshunds equally at risk?
It seems that the size of the dachshund does not have an effect on whether or not they get LVDD.
It seems that the type of coat is what has a significant impact. This is because the standard short-coat dachshunds have the highest incidence of LVDD, and the wire-coat dachshunds have the lowest. This is something you should keep in mind when purchasing a dachshund.
It is important to note that other factors, such as your age and whether or not your dog has been neutered, can also impact this.
Summary

It is difficult to decide which dachshund is best, as they are both wonderful dogs.
This guide will help you choose the right type of Dachshund for you. We hope that you found it useful. We appreciate your reading.
Which Dachshund is Best for You and Your Lifestyle? Miniature or Standard Dog Food Smart.