Dog owners will know that dogs don't like 'personal space'. It doesn't matter if your dog follows you around, jumps on your bed at night, or just lies on top of you, there are many dogs who love to spend time with their owners.
You might wonder why your dog loves to lay or sit on top of you.
We have all the answers right here, so don't worry! This guide will discuss the most common reasons your dog may be sitting on you. It also discusses whether this should be a concern.
Let's get started!
Why does your dog sit on you? Six Reasons Your Dog Sits on You

There are many reasons your dog may be sitting on your lap. These reasons are not to worry about and are common dog behavior. We'll discuss the top reasons dogs love to sit on their owners.
1) To Cuddle

Dogs love to be held by their owners for the affection and attention they receive. Dogs love physical contact and being held, so cuddling up to you is a great way to keep them happy.
While younger dogs may be more inclined to cuddle, many older dogs enjoy cuddling with their owners.
2) For Protection and Security

Dogs love to track their owners' movements, and some dogs are keen to see where you are at all times. Dogs rely on their owners for security and protection. However, this can sometimes turn the other way. Your dog may feel responsible for your safety.
Your dog will feel safe and secure if they sit on top of your body.
This is particularly important for dogs with abandonment or anxiety issues. Your dog will feel secure and protected if they can snuggle up to you.
3) To Spread Their Scent

Like other animals, dogs use scent to mark territory. This doesn't necessarily mean your dog will pee on you. Just by sitting on your lap, your dog can spread their scent all over you. Your dog's way to say "This is my human!" is by sitting on your lap.
Your dog may be more comfortable with new visitors, new friends, or being away for a while. By lying on your back, they can release their scent and let others know who you are.
4) Breed Behaviors

Many breeds of dogs will sit more often on their owners than others. As they are comfortable there, lap dogs such as chihuahuas and terriers love to be sat on their owners' laps.
They will feel more secure as they can fit in your lap.
Although Lapdogs can be small, many large breeds of dog love to sit on their owners' laps. Great Danes and Mastiffs are known for being affectionate despite being large, so if your dog is big you might find yourself being squashed a lot!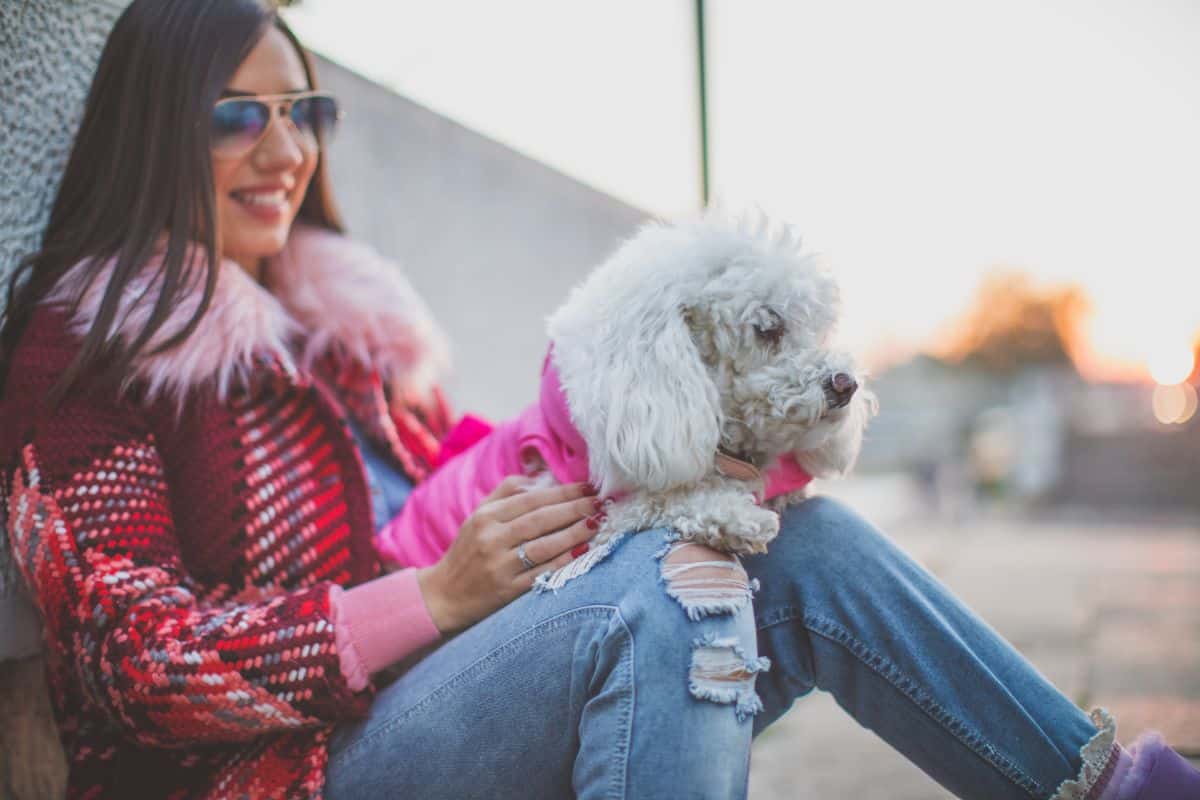 5) To Get Attention

Sometimes your dog wants more attention. Your dog may jump on your lap if they don't feel they are getting enough attention. Dogs can be very attached and want to be loved and cared for.
Dogs need to be social and they rely on their owners for attention. If your dog is trying sit on you, give them toys or pets to make sure they are not left out.
6) To Display Dominance

Sometimes your dog may sit on your lap inappropriately. Your dog might be aggressive when they are on your lap. This is their way to show dominance.
This behavior is considered aggressive and could lead to more aggressive behavior from your dog. Your dog may become more attached to you if they start acting aggressively when they are on your lap. If your dog starts to growl or snap at passersby, then you need to stop them from sitting on the lap.
If necessary, take your dog to a safe place or have them taken away. You should not allow your dog to be aggressive towards others. It is best to stop them from acting out.
Last Thoughts

There are many reasons dogs love to be sat on their owners. However, most of them are not to be worried about. Your dog will most likely sit on your lap because they want to feel secure and protected, and also get attention and fuss.
This is only an issue if your pet starts acting aggressively towards you and other people. In these cases you will need to intervene quickly to stop the behavior from becoming more severe.
You should just enjoy your time with your dog, and give it the love and attention that they deserve.
Why does my dog sit on me? Dog Food Smart.
Did you miss our previous article…
https://www.topdogadvisor.com/the-ultimate-guide-to-long-haired-dachshunds/